This is a total fail.
Back in January, I blogged about ordering a Mavic flying camera from DJI, a company with plenty of slick marketing materials that make it look as if they have a significant U.S. presence but apparently operate 100% in China. At about the time I had my lengthy online chat with DJI's support people, I also sent an email message to them asking about the status of my order.
That was January 9, 2017.
On February 13, 2017 — yes, five full weeks later — I got the following response from them: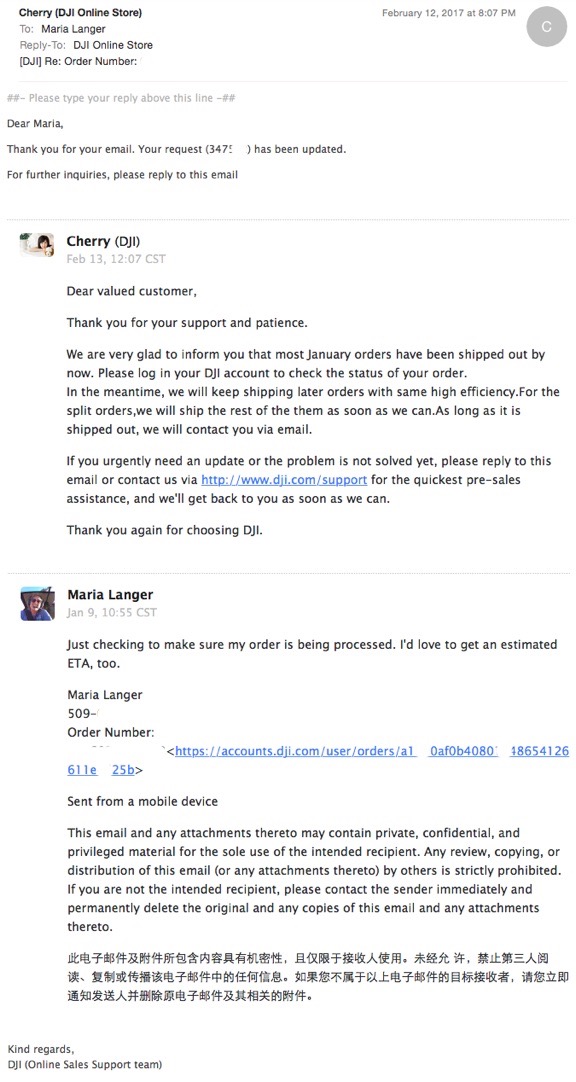 Of course, by this point, I'd already gotten my Mavic. In fact, I got it less than two weeks after my email message to them. It just took them 5 weeks to send me a canned response that provided no help and certainly proved they hadn't looked into my support request at all.
I'm not the only one who is amazed at the complete lack of sales support from DJI. My friend Jim, who saw and liked my Mavic, decided to buy one, too. He ordered from DJI and was originally told it would ship out within a few days. Later, they changed that to a few weeks. He cancelled the order and ordered from Amazon instead. He'll have it by the end of the week.
I can't knock the product. The Mavic is an amazing tool for aerial photography and videography that's incredibly easy to fly. I blogged a bit about it here. But the quality of sales support by DJI is dismal.
With so many customers in the U.S., would it kill them to open a call center with access to sales info to help its new customers? They must be absolutely raking in the dough on these things — they're not cheap.
And are we going to be similarly served if anything goes wrong with our Mavics and we need technical support under our extended warranties? I sure hope not.