All natural, easy to make, and sweet as candy.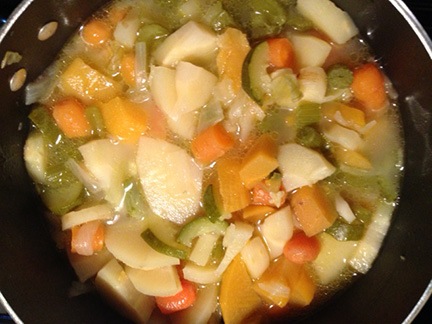 I know winter is over, but that doesn't stop me from making soup. Soup, after all, is comfort food, and we can all use a little comfort now and then — some more than others.
Today's concoction: my root vegetable soup.
I came upon this recipe a while back by accident. I was making some other kind of soup and simply put too many vegetables into it. The vegetable flavor overpowered the intended flavor — and it tasted good.
Here's how I made it today.
Ingredients:
3 tablespoons butter
1 medium onion, coarsely chopped.
3 stalks celery, cut into 1/4 inch pieces.
3 carrots, cut into 1/4 inch pieces.
1 small zucchini, halved lengthwise and then cut into 1/4 inch pieces.
1 large parsnip, cut into 1/4 inch pieces.
1 medium purple-top turnip, chopped into 1/4 inch pieces.
Water
You can also add or substitute in leeks (which I forgot to buy), yellow squash (in addition to or in place of zucchini), and other root vegetables. You don't want to add vegetables that would take away that sweet taste, like peppers. Ick.
Of course, a real root vegetable soup would exclude the celery and zucchini. But I wouldn't put potatoes in, even though they are root vegetables.
I guess what I'm trying to say is that you can be as creative as you like here.
You can also make or buy pre-made meatballs to add to the soup during or after the cooking process. I admit I buy the pre-made chicken meatballs, sold in vacuum packs in the supermarket section when you can find chicken sausage, etc.
You'll note that the recipe does not include any seasoning. I don't think it needs it. The vegetables are extremely sweet and flavorful. You might try adding herbs like sage or tarragon if you like that flavor, though. I use salted butter and that's enough salt for me.
Instructions:
In a medium to large pot, melt the butter on medium to low heat.
Add the vegetables. I added them one by one as I prepared them in the order listed above. Each time I added one, I stirred the pot to keep the vegetables covered with the butter.
Gently sauté the vegetables for 5 to 10 minutes. Do not allow them to brown.
Add enough water to cover all the vegetables.
Bring contents of pot to a boil, then cover pot and turn down to simmer.
If you're adding meatballs, this might be a good time to do it.
Simmer for about an hour, stirring occasionally, until all vegetables are tender.
Serve hot and enjoy!
If you like a soupier soup, add more water up front. I like mine to be more of a bowl of vegetables with vegetable broth, so I minimize the amount of water. (You can always add water later; you can't take it away.)
I also thought about pureeing the soup in a blender, but I don't have a blender. (It broke last year and was never replaced.) That might be something to try once I settle down again and get a blender.