The younger you start, the farther you can go.
In the last part of this series, I discussed the financial aspects of learning to fly helicopters and getting the ratings you need to move forward. I'm thrilled to see that a few folks have added comments from their own experiences. With luck, others will do the same. The more real experiences that are shared, the more real information readers can pick up here.
In this post I'll discuss another important topic: age. Ideally, you want to have all certificates in hand by the time you're 30 years old. Even better would be 25. This means you need to start young.
Look at it this way: if you were going to college for career training, wouldn't you want to have your degree so you could get to work in your chosen field before the age of 30? This would give you plenty of time to pay your dues (discussed in another post), get your foot in the door, and work your way up the career ladder to the kind of flying job you want.
How Young Can You Start?
I honestly don't know the minimum age for starting helicopter flying lessons. I've seen airplane flight schools offering training for kids as young as 14 years. On the helicopter side, however, I noticed that some flight schools require students to be at least 18 years old. I think that's a pretty good minimum age for getting on the controls of a helicopter.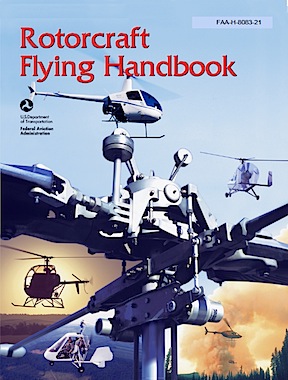 But that doesn't mean you have to wait until you're 18 to start learning. There's plenty to learn before you begin taking actual flight lessons. A good place to start is with the FAA's Rotorcraft Flying Handbook. This free 207-page book in PDF format is an excellent source of information about helicopter aerodynamics and maneuvers. In fact, it's the book I turn to to brush up on topics like gyroscopic precession and coriolis effect for my annual Part 135 checkride. Start here — no matter how old you are — and get a head start on the basics before you even meet your first flight instructor.
Midlife Career Changes
I get lots of e-mail and comments from guys who are in their 40s or even 50s or 60s who claim that they've always wanted to be a helicopter pilot. Always? What I want to reply is: why didn't you do it when you were younger?
Reality check: 40 is not a good age to start training to become a career pilot. I'm not saying it's impossible — hell, I was 37 when I started learning to fly. (An airline pilot I knew at the time told me point blank that I was too old to start a career as a pilot.) But it won't be easy to build your career.
Part of the problem is this: although you'd think that entry level employers would be more inclined to hire older, more mature pilots, they aren't. They want young guys who will do anything they're told. They don't want people who can think and reason based on life experiences. They want cheap robot pilots who will stick around just long enough to fulfill a contract that ends with the tour season. I experienced this first-hand at the Grand Canyon, working with guys young enough to be my sons.
If you're starting to get up there in years, give this some serious thought before diving in. Do you have many financial responsibilities? Are you prepared to give up your current salary and start at the bottom of a helicopter pilot's pay scale?
I am fortunate in that my other job as a freelance writer makes it possible to work around my flying activities; I've been working two jobs since I began flying for hire. I could never survive in without a serious lifestyle change on what I currently earn as a pilot.
Maybe you're in a similar situation and have an income that will continue. Or maybe your first career has left you with enough residual income that you don't need to worry about future income. Or maybe you'll just prove to be the exception.
If you do decide to go for it, don't wait. The sooner you start, the better off you'll be.
And here's one more thing to keep in mind: you don't have to make flying your career to be a pilot. A man I knew got his private helicopter rating on his 65th birthday. No, he wasn't a career pilot. He just wanted to fly helicopters.
Next up, an important decision: choosing a flight school.