Don't expect free help from me.
Last night, I received yet another e-mail from a helicopter operator with questions about getting a Part 135 certificate. I thought that it was about time for me to explain why people who e-mail me for free help about this won't get it.
But first, a bit of an explanation of what a Part 135 Certificate is.
What Is a Part 135 Certificate?
A Part 135 certificate is literally a piece of paper issued by the FAA that permits a commercial aircraft operator to perform air-taxi operations. The phrase air-taxi refers to the mission of picking up a passenger at Point A and transport him to Point B. A Part 135 Certificate also permits an operator to conduct aerial tours beyond the 25 statute mile limitation set by Part 91 or the relatively new Part 136. Part 135 gets its name from the Federal Aviation Regulations (FARs) Part 135, but a Part 135 operator must also comply with all other applicable FARs, including Parts 61, 91, and 119.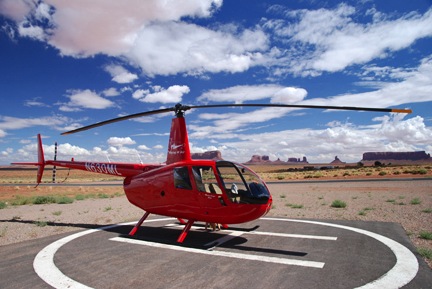 A Part 135 certificate is worth more than its weight in gold for an operator that has one and can use it properly. For example, if I didn't have one, I'd be limiting my operations to short tours within 25 miles of my starting point and aerial photo/survey flights. With a Part 135, however, I can also take my tours as far as I like, transport passengers between two points, and even offer day trips and multi-day excursions. In the highly competitive area I live in — Arizona is just swarming with helicopter operators — a Part 135 Certificate gives me the competitive edge I need to stay in business. (With less local competition, I might even become profitable. Wouldn't that be special?)
There are three types of Part 135 certificates: Single Pilot, Single Pilot in Command, and Basic. I have a single Pilot Part 135 certificate. That means that under my company's certificate, only one pilot is allowed to fly the aircraft under Part 135: me. (Hint to jobseekers: that's one reason why I don't ever hire other pilots.) A Single Pilot in Command certificate is similar, but is used mostly in organizations with aircraft that require more than one pilot; just one of those pilots is allowed to fly as pilot in command, but any other pilot can be second in command. The Basic Part 135 certificate — and I may have its name wrong — allows multiple pilots to act as pilot in command on multiple aircraft. The Grand Canyon tour operator I worked for had a Basic Part 135.
At a recent meeting at my local Flight Standards District Office (FSDO; pronounced fizz-doe), I learned that there are only 4,800 Part 135 certificates in the entire country. If you take a moment to consider what percentage of those could possibly be helicopter operators, you'll realize that I'm part of a very small club.
The penalty for conducting a Part 135 operation without a Part 135 certificate? Well, I know of at least one pilot who had his license permanently suspended. Ouch. When you consider the amount of time and money a commercial pilot — especially a helicopter pilot — might have invested in a career, that's a very costly penalty.
Airline operations, by the way, are Part 121, which has tighter regulations.
How to Get a Part 135 Certificate
You work with your local FSDO to get a Part 135 Certificate. It requires multiple meetings at the FSDO to work your way through a flow chart of activities. Although I've heard of people getting their Single Pilot Part 135 as quickly as three months — it took me four months — it takes other people years. In fact, more than a few operators have gone out of business while working through the process.
Want Help Writing a Statement of Compliance?
When I wrote this blog post back in 2010, I was firmly against helping operators create their Statement of Compliance. At time time, I was based in Arizona with a lot of competition making it damn near impossible to turn a profit. Things are different now. It's 2017 and I'm comfortably settled in Washington State with a small market but little competition for Part 135 work. In addition, I have found more lucrative sources of flying revenue that don't require a Part 135 certificate at all. Add to that the FAA's recent requirement for all Part 135 helicopter operators to have a radio altimeter and the cost to obtain that and I'm a bit softer about helping others — for a fee. Let's just say that the FAA has motivated me to sell my experience and possibly increase its workload.
So here's the deal. If you're interested in getting help writing a Statement of Compliance for a Part 135 certificate, use the form on the Contact page of this site to get in touch with me. Tell me a little about your business and the aircraft you fly, the kind of Part 135 certificate you're seeking, and where you are in the process with your FSDO. If I think I can help you, I'll let you know what kind of compensation I need to write a Statement of Compliance for you.
Keep in mind that although this will make the process easier, it's still time-consuming and you'll still have a lot of work to do on your own.
There's a lot of paperwork. The biggest challenge to most people is the creation of a Statement of Compliance. That's where you list all the applicable FARs and state exactly how you will comply. My Statement of Compliance, written in 2005, was 54 pages long. It wasn't difficult for me to create because, after all, I am a writer. But I'd say that 90% of the people who try to get their Part 135 certificate stumble on this component, which occurs about halfway through that flow chart.
You'll also need to get on a drug testing program, create a training manual for carrying (or not carrying) HazMat, and obtain a secure location for basing your aircraft. You'll need to create forms for pilots to log time flown, aircraft flight time, and squawks. You'll need to have perfect maintenance records. If you're going for a Basic Part 135, you'll need all kinds of other manuals and documents, as well as staff in predetermined positions, such as Director of Operations, Director of Maintenance, etc.
The FAA did not make the process easy. If it were easy, everyone would have a Part 135. Instead, they made it a challenge.
I am extremely fortunate to be working with an excellent FSDO full of people who are reasonable and helpful. Yes, I'm required to jump through the same hoops as everyone else, but my contacts at the local FSDO help me make those jumps. In turn, I comply with their requests promptly, without question. After all, their mission is to keep me safe. Why wouldn't I want to be safe?
Why I'd Rather Not Help You Get Your Part 135 Certificate
I've already given you several hints on why I'd rather not help you get your Part 135 Certificate. Did you read between the lines to get the answer? If not, I'll spell it out for you.
Rise to the challenge. I personally believe that the FAA makes it challenging to get a Part 135 Certificate as a test to see if applicants are worthy. Let's face it: the FSDO folks spell out what you need to do — using a flowchart, for Pete's sake! If you come into the application process with the right attitude, they'll help you achieve your goal. But they won't just give you a certificate for showing up. You have to earn it. By jumping through all the hoops and smiling the whole time, you'll prove that you have the right stuff to be a safe and cooperative aircraft operator. If I — or anyone else — help you get your certificate, you won't prove anything other than that you can't do it alone.
Membership has its privileges. That old American Express slogan can easily be applied to the 4,800-member club of Part 135 certificate holders. We can do things that Part 91 operators can't. This gives us far more flexibility in our operations. I can't tell you what a joy it was to finally be able to say yes to a client request for an air-taxi flight. Saying yes means more business, more revenue.
I get e-mails and calls at least twice a month from helicopter operators hoping I'll help them get their Part 135 certificate or make their business grow. Apparently, it isn't enough for me to write about my own experiences here so they can use them as learning tools. Instead, they want me to take them by the hand and walk them through the process.
Why should I? What's in it for me?
I did the hard work I needed to do to get my certificate and build my business. Isn't it in my best interest to have other operators jump through the same hoops I did and prove they're worthy of getting a Part 135 certificate? Wouldn't I rather be sharing the skies with pilots who passed muster with the FAA? Wouldn't I rather refer overflow business to an operator I know has the ability to do his own homework?
You want a Part 135 certificate? Take my advice: Call your local FSDO and set up a meeting to get started. Then put a smile on your face, roll up your sleeves, and get to work.