Bake your own fleet. They're good to eat.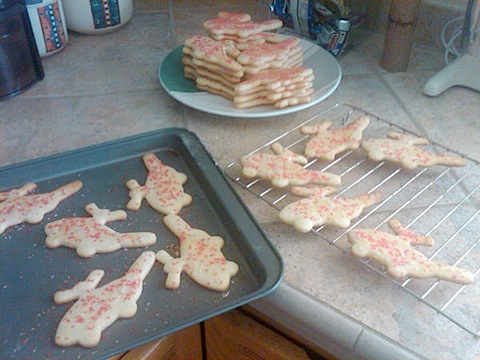 Today, I made sugar cookies in the shape of helicopters for my cherry drying clients. It was a lot of work, but worth it. The cookies came out great and I think my clients will get a chuckle when they see them.
The recipe is my grandfather's recipe for sugar cookies. He owned a bakery in New Jersey when I was growing up. My mother got the recipe from him and passed it on to me years ago. You can make the cookies in any shape you like.
Here's the recipe. It may be doubled.
Ingredients:
1/4 lb (1 stick) butter or margarine
3/4 cup sugar
1 egg
1/2 tsp vanilla
1 tbsp milk
1-1/2 cups flour
1/8 tsp salt
1/4 tsp baking powder
white of 1 egg, beaten (optional)
Instructions:
Preheat oven to 350°F.
Cream butter and sugar in mixer.
Add egg, vanilla, and milk. Beat well.
Sift together dry ingredients and add gradually to butter mixture.
Knead in extra flour if necessary to produce a firm batter.
Roll batter out to 1/4 inch thickness on floured board.
Cut with cookie cutters and place on cookie sheet.
If desired, brush tops with egg white.
Bake until golden brown (not more than 10 minutes).
Cool on wire rack.
Yields 2 dozen cookies or fewer (depending on shape and size of cutter).
I added sprinkles before baking. My helicopter is red and I wanted to make the connection.