14.4 Hours over four states.
Cross-Country, Defined
For those of you who are not pilots, allow me to explain the term cross-country as used by a pilot. A cross-country flight is basically any long flight with a landing a certain minimum distance from your starting point. For airplane pilots, it's at least 50 miles. For helicopter pilots, it's at least 25 miles. So while this blog entry discusses a very long cross-country flight, we did not fly all the way across the country.
This past Thursday and Friday, I flew by helicopter with two other helicopter pilots, Ryan and Bryan, from Wickenburg, AZ to Boeing Field in Seattle. Bryan and Ryan did just about all of the flying. I sat up front being a nervous passenger when we were near the ground and playing with the radio and GPS. Brian let me make most of his radio calls on the first day, but I didn't get to do much of that the second day.
It was a mutually beneficial journey. I needed to get the helicopter from Arizona to Washington State. Ryan and Bryan were both CFIs who wanted to build time in an R44 helicopter. It was way cheaper for them to fly with me on this trip than to rent an R44 from a flight school. There was also the added experience of planning and executing a flight through unknown terrain, with fuel stops and an overnight stop along the way. And the money they paid to fly my aircraft helped me cover the cost of this very long and very expensive helicopter flight. Win-win.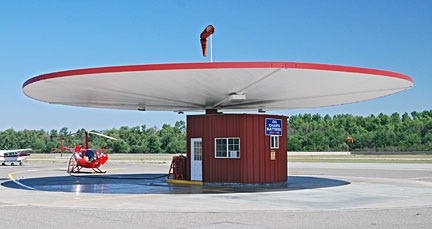 Our flight path took us west, with Bryan at the controls, along state route 60 to I-10, across the Colorado River, and then along I-10 through Bythe, Chiriaco Summit, Palm Springs, and Banning; then back on 60 past March to Riverside on the 91. We stopped at Corona for fuel at what's likely the coolest but most helicopter-unfriendly fuel island in the world. (We didn't notice the separate fuel island more suitable for helicopters until we'd stopped and shut down.)
Then Ryan took us west on 91 through the airspace for Fullerton and Long Beach, with a Torrance low pass. (Robinson has entirely too many helicopters waiting for owners on its ramp and in its delivery room.) He then got clearance for the Shoreline helicopter transition of LAX space, which requires the pilot to drop to 150 feet 1/4 mile offshore to pass under LAX departing traffic. We continued following the coast up past Santa Monica, Pacific Palisades, Malibu, Oxnard, Ventura, and Santa Barbara. By then, the marine layer was moving in, so we went inland for a bit. Eventually, we reached San Luis Obispo (and the chatty controller) and stopped for fuel and lunch.
Bryan was back at the controls for our departure northbound. After a very close call with a large bird, we followed the path of Route 101 northbound. Most of the route was up a riverbed in a very pleasant valley. We got to Salinas and realized that any coastal route would be out of the question — the marine layer was creeping in even there. So we headed over the mountains, eventually ending up in the western part of California's Central Valley. We stopped for fuel at Byron.
Ryan took over and we continued north over Rio Vista and Yolo, finally hooking up with I-5. We followed that through endless farmland — much of it flooded for a crop that apparently needs lots of water — over Willows Glen and Red Bluff, with more than a few crop-dusters flying nearby at altitudes far below ours. We stopped for the night at Redding, tied down the helicopter, and got a hotel shuttle into town.
We'd flown 8.8 hours.
The next morning, we were back at the airport at 9 AM, preflighting and getting ready to go. Ryan would start the flight. We headed north along I-5, over Lake Shasta and past Mount Shasta, which was snow-covered and beautiful. We were now past Central Valley's vast farmland and up in the mountains. We flew past Weed, Siskiyou Co., Rogue Valley/Medford, and Grant's Pass. Much of this flying was in canyons, along the same route as I-5 and a train line.
Things turned a bit iffy as I-5 swung to the east. We were hoping to go north and catch it on the other side of some mountains, shortening our route a bit, but clouds sitting on the tops of those mountains made that a bit uncertain. So we dropped altitude, slowed down, and followed I-5. Ryan flew while Bryan and I kept a sharp lookout for the power lines we knew — from both chart and GPS — were ahead. We weren't that low and there wasn't any real danger, but we were certainly not coming out of that canyon anywhere except the I-5 corridor. We passed the powerlines with plenty of room. The road descended into a valley and we stayed up beneath the cloud bottoms. Eventually, the sky cleared. We continued along I-5 past Myrtle Creek and Roseburg and stopped at Cottage Grove State for fuel and lunch.
Then it was Bryan's turn again. We continued up I-5 past Hobby, Albany Municipal, and McNary. Then we headed northwest over Sportsman's, Hillsboro, and Scappoose. We crossed the Columbia River and headed north on I-5 again over Kelso Longview and Olympia, with nice views of Mount St. Helens and Mount Rainier in the distance. Then on to Bremmerton, where we stopped for fuel. We probably had enough to make the last 20 minutes, but why take chances?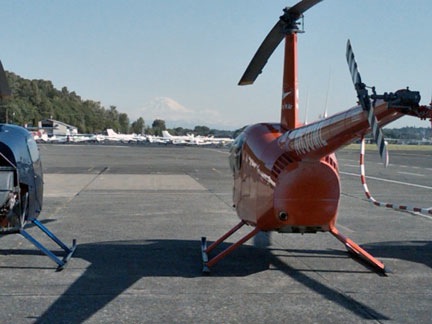 I flew the last leg with Bryan up front to handle the radio and give me directions. It was only a 15-minute flight, but the airspace was complicated, so I was grateful for the help. I set the helicopter down sloppily in the parking area. We'd flown a total of 14.4 hours.
It was a great flight. We saw so much that most of it is just a blur in my mind. With luck, these photos and videos will help me remember the trip for a long time to come.
Many thanks to Ryan and Bryan for accompanying me on this trip. I hope they learned a lot about cross-country flying.