It works!
The other day, I got my first exposure (pun intended) to the world of tilt-shift photography. It was a link tweeted by one of my Twitter friends, @jebro, to a series of videos by Keith Loutit on Vimeo. These videos used time-lapse tilt-shift photography. The result were videos that looked as if they were created painstakingly with miniature models.
Take a minute right now and check out Keith's video, "The North Wind Blew South."
I've heard of time-lapse photography, of course. In fact, I used to play around with it using my Webcam software. You can see some examples here, here, and here.
But I'd never heard of tilt-shift photography. I did some research and found an excellent article on Wikipedia (of course) that included photos of camera equipment used to make the images. Per Wikipedia, the basic explanation is as follows:
Tilt-shift photography refers to the use of camera movements on small- and medium format cameras. In many cases, it refers to tilting the lens relative to the image plane and using a large aperture to achieve a very shallow depth of field.
The end result is that only a small portion of the image is in focus. This became popular in portrait photography. But it also has become popular as a technique to make fake miniatures — in other words, photos of full-size, real-life objects or people made to look as if they are miniature models. Wikipedia has a separate page about tilt-shift miniature faking that includes sample images.
You can also find plenty of sample images and videos on Smashing Magazine's article, "50 Beautiful Examples Of Tilt-Shift Photography."
Photography is one of my hobbies and I was extremely interested in this technique. I think the photos look kind of silly and cool. But I wasn't interested in buying special lenses just to give it a try. Fortunately, I didn't have to. The Smashing Magazine article included a link to a tutorial on the Tilt-Shift Photography Web site titled "Tilt-Shift Photography Photoshop Tutorial." It explains how you can use Photoshop to create a fake tilt-shift photograph.
I tried it today with a number of photos that happen to be with me on my laptop. The one shown below is my fifth try. It's a photo of Juneau, AK (I think; forgive me if I got the wrong port city), taken from an upper deck on a cruise ship. In the original photo, the entire image is in focus; for this fake miniature, I focused on a boat and two buildings in the foreground. The color is saturated and the contrast is increased as recommended to give it that painted model feel. I think this photo is a pretty good example of the tilt-shift photography effect. What do you think?
My first four tries simply didn't look right. I think it was a combination of the image I chose and the lens blur mask I used. The photo here uses a radial gradient mask rather than the reflected gradient recommended by the tutorial. That makes it possible to pinpoint the in-focus area, which worked for this image. The example image in the tutorial had a horizontal strip of the photo in focus; that simply doesn't work for all photos.
But I apparently did get the hang of it. Here's my next try, with another Alaska port city:
And here's a shot from last January's visit to San Francisco. That's the dome of City Hall with Sutro Tower in the background. I took the photo from my hotel room at the Nikko. I think it comes across pretty well as a fake miniature.

And here's a shot my husband Mike took on a helicopter trip up the Colorado River last year. It's the Hoover Dam with the new bridge under construction:
And one more…this is the power house downstream from Lake Chelan in Washington State. It's another aerial photo — they certainly do make good subjects for this kind of exercise. The heavy equipment looks like Tonka trucks!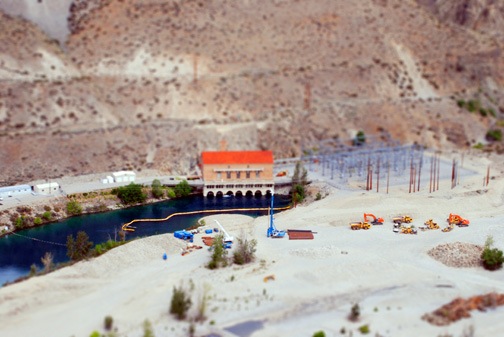 Anyway, now that I've tried this with a certain amount of success, I think I can get it out of my system. If anyone out there has experimented with this kind of photography — especially using a camera and lens rather than cheating with Photoshop — please use the Comments link or form for this post to link to examples of your work. And feel free to share any tips you might have for folks who are interested in giving this a try.