Get your phone numbers off their lists!
Are you sick and tired of telemarketers ruining your dinner hour? Do unwanted phone calls from strangers bother you while you're watching Boston Legal? Are your cell phone minutes being used up by auto glass repair company representatives and insurance salesmen?
If so, you really need to get your phone numbers on the National Do Not Call Registry. It's quick and easy to do and, after 31 days, if you still get unwanted marketing calls, you can register a complaint that'll get the marketer in hot water with the FCC.
Start by going to https://www.donotcall.gov/. Click the Register Now button and use the form that appears to enter up to three telephone numbers and your e-mail address: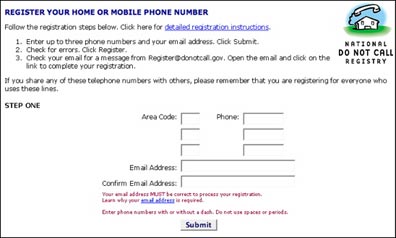 Click Submit. Then check your e-mail In box. You should get one e-mail message per phone number you entered. Click the link in the e-mail message to complete the registration.
It takes 31 days for your number(s) to be fully registered. After that, you should not receive any marketing calls, although you may still receive calls for charity fund raising, political campaigns, and surveys.
If you do get a marketing call after the 31-day period has elapsed, go back to the Do Not Call Registry home page and follow the links to file a complaint. You'll need to provide the marketer's company or phone number, so be sure to get that information when the call comes.
Your phone number will stay in the Registry for five years.
What are you waiting for? Do it now!