Fog in Maine.
When we went to Maine in October 2005, we had fog almost every single day. At first, I was rather pleased about it — fog is one kind of weather we hardly ever get here in Arizona. But after four or five days of it, even I started getting a bit sick of it.
But it didn't stop us from getting out and around.
One day, we went with John and Lorna to Acadia National Park. Mike and I had been there years before — maybe as long ago as 20 years? — and didn't remember it very well. It didn't matter anyway. It was foggy and we couldn't see much of it.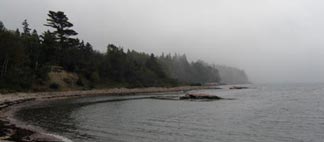 What we could see, however, were haunting images of the coastline veiled with fog. Like this one, which I snapped at Otter Cove. I like this photo so much it's currently the desktop picture on my laptop.
We did have a few clear moments. We stopped at Jordan Pond House in the park for baked apples [actually, they were popovers according to Lorna] and it cleared out for a while as we sat outside in the sun. We climbed Cadillac Mountain (in the truck, of course) and passed through the clouds. Up top, on the rocky surface, the wind was blowing hard and clouds flew by overhead and below us. At one point, the clouds cleared just enough to give us a breathtaking view of Bar Harbor, with a cruise ship waiting off the coast. The the clouds moved in again and we were back in our isolated world above the world.
Anyone can visit Acadia on a nice day. How often do you get to visit when the clouds are doing their magic?