I'm still in Quartzsite — I'll be here for two more weeks — and I kept hearing about something called RTR. I knew that it was a gathering of RVers out in the desert east of Quartzsite, and I had heard from one participant that there were 3,000 RVs parked out there. Yesterday afternoon, I decided to take my drone out there for a look.
Quartzsite is surrounded by BLM land. For the most part, you can camp there for up to 14 days at a time for free. (There are some areas closer to town that provide services such as garbage dumpsters and outhouses and require a fee.) One of these free areas can be accessed by a roughly paved freeway service road that ends suddenly with a right-hand turn to the south. From there, the road is narrow and unpaved and cuts into the desert. This is the path you follow to get to the 2018 RTR campsite.
I estimate that I drove about 8 miles from town to reach an area jam-packed with RVs. The types of RVs ranged from rickety vans to costly Class A motorhomes. They were parked alongside anything that could be remotely considered a road. There were vehicles driving around — very slowly, I should add, to keep the dust down — and the campsites had plenty of people milling around. I parked my truck at a road intersection near a sign that said "No Camping Beyond this Point" and set up my drone in the bed of the pickup for launching.
I did two flights from the pickup bed. The first was a high-level flight that circled the camping area, taking video and still shots of the entire site. I was about 400 feet up for these.
This first shot is from the southeast, looking back toward Quartzsite, which you can see at the base of the mountains in the top left:
This shot is more from the south west. You can see the road I drove in on cutting diagonally across the top right of the photo, as well as semis on the freeway off in the distance:
For the second flight, I flew at about 150 feet — low enough to get some detail without bothering the folks on the ground. (I should emphasize here that I never flew over people — I always flew around the perimeter of the event.) Again, I took several still images and a few short video clips.
This shot was from the west of the event looking back to the east. I'd love to explore that road that winds up into the mountains.
This shot was from a bit lower. You can see my truck in the lower right corner.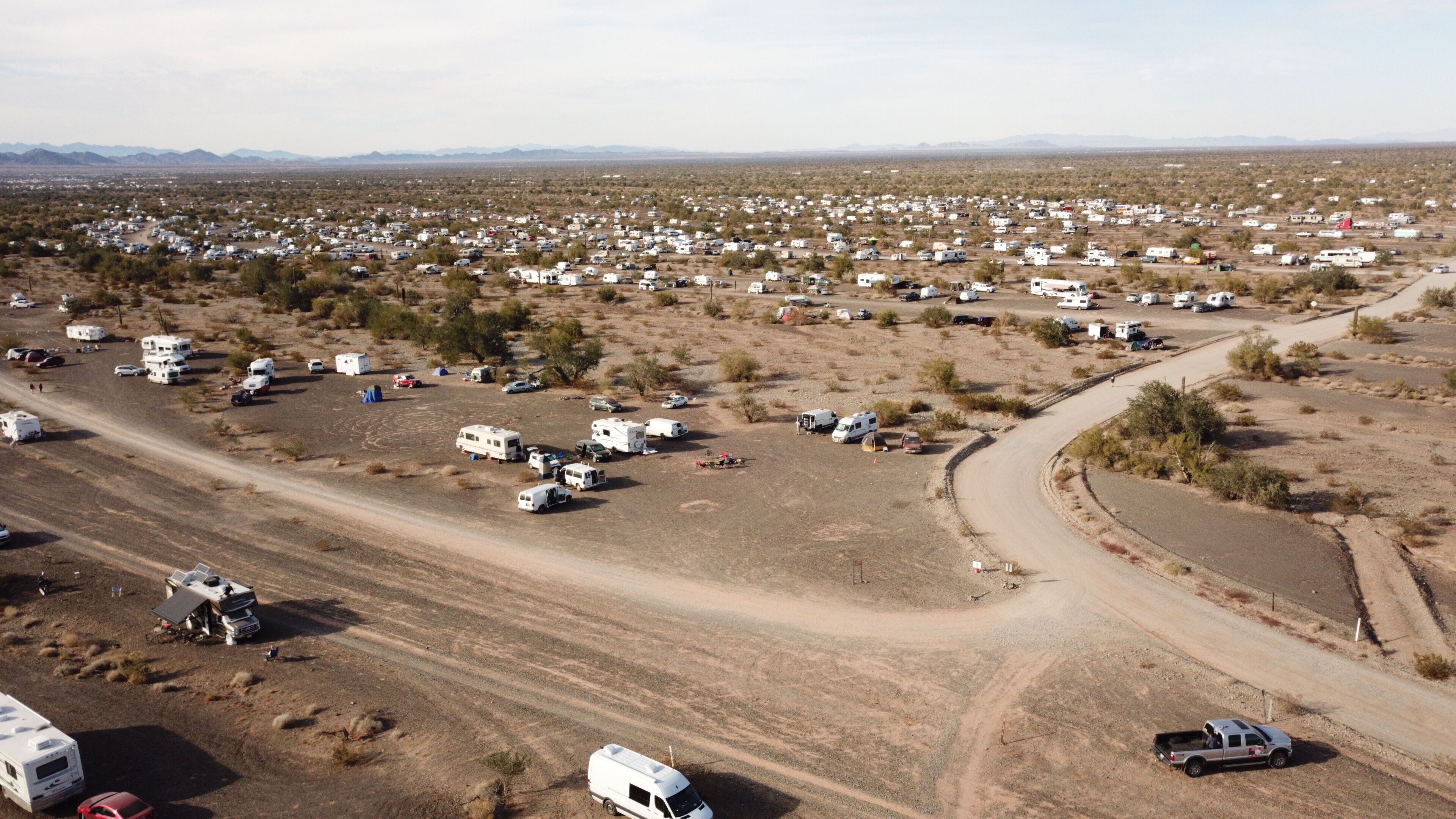 Keep in mind that this is only one of the many areas where people are camped out in the desert here. I'll share more photos as the place continues to fill up.
Also, please remember that these photos are copyrighted and may not be shared without permission. You may link to this page but you may not reproduce these images elsewhere. I am a commercial drone pilot with a lot invested in my equipment and training. If you want to buy any of my images for reproduction as postcards or posters, contact me.