Want to know where to get facts?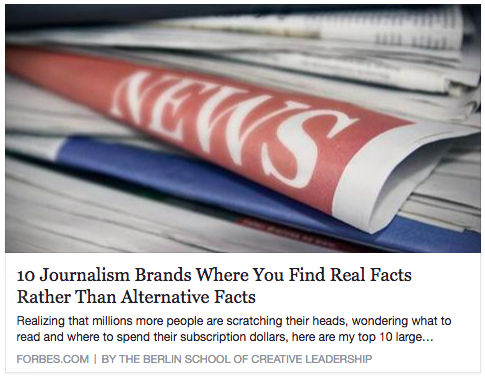 The other day, one of my Facebook friends shared a link to an article on Forbes that discussed the difficulty of finding reliable news sources in a world where so many sources are labeled "fake." The article listed, with objective descriptions, what the author considered honest and reliable news sources. I'll run down the list quickly here; I urge you to read the article to get additional information about each source:
The New York Times
The Wall Street Journal
The Washington Post
BBC
The Economist
The New Yorker
Wire Services: The Associated Press, Reuters, Bloomberg News
Foreign Affairs
The Atlantic
Politico
There are runners up and financial resources, too. Again, I urge you to read the article to get those lists. (Spoiler alert: CNN is on a list; Fox News, Brietbart, Huffington Post, and Mother Jones are not.)
As I added on Facebook when I shared a link to the article, the real trick is convincing the people who already turn to less reliable news outlets that these news outlets are better and more truthful. Another challenge is getting people to understand the difference between fact-based articles produced by journalists and opinion pieces produced by pundits.
If you're interested in doing the right thing during these difficult times — and don't don't fool yourself: these are difficult times — start by informing yourself about an issue by turning to reliable news sources. (Note the plural there; try to learn from at least two good sources.) Be careful to get information from journalists and not pundits. (In other words, skip the OpEd and political commentary pages/columns.) Go beyond the headlines! Think about what you've learned. Discuss it with other people you know and trust who have done the same thing. Then form your own opinions and act accordingly. Acting means calling your congressperson or senators when an issue comes up to vote. These days, it also means showing up for peaceful protests and doing what you can to help convince those sitting on the fence to see things your way and also act.
It's sad to me that so many people are falling for "alternative facts" fed to them by unreliable news sources, many of which are playing political games for ratings or other gains. What's even worse is that the "fake news" label is being applied to what are truly reliable news sources.
Stop the ignorance. Get your information from reliable sources and make your own decisions.