When lies make us stupid.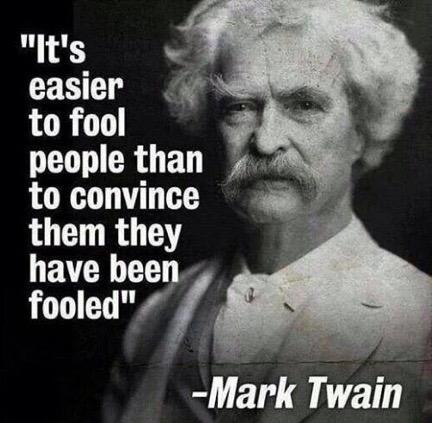 This morning, a typical quote + image meme appeared in my Twitter stream, shared by @Phillipdpl1974. The illustrious person in the photograph who was being quoted was none other than my favorite author of all time, Mark Twain.
The quote hit hard, primarily because of the events of the night before, which I'll get to in a moment. It said:
It's easier to fool people than to convince them they have been fooled.
Later in the day, while surfing Facebook, my friend Stewart shared a link to an article on Five Thirty Eight titled "Trump Supporters Appear To Be Misinformed, Not Uninformed." It also hit hard because of the previous night's events.
What Happened Last Night
It started innocently enough. I'd mentioned to my two companions — we'll call them Sally and Joe — that I'd talked to guy at the concealed weapons permit booth at Quartzite. They were both familiar with him and both seemed to agree that the guy was a jerk. I told them that in the course of our discussion, he'd insinuated that California was not part of the United States. He apparently thought that was funny. But with all the NRA signage around his booth and his obvious close-minded, anti-liberal attitude, I didn't think it was funny at all and let him know before turning my back on him and walking away. (In all honesty, the NRA signage was enough to prevent me from spending any money at all at his booth.)
My discussion last night with my friends naturally segued to the topic of the President's recent executive orders related to gun controls, specifically those new rules for background checks. Joe immediately got testy. He said he didn't understand why the president was making laws that already existed. When Sally and I asked him what he meant, he told us that background checks were already required for all gun purchases.
Sally reminded him that he'd bought a gun in Arizona at a gunshow and no background check had been required. I told them my wasband had done the same thing.
"When was that?" Joe demanded? "Twenty years ago?"
We admitted that it had been quite a while ago but that we didn't think the laws had changed. Joe insisted that background checks were required in all states for all gun purchases. The discussion elevated to shouting, which really surprised me. Already yelled at by Joe for interrupting him "all the time," I shut up.
While Sally and Joe continued arguing, I pulled out my phone and Googled, "In which states can I buy a gun without a background check?" Then, when there was a gap in the shouting match, I began to read:
Eight states require background checks at the point of sale for all —
Joe cut me off. "Where does it say that?"
"Wikipedia," I replied.
"Oh, Wikipedia," Joe responded in a tone of voice that made it clear he thought I was an idiot for relying on anything I read there.
I clicked another link. This one displayed the Gun Show background Checks State Laws page on Governing.com. I mistakenly identified it as "a government website," but I still believe the information there is accurate. I read:
Known as the "gun show loophole," most states do not require background checks for firearms purchased at guns shows from private individuals — federal law only requires licensed dealers to conduct checks.
I held up the phone to show him a map with states colored depending on whether they required background checks for all gun purchases, including gun shows and private sales.
"It's on the Internet," Joe said sarcastically. "It must be true." He then started a rant about how you couldn't believe anything you read in the media.
I told him that some sources were definitely better than others.
He asked me where I got my information from.
"NPR, PBS, the New York Times, the Chicago Tribune, the Washington Post. These are all pretty reliable as far as facts go." (If asked again today, I'd add the Economist, the New Yorker, the Atlantic, BBC World News, and the Guardian.) I know better than to trust far right or far left media sources like FoxNews or Mother Jones.
He then went off on another tangent related to whether it was legal for felons to buy guns. Sally and I said no.
"So in these states where there's no background check required, it's legal for felons to buy guns?"
"No," we both repeated.
"But can they buy guns?"
"Yes," I said. "Because they can lie because there's no background check. That's the point. The background check would help prevent people who shouldn't buy guns from buying guns. That's why Obama made the executive order."
Joe responded by telling us that he didn't trust the president. That shocked the hell out of Sally and me. While Sally continued arguing with Joe, I took a huge step back, out of the conversation. I knew then that Joe was a lost cause.
Life's just too short to argue wait people who can't form their own opinions based on facts.
Oh, and I should mention that what I reported above is only part of a much longer, very angry conversation about laws, guns, truth, the media, and the president. Honestly, it went on a lot longer than it should have.
The Misinformed
This morning, after reading the Five Thirty Eight piece Stew shared, I realized that my friend Joe had become one of the misinformed.
We all get crap shared by our Facebook friends — crap pushing one opinion or another, often through the use of misleading or inaccurate data, charts, quotes, or statements. A lot of it is hateful or even racist. I've seen some pretty bad stuff and, in most cases, I simply stop following or even "unfriend" the person who shared it. I've blocked more than a handful of friends of friends who share inappropriate comments on my public posts. I have zero tolerance for hate.
Some of us get angry when we get crap we don't agree with but cling to the crap we do agree with. Others disregard the obviously misleading crap — "Obama is a Muslim" or "Syrian refugees are part of a terrorist sleeper cell" — and spend time researching the crap that might just be true. Nine times out of ten, that "might be true" crap turns out to be just as wrong as the rest of it. But that one time it isn't — well, then we can learn from it.
My friend Joe was from the first camp. He got a lot of crap from people who thought like he did — Sally confirmed this suspicion later that night — and he believed it. Yet ironically, he claimed that you couldn't believe anything on the Internet.
How could you argue with someone like that?
The Five Thirty Eight piece discusses the differences between uniformed and misinformed people:
Uninformed citizens don't have any information at all, while those who are misinformed have information that conflicts with the best evidence and expert opinion…. In the U.S., the most misinformed citizens tend to be the most confident in their views and are also the strongest partisans. These folks fill the gaps in their knowledge base by using their existing belief systems. Once these inferences are stored into memory, they become "indistinguishable from hard data"…

… When misinformed citizens are told that their facts are wrong, they often cling to their opinions even more strongly with what is known as defensive processing, or the "backfire effect."
The article goes on to discuss various studies and actual examples of the use of misinformation as a way to more firmly connect with supporters. It's not a very long piece, but it's a fascinating look at psychology. I highly recommend it.
How Lies Make Us Do Stupid Things
If we believe things that aren't true, we form opinions based on that misinformation. Those opinions can guide actions. If we follow a course of action based on bad information, we run the risk of following a bad course of action.
There's a pretty good example of this from my own life. My wasband somehow got the idea that he had a legal claim to everything I owned, despite the fact that I'd acquired most of it before marriage and through my own efforts. He firmly believed that he was entitled to half of everything and, for the life of me, I can't understand why his lawyers didn't set him straight. Or maybe they tried and he refused to believe them. His misinformed belief caused him to launch a lengthy and expensive divorce battle that he eventually lost. Still believing he was right, he couldn't accept that loss and appealed the judge's decision, thus launching another lengthy and expensive court battle that he also lost. Clearly, his belief in incorrect information cost him a lot of money that would have been better spent rebuilding his life with the woman who likely misinformed him and goaded him to going after my money in the first place. (Talk about irony.)
In 1998, Andrew Wakefield, who was then a medical doctor in the U.K., published a fraudulent research paper that linked the measles, mumps, and rubella (MMR) vaccine to autism. It was later discovered that the patients in his study were recruited by lawyers suing MMR vaccine makers and that those lawyers had paid both Wakefield and the hospital he worked for large sums of money. Further, Wakefield had applied for a patent on a measles vaccine to be used instead of the MMR vaccine; discrediting that vaccine would certainly benefit him financially. All of these situations were a huge conflict of interest for his research paper and probably explain his motivations for committing the fraud. The report was formally withdrawn in 2010 but the damage of his misinformation was already done: a huge group of people believed — and continue to believe — the now debunked results of his research. Although there is no link between the MMR vaccine — or any other vaccine — and autism, an alarming percentage of parents around the world refuse to vaccinate their children. The result: thousands of deaths and illnesses that could have been prevented by vaccines.
Nowadays, we're seeing opinions based on misinformation dividing Americans and filling them with hate. These people are voters and many support candidates such as Donald Trump who, in the words of the Five Thirty Eight piece's author, Anne Pluta, "has a consistently loose relationship with the truth." This is a man who has made many public derogatory remarks about women, wants to discriminate against people based on their religion, and claims he'll get a foreign government to pay for the cost of a border wall that is impossible to build. He's a narcissist with a crass personality who makes the American people look like idiots in the eyes of the world every time he opens his mouth. Very little this man says is true, but the misinformed believe him and eat up every word he utters. I think it's safe to say that the action they might take — actually voting for this man to be our president — is a foolish one.
My friend Joe's concerns about trusting the media aren't outrageous. There are many, many media sources that I can't trust to present facts that are not tainted by opinion. I already mentioned two of them — FoxNews on the far right and Mother Jones on the far left. These two media outlets present opinions supported by cherry-picked "facts" and quotes often taken out of context. But they're only two of the thousands of sources people — including voters trying to stay informed — trust every day.
What's the solution? If you can't find a truly objective source of factual information, there isn't one.
I've got to think that it's better to be uninformed than misinformed.