Be prepared — and then don't act outraged when you get an unexpected response.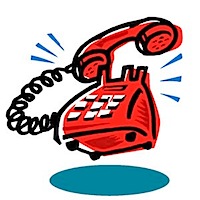 Yesterday afternoon, I got a call from a number I didn't know and answered as I usually do: "Flying M, Maria speaking."
The caller seemed almost surprised that someone had answered the phone. Maybe I'd answered more quickly than he expected. He stumbled over his words a bit and I recall thinking that he might be someone looking for information about a charter flight. Lots of people who call who have no idea how to ask for what they want get off to a rough start.
But no, eventually he asked for "the boss." Yes. In those words.
"That's me." I replied. Now my brain was wondering what he was selling. Anyone who asks for the owner or the person in charge of parts/maintenance/accounts payable/fill-in-the-blank is trying to sell me some product or service I don't want. My phone is a cell phone and the number is on the FCC's Do Not Call list, but that apparently doesn't stop telemarketers from bothering me multiple times a week.
But no, after some more stumbling over words, I learned that he was a pilot looking for a job.
And that's when I got annoyed. Here's a guy who can barely communicate what he wants and obviously did no preparation for his call asking me for a pilot job?
I replied that there were no job openings at my company and that even if I had a job to offer, I wouldn't offer it to him since he obviously couldn't be bothered to find out who he was calling before he made a call to ask for a job. I told him he needed to work on his technique.
And then I hung up.
After the initial "I can't believe how inept job seekers are these days" thought, I got back to what I was doing. I had pilot friends coming for dinner and was prepping for their arrival.
This morning, I got an angry email from the person who'd called. Apparently, he was in the U.S. from his home country (which I don't think I need to share here), had trained in the U.S., and was outraged that I'd been so rude to him. He said:
I was going to let you know that my approach to you asking for a job was not good at all, I just wasn't prepared before I called and of all the places I call the owner is never taking the phone.
Interesting that he admitted he wasn't prepared. And odd that I hadn't noticed his accent, which really comes through in the wording of his written communication.
He went on to say:
My point with this message is that the way you talked to me was just really disrespectfull [sic], rude and unmotivating for a new pilot.
Apparently, he believed that I should drop everything and give him the polite attention he thought he deserved as he interrupted my day to stumble through his job request. A request made without any advance preparation.
Yes, if he'd bothered to do any research at all on my company before calling to ask for a job, he would have learned that the company is a single pilot Part 135 operator with only one helicopter and one pilot. That should have told him how unlikely it was that I'd be hiring. But at the very least, he would have learned my name and could have used that instead of asking for "the boss."
Or if he'd read the Help Wanted page on my company's website, which is linked to the Contact page where he may have gotten my phone number and definitely accessed the contact form he used to email me, he would have seen that I was not hiring.
Yes, I was rude. I'll admit it. (It's already been established here and elsewhere that I can be a real bitch sometimes.) But when someone acts like an idiot, how should I respond? By gently coddling him so he makes the same mistake again with the next person he bothers?
Don't you think this guy will think twice before he makes his next call? That maybe — just maybe — he'll do a little homework first and learn more about the company he's calling and whether they're hiring? Or possibly find out who he should be speaking to to ask for a job?
And am I wrong, but do cold calls ever work when looking for a job? Any job?
The other day, I blogged about the importance of networking for career advancement. Networking can help job seekers make valuable contacts they can use when looking for work. It makes time-wasting cold calls unnecessary.
Am I sorry I was so rude to this guy? Maybe a little. He was probably slightly handicapped by a language issue.
But to me, he wasn't different from any telemarketer who disrupts my day by trying to sell me something I don't need or want.
And if he thinks I was rude to him, he should hear me when I'm annoyed at one of them.