As strange as this may seem, I have more stamina than two young golden retrievers.
I'm dog sitting for some friends in Arizona. In my charge are two golden retrievers: 1-1/2 year old Birdie and 6 month old Don Don. Of course, Penny the Tiny Dog, my 6-1/2 pound chihuahua terrier mix, is also with me.
I'm a huge believer in off-leash walking. Why would anyone put their animal on a leash if it can safely run free without bothering others or endangering local wildlife? In the Arizona desert, that means choosing a path on just about any back country trail or dry wash. Since the house I'm staying at is on a huge dry wash and Don Don is next to impossible to get into the car, it made sense to simply walk from the back yard out into the desert and down the wash.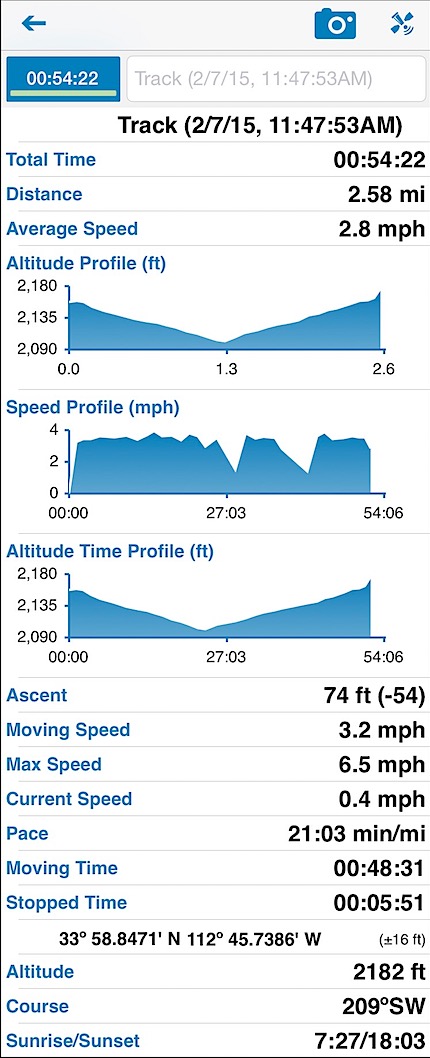 I'd done the walk last week when my friend Janet was in town with her dog. We'd walked about three miles — almost all the way into town and back. Today, I did almost the same walk alone with the dogs. Total trip was 2.58 miles in under an hour. My Gaia GPS trip computer shows the details. You can see the steady but gentle downhill walk and the climb back. Elevation change was only 74 feet — no big deal. You can also see where I rested along the way back.
I had three goals:
Get some exercise. I've been slacking off this week, not doing nearly as much walking as I should. I kept up a quick pace, aiming for 3.5 miles per hour moving average. (I achieved 3.2.)
Get some color back into my skin. For the first time since 2012, my skin has returned to the sickly white color it had when I spend most of my time indoors, often in a cavelike Phoenix condo. Fortunately, it was sunny — for the eighth consecutive day in a row — and in the 70s. I put on a tank top and shorts for maximum exposure and put my hair up in a high pony tail to prevent it from shading the back of my neck.
Get the retrievers tired. These dogs have a lot of energy to burn off. Getting them worn out would be a great way to ensure a peaceful afternoon.
The dogs were a funny group. Birdie pretty much stayed near me for most of the walk. Don Don wanted to explore, but because he's still a puppy, he's afraid to go out on his own. Penny is fearless and loves to explore, especially if there's birds or rabbits to smell or chase. So Penny took the lead and Don Don sort of blundered after her. Once in a while, Birdie would explore with them — especially when she saw Don Don getting good sniff of something on the ground.
I kept walking as fast as I could on the sand. And it was sand — sometimes deep sand. Fortunately, the rain that fell here the week before last was sufficient enough to form a sort of crust on much of the wash surface. It was broken only by a week's worth of 4WD traffic and the footprints of others. In addition to the tracks Janet and I had made with the dogs the previous week, I saw tracks from horses, deer, and dogs or coyotes. I kept to the hard, crusty sand as much as possible. It was easier to walk on and I was able to keep up that good pace I wanted.
As I walked, the dogs would disappear from view. Every once in a while, I'd call out, "Penny, Don Don, Birdie, Penny, let's go." One by one they'd come back into view — usually Birdie, then Don Don, and usually Penny. Penny was always last. She had far more important things to do than come when I called her to make an appearance. But she always came so I didn't bother putting her on the leash I'd brought along in case I had to tie them up.
Penny did a lot of running under the low bushes and trees that grew in and along the wash. Don Don often tried to follow her but was simply too big.
It was warm with a nice breeze on the walk out. The sun was ahead of me, to my right. The temperature was perfect for my tank top. And although the sun felt strong, I didn't feel as if I was getting burned. (And indeed, I did not get burned. My skin seems to remember the sun very well.)
We walked as far as a set of power lines strung across the wash. I turned around and started back, consulting the trip computer to see how far we'd gone: 1.25 miles. Perfect.
It was warmer on the way back. I was now walking with that gentle breeze, so I didn't feel it. The sun was at my back left side. As I walked, I began working up a light sweat.
The dogs, in the meantime, were definitely tiring out. Well, the big dogs were, anyway — Penny kept her fast pace, never stopping once. The retrievers now stuck together. They'd walk a bit ahead of me, then drop down to the ground in the shade and look up at me as I passed as if asking me to take a break with them. I kept walking and they'd eventually get up, catch up, and repeat the same process. Birdie was panting hard and it was easy to see why — she has a very heavy coat of fur.
I stopped twice along the way for a total of less than 6 minutes non-moving time. The second time was in the scant shade of a large mesquite tree. The two big dogs rested, panting hard, while Penny explored the underbrush. Then we were off again, more than halfway home.
We didn't pass a soul, either in a vehicle or on foot, in either direction. The only other animals I saw were quail and rabbits, including a rather large jackrabbit.
I admit I was glad when I found the spot we'd entered the wash 50 minutes before. I was hot and tired and a little worried about the two big dogs.
When we got inside, they went right to their water dishes. I had to coax them out of the nice cool house and into the backyard. Then I got them over to a hose, turned it on, and hosed them off a little. Birdie seemed to like not only getting hosed down but drinking out of the hose. Don Don wasn't as enthusiastic but did let me get him a little wet. And Penny, of course, wanted nothing to do with it.
Back down at the guest house, I filled a big water dish for them and set it down outside my door. Birdie and Don Don stretched out in the shade while Penny and I went inside. Penny drank and finished her breakfast. I had some lunch.
Within an hour, all four of us were dozing.