Watch it!
Chuck Joiner interviewed me recently for his excellent MacVoices video podcast. We talked about flying, my Twitter courses for Lynda.com, and social networking with Twitter and Facebook, and working with Lynda.com.
Chuck is a great interviewer and he really knows what to ask to get me talking!
You can see or hear other interviews with me on my Appearances page.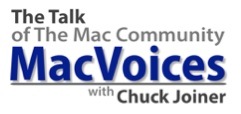 You can also go to the Show Notes page to get the free 7-day pass for Lynda.com that I mention in the interview.