A new project to get my year off to a good start.
2013 was the first year since 1991 that I did not publish a new book.
There are several of reasons for this, none of which I want to get into here. That would make interesting fodder for a future blog post. Don't worry; I won't leave you hanging for long.
But it isn't as if I haven't been writing — I have been. In addition to this blog, which I've tended to quite faithfully since I started it in October 2003, I've been working on another book project since late 2012, when I found myself with an outrageous personal story to tell. Unfortunately, I've had to put that project aside; I hope to finish it when I know the ending.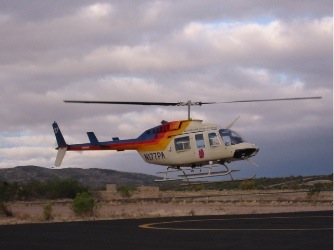 Today, however, I started work on the book I've been thinking about for the past month or so. Tentatively titled Flying the Canyon: My Season as a Grand Canyon Helicopter Tour Pilot, this book will share my experiences from one of the most interesting summers of my life.
Here, I'll let the book's draft introduction tell you more:
In the summer of 2004, I realized one of my dreams: I became a helicopter tour pilot at the Grand Canyon.

I was 42 when I got the job and I worked with a bunch of young people — mostly men — some of whom were young enough to be my kids. I met the challenges of working in a sometimes difficult but usually breathtakingly beautiful flying environment, dealing with the personalities of co-workers and management, and trying to please passengers from all over the world. The work was rewarding, frustrating, and enlightening. The flying experience was something I think every helicopter pilot should have.

I also had a very odd experience on one of my flights — an experience that would leave the lingering scar of PTSD on me for many years to come.

I thoroughly enjoyed the work, but by the end of the summer, the novelty had worn off. Friction inside the company made the job less pleasant than it had been. I realized that I was a square peg in a round hole. My real work as a freelance writer was being neglected and my editors were beginning to lose their patience. I was sad to leave, but it was time.

This book is the story of my season at the Grand Canyon. It begins before the beginning by sharing the stories of when I decided I wanted to learn how to fly and the things that I did to gain the skills I'd need to be a tour pilot. It then goes on to tell about my experiences as a pilot at the Canyon — including the unusual occurrence on June 10, 2004 — and my direct interactions with fellow pilots, management, and passengers. Finally, it shares how my feelings about being a Canyon tour pilot changed as the summer came to a close and the events that affected my decision to leave.

Because I'd blogged many of my experiences soon after they happened, much of what I share in these pages is rich with details. But rather than just restate my blog posts, I've filled in the gaps between them with the behind-the-scenes stories that I couldn't make public at the time.

Ever wonder what it's like to be a helicopter tour pilot at the Grand Canyon? Here's what it was like for me.
As I write, I'll be pulling a lot of my blog posts about those days offline, probably for good. In a way, my blog has acted as a temporary archive for these stories. Once the book is complete and published, the book will be the permanent archive. I hope to do this with much of the contents of my blog.
Today, I churned out over 4,000 words, completing the introduction (which I just shared here), a Prologue, and Chapter 1, which briefly covers my experiences learning to fly and getting my commercial pilot rating. My goal is to have the entire book finished by month-end — a goal I know I can reach if I can stay focused on my work. (With little else do do this winter, it shouldn't be much of a problem to find time!)
I've toyed with the idea of shopping it around to a mainstream publishing house but will likely self-publish under the Flying M Productions "Real-Life Flying" imprint. The book will be available in print and as an ebook in Kindle, Nook, and iBooks formats. I had quite a bit of success with one of my three self-publishing projects back in 2012, so I'm pretty confident I'll meet or beat that success with this book.
Of course, since I need to work on the book each morning, that might cut into my blogging time. So expect to see fewer posts here over the next month or so as I write, edit, lay out, and publish this book. More information on where to buy it will be available before month-end.
Comments? You know where to put them!