Spending my winter down time learning more about bees.
I started my beekeeping hobby in June 2013 and have been blogging about it periodically. If you're interested in reading the other posts in this series, follow the
Adventures in Beekeeping
tag. Keep in mind that the most recent posts always appear first on this blog.
As I get more and more serious about beekeeping, I've decided to spend my slow winter months studying up for the Apprentice Beekeeper Certificate. To that end, I've tracked down a reading list recommended by the University of Florida for their Apprentice Beekeeping Program. I discovered that I already had may of these books, but I did place an order with Amazon.com to fill in the gaps in my library.
(You might want to consider these as last minute Christmas gifts for the beekeeper in your life.)
Here's the list with links to Amazon.com; the descriptions are also from Amazon: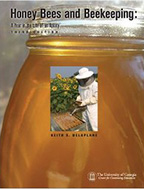 Honey Bees and Beekeeping: A Year in the Life of an Apiary, 3rd Edition
by Keith Delaplane
©2007, Spiral Bound
Beekeeping is enjoyable and satisfying, whether you're a professional or a novice. With a bit of ingenuity and a little knowledge, anyone can successfully raise honey bees. Learn how to set up and maintain your own honey bee colony from Keith Delaplane, Ph.D., one of the nation's foremost entomologists as he guides you through each step, from buying tools and selecting healthy bees, to harvesting and selling honey.

The Beekeeper's Handbook, 4th Edition
by Dianna Sammataro and Alphonse Avitabile
©2011, paperback, 272 pages
Since 1973, tens of thousands of first-time and experienced beekeepers alike have relied on The Beekeeper's Handbook as the best single-volume guide to the hobby and profession of beekeeping. Featuring clear descriptions and authoritative content, this handbook provides step-by-step directions accompanied by more than 100 illustrations for setting up an apiary, handling bees, and working throughout the season to maintain a healthy colony of bees and a generous supply of honey. This book explains the various colony care options and techniques, noting advantages and disadvantages, so that beekeepers can make the best choices for their own hives.

First Lessons in Beekeeping
by Keith S. Delaplane
©2007, paperback, 166 pages
First Lessons in Beekeeping introduces the prospective beekeeper to the basics of beekeeping through easy-to-understand text and numerous color photos on honey bee biology, beekeeping equipment, management, honey production and processing, as well as disease diagnosis and treatment. In the preface to this book, author Keith Delaplane says of his first book on beekeeping, "Its pages opened to me a golden world of honey bees and beekeeping and guided my stumbling steps that first spring season. My story is but one of thousands who have passed through the door opened by Dadant's little book."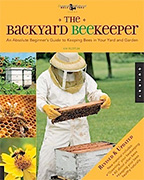 The Backyard Beekeeper, Revised and Updated: An Absolute Beginner's Guide to Keeping Bees in Your Yard and Garden
by Kim Flotsam
©2010, paperback, 208 pages
The Backyard Beekeeper, now revised and expanded, makes the time-honored and complex tradition of beekeeping an enjoyable and accessible backyard pastime that will appeal to gardeners, crafters, and cooks everywhere. This expanded edition gives you even more information on "greening" your beekeeping with sustainable practices, pesticide-resistant bees, and urban and suburban beekeeping. More than a guide to beekeeping, it is a handbook for harvesting the products of a beehive and a honey cookbook–all in one lively, beautifully illustrated reference. This complete honey bee resource contains general information on bees; a how-to guide to the art of bee keeping and how to set up, care for, and harvest honey from your own colonies; as well as tons of bee-related facts and projects. You'll learn the best place to locate your new bee colonies for their safety and yours, and you'll study the best organic and nontoxic ways to care for your bees, from providing fresh water and protection from the elements to keeping them healthy, happy, and productive. Recipes of delicious treats, and instructions on how to use honey and beeswax to make candles and beauty treatments are also included.

Honey Bee Biology and Beekeeping, Revised Edition
by Dewey M. Caron, Lawrence John Connor, and 4 others
©2013, hardcover, 368 pages
The standard beekeeping (apiculture) textbook used to teach college students and beekeepers the science and practice of bees and beekeeping. It concentrates on the 'why','how' and 'when' of beekeeping. It explains bee basics in a manner meaningful to people who lack an intensive background in biology. It does not oversimplify, and provides a meaningful source of beekeeping information for the new and informed beekeeper. Widely considered the most complete beekeeping textbook, covering a vast array of topics of bee biology and colony management. The Revised Edition features the addition of full color throughout the book, extensive revision of photography and artwork and thoroughly updated materials. Comprehensive, assessable and now updated and illustrated with hundreds of color photographs and illustrations.