A look inside my first hive.
I started my beekeeping hobby in June 2013 and have been blogging about it periodically. If you're interested in reading the other posts in this series, follow the
Adventures in Beekeeping
tag. Keep in mind that the most recent posts always appear first on this blog.
I did my third hive inspection on my first beehive the other day. My primary goals were to check the overall health of the hive, make sure there was fresh brood (unhatched bees), verify that the queen was present and healthy, see how far along the bees had come in filling the 20 frames in the hive, and replace one of the frames in the lower hive box with a drone frame.
I accomplished all of these things except spotting the queen. The hive seems very healthy, though, and the bees seem to be multiplying nicely, so I can assume that the queen is in there somewhere. The presence of several supersedure cells, however, hinted that the queen may be aging or that the bees might not have confidence in her continued viability. I find this odd because the bees came in a nuc I bought locally and the man who sold it to me installed a new queen not long before I bought it. So I'm not sure what's going on there.
You can see a supersedure cell, along with quite a few drone cells, in the photo below. The supersedure cell is the elongated cell near the center of the image. The drone cells are the cells with the domed caps. Also in the photo are cells of capped and uncapped brood and stored honey. It's interesting to note that I shot this closeup with my iPhone's camera; I'm pretty surprised it was able to focus so closely — I did not zoom in, although I did crop the image.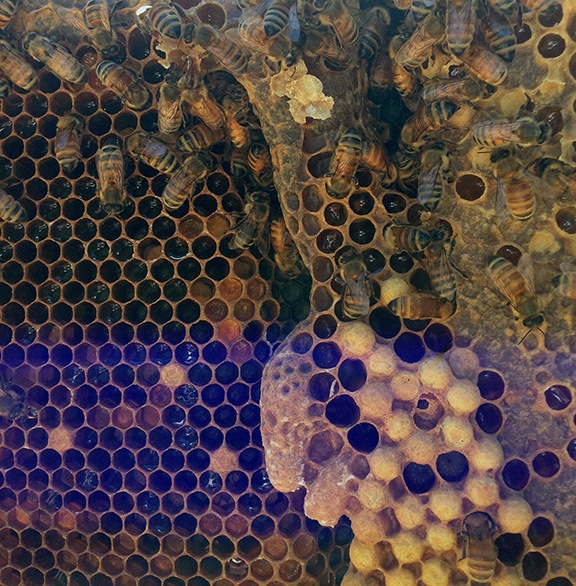 Eight of the upper hive box's ten frames were full of partially capped honey. One frame was in progress and the other frame was completely untouched. The sheer quantity of stored honey and the speed at which these bees seem to produce convinced me to add the Ross Rounds frames I'd assembled on July 4. I returned the next morning and added it atop a queen excluder and spacer with exit. With luck, they'll fill and cap those frames before the end of the season.
More on drone frames in another post.