I enjoy my first rack of ribs, smoked to perfection on my new grill.
Grilling has been a part of my life for the past 30 or so years. I had a grill in Queens (New York), New Jersey, and Arizona. Even when I lived just three months in Yarnell, AZ back in 1995, I bought a little hibachi and used it almost every evening to grill up some meat and vegetables over charcoals for dinner. My old RV had a built-in gas grill and when I got my new RV, the "mobile mansion" back in 2010, I bought a small gas grill to satisfy my craving for grilled food.
I grill year-round, several times a week.
About 10 years ago, I attended a cookout at Prescott's Love Field airport. My host was cooking on a Traeger Grill. The benefit of the grill was clear: it was fed wood pellets — not gas or charcoal — and it automatically maintained any temperature you set it at. The fact that it was also capable of smoking meat made it something I wanted. Badly.
Time passed. I wasn't in charge of procuring grills for my home. Someone else was. And he liked gas.
Whatever.
I did have a smoker for a while. I got it from a friend about eight to ten years ago, right before she moved to Colorado. I traded an old bird perch — she has a parrot, too — for it. It was a good-sized traditional smoker with an external firebox and smokestack. It worked well — on the few instances I took the time to use it. Smoking, you see, was all about time — time preparing the wood, time starting the fire, time getting it up to temperature, time checking the temperature, time adding the wood, time checking the temperature, time adding the wood, time checking the temperature — well, you get the idea. When I smoked something, I had to hang around and tend to the smoker. Getting a remote thermometer helped — at least I could monitor the temperature without going outside. But it was still a pain in the butt.
I gave away the smoker. I traded it for a new heating element installed on my hot tub. (Ironically, I gave away the hot tub, too. I traded it for some help moving furniture out of my house last month.)
I'm living in my RV again this summer, prepping to build a custom home on 10 acres of view property in Malaga, WA. That home is going to need a new grill. And this time, I'm in charge.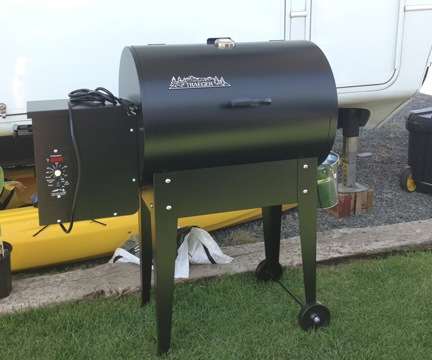 So I bought the grill I've been wanting for the past 10 years. A Traeger.
I bought the "Junior." It's the second smallest model and it now comes with the same digital LED thermostat previously available only on the larger, more costly models. Not that the grill was cheap — it wasn't. But the $50 rebate did help convince me to buy now.
After all, why the hell not?
I bought it at Stan's Merry Mart in Wenatchee. (I love that store. It's so funky-weird. Hell, just look at its sign.) Just the day before, a young sales guy had almost talked me into it. I left, thought about it some more, and came back to buy it. They loaded it into the back of my truck with a big bag of mesquite pellets and I drove it back to the Mobile Mansion.
The next day, I assembled it. (If you watch the time-lapse video here, see if you can see the mistake I made and fixed.) But I couldn't use it that day — I was going to Wenatchee to meet someone new and watch him play softball. Over dinner, I told my new friend about my new grill. I invited him over for the christening celebration: two racks of ribs, smoked. We'd go for a helicopter ride while we waited for the ribs to finish cooking.
And that's what we did.
Before he came, I prepped the meat by covering it with a mesquite rub. I prepped the Traeger by doing its initial start and seasoning the porcelain grill. Then I turned the thermostat to 250, which brought the cooking chamber up to around 225 — the recommended temperature. I put the ribs on the grill, closed the lid, and went about my business without having to check the temperature or add fuel even once.
When we got back from our flight, the ribs were nearly done. They looked amazing. I made us some salad and corn on the cob, then brushed the smaller of the two racks with BBQ sauce and threw it on my old grill, set to high, to caramelize the sauce onto them.
The finished product was perfect.
What's next? I've been thinking about salmon…