A quick trip to Quartzsite — perhaps my last ever.
I flew to Quartzsite, AZ on Tuesday with Penny the Tiny Dog. I wanted to visit one of my favorite weird desert destinations one more time before I move north to my new home in Washington State.
Quartzsite, in case you don't know, is a tiny community in the desert right on I-10 a bit east of the California border. During the summer months, it has a population of about 3,600 people. In the winter, especially during the big RV show week in January, the area population grows to at least 50,000. Most of the winter visitors are RVers who live in trailers and motorhomes out in the desert on BLM land. They come there for the warm climate, but also for the continuous string of shows and swap meets in the area.
I've been going to Quartzsite for years. I really like going for a few days and staying in an RV out in the desert, but it was often difficult to arrange, given my soon-to-be ex-husband's schedule. I bought my fifth wheel RV (the "Mobile Mansion") there back in 2010 and that was the last time we stayed there overnight. Almost every year I managed to get at least one visit in. Last year, I visited for the day; my friend Janet was living there, selling her artwork at one of the Tyson Wells shows.
This year, a Twitter friend was staying in the area and I used that as an excuse to go out there during the RV show week. (I don't know why I need an excuse these days; my life is finally my own to do as I please. But old habits die hard.) I didn't feel like driving — it's about 100 miles each way. So I went out to the airport, dragged the helicopter out, preflighted, fired it up, and took off with Penny on board in the passenger seat beside me.
It was an uneventful flight. A typically perfect Arizona winter day with temperatures forecasted to get into the high 70s, no wind, and no clouds. I had a bit of a problem with my door on takeoff — I'd lifted off with the door unlatched — and had to land in the desert about 4 miles west of town to close it properly. But then we were on our way, zipping across the desert about 500 feet up at 120 knots ground speed. Foreflight on my iPad told me we'd get there at 9:23 AM.
My landing zone (LZ) was a crapshoot. I honestly didn't know for sure where I'd land. Quartzsite is surrounded by BLM land and I am allowed to land there, provided I don't have paying passengers on board. But I wanted to get as close to Tyson Wells and the RV show across the street as possible. I thought I might try an empty lot south of I-10, but when I got near there, I saw a few trailers parked nearby and a man walking across the lot. Too much going on. So instead, I found a nice LZ a bit south of there. It was probably about a half mile from the traffic light just east of Tyson Wells.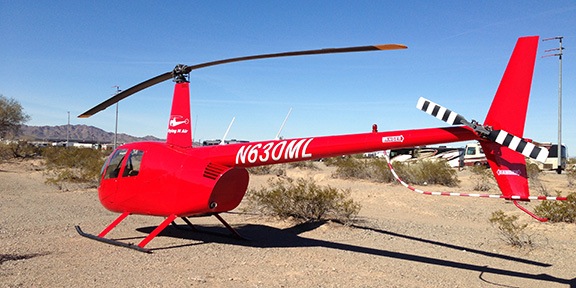 I shut down, put Penny on her leash, and locked up the helicopter. We walked over to the RV show. It was still early — only about 9:30 AM — and things were just waking up. That's one of the things I like about getting to Quartzsite early; you get a real feel for the "behind the scenes" life of the vendors. Along the way, I got a text from my friend Jim in Idaho and decided to give him a call. We chatted while I walked around outside the big RV show tent.
By the time we finished, I was in the vendor area nearby, just outside a pet supply booth. I made my first purchase of the day: a new harness/collar for Penny. Finally she can stop wearing that kitten collar!
We walked Tyson Wells next. The show was not nearly as big as it had been in past years — hell, Quartzsite has come a long way down since its glory years. There was still plenty to see and buy, including the usual collection of junk of interest to RVers. There were also quite a few bible and prayer booths. As I walked past one of them, a guy outside asked me if I wanted to participate in a "bible survey." I said, "You don't want to hear what I have to say," and laughed as I walked away.
I looked at jewelry. I'm still trying to replace a pair of earrings I aways wore that my husband gave me. I simply can't bear to look at them anymore. But I didn't see anything better than the pair I'd already bought that were slightly too big for everyday use.
I bought a business card stand made out of flatware for a friend of mine who owns a catering company. I figured it would be a neat thing to put out at events to display his business cards.
I also bought an excellent, right-out-of-the-oven cinnamon roll without all that icky icing Cinnabon uses. Delicious!
In the meantime, Penny was trying to say hello to all the other dogs she saw — and there were a lot of them. Sadly, a lot of the smaller dogs were confined in dog strollers — if you can believe that — or being carried. Why won't people let their dogs be dogs?
Finished with Tyson Wells, we walked back to the RV show. I wanted to buy a sign.
Last year, when I'd gone to the show, I'd bought five wooden signs designed to hang one under the other. The top one said "Mobile Mansion" and the bottom ones each had names: "Maria," "Mike," "Charlie," and "Alex." You see, my husband was supposed to join me on the road in the RV and I thought it would be fun to have these signs hanging outside to show who was in residence. It's an RVer thing. I had them with me in Washington last summer and was having a sign stand made so I could hang them outside the RV. Of course, when my husband told me he wanted a divorce, I sent the "Mike" and "Charlie" signs back to him. Although I aways hoped I could get Charlie back, it doesn't seem as if my husband will give him up. But I do have Penny so I wanted to have a sign made for her. I'll hang the remaining signs when I go back to Washington and set up the RV again.
I found the wooden sign guy and placed my order. I paid him $15 and he told me to be back in an hour.
I put Penny in my tote bag with her head popping out. I didn't want to carry her, but I knew that walking her though the big tent on a leash was not a wise idea. With her safely tucked away under my arm, we went inside.
Inside the tent was a zoo: crazy crowded. Vendors were selling RV timeshares and providing travel information about various destinations. They were selling cooking appliances and utensils. They were offering massages and pain relief and teeth whitening. They were selling solar panels — including the "Plug and Play" systems my soon-to-be ex-husband had wanted to design but never moved forward on. They were selling clothes and cell phone cases and solutions to clean RVs. The whole place reeked of RV septic system fluid — like someone had dumped a case of the stuff on the floor. It was crowded with retirees shuffling from one booth to the next, making unexpected stops. I was very glad Penny was safely tucked away — she would have either been trampled or her leash would have tripped an old guy.
I looked at a cell phone case, but left without one when I realized they wanted $19.95 for the same thing I could buy at Tyson Wells for $6.
We exited back into the fresh air on the west side of the tent, right outside the smoked turkey leg booth. I took Penny out of the bag, set her on the ground, and got on line. My husband never left Quartzsite without a smoked turkey leg — he loved them. In fact, last year when I went without him, I brought a few back for him. I liked them, too, of course, although it was too much food for lunch. So I ordered one wrapped to go (which I'd eat for dinner over the next two days — they really are huge) and got a fully loaded smoked baked potato for lunch. Penny and I retreated back toward the outside of the tent, where we sat on a flattened cardboard box to eat in the sun. By this time, I'd stripped off most of my layers of clothing and was very comfortable in a tank top and jeans. (Yes, in January.)
With lunch finished, we walked around the outside of the RV show tent again, eventually winding up at the sign guy. The sign was ready, although he had run out of the spray stuff he uses to protect it. I told him I didn't want to wait for his companion to arrive with some, confirmed that the paint was dry, and stuffed it in my bag of goodies.
We were done and it was time to go home.
I did want ice cream, but I didn't want to wait on the very long line for the ice cream vendor outside the big tent. And I certainly wasn't going to pay the other guy on the way out of the area $7 for an ice cream cone. But we did find an ice cream place not far from the corner with the traffic light. I got a huge 2-1/2 scoop serving on a waffle cone. And when they saw that I was with a dog, they gave me a tiny vanilla cone just for her.
We walked back to the helicopter. I did a quick preflight, added a half quart of oil — which I managed to spill quite a bit of — and climbed on board. A while later, we were airborne over the town. I managed to take one photo of the RV show and Tyson Wells area before turning east toward Wickenburg.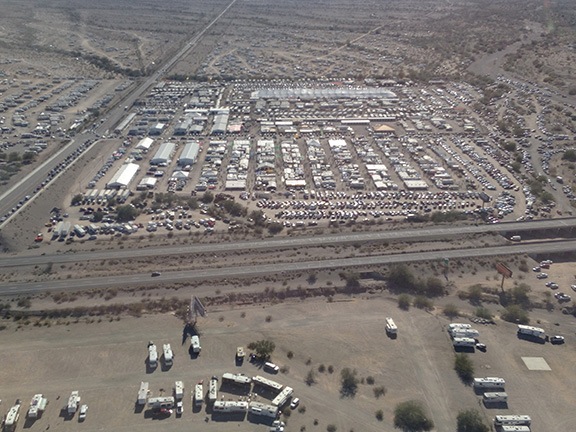 We were back on the ground at Wickenburg Airport 40 minutes later.
It had been a nice day out — and possibly the last time I'd ever go to Quartzsite. I'd miss it.