No, not just 15 beans. 15 kinds of beans.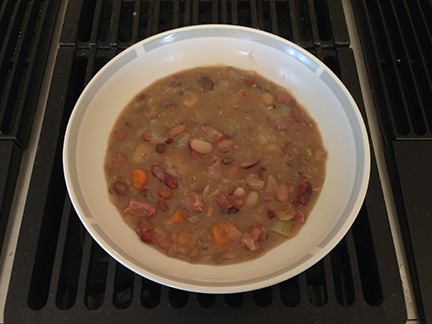 The other day, I made 15-bean soup, a great, hearty dish, especially good on cold days.
One of my Facebook friends asked what recipe I used. I told her I made it up as I went along. Here's the recipe as I remember it. (This recipe should also work well for pea soup; just use split peas instead of the bean mix.)
Ingredients:
1 bag dried beans. I used 15-bean mix, but you might want to try a different mix. The problem with the 15-bean mix is that it includes black beans which, when cooked, make the soup dark and uglier than it needs to be. But it still tastes good. If the beans came with any sort of soup "flavor packet," throw it away.
Ham hocks. I used a package of 3. Two of them didn't have much meat on them, but the third had a lot of meat. You could, if you prefer, use about 1/4 pound lean, thick sliced bacon (cut into 1-inch pieces) or smoked sausage (cut into 1-inch pieces). Or you could leave this out entirely if you want a vegetarian soup.
1 cup carrots, cut into 1-inch slices. I used baby carrots, halved.
1 cup celery, cut into 1-inch slices.
1 large onion, chopped.
1 tsp dried thyme.
1 tsp dried tarragon.
1 tsp dried sage. (The sage I had at home had evidence of mold, so I didn't use any.)
2 bay leaves.
Salt and pepper to taste.
Instructions:
Rinse the beans, then put them in a pot with enough water to cover them by at least 2 inches. Soak for an hour, then drain. Then return to pot, cover with water again, and allow to soak overnight.
Drain the beans again, then return to the pot.
Add 6-7 cups water and ham hocks and bring to a boil.
Reduce heat and simmer about 3 hours, stirring occasionally to prevent beans from sticking to the bottom of the pot. During this time, it may be necessary to skim some ugly foam off the top. I use a slotted spoon.
Remove the ham hocks from the pot and set aside to cool.
Add the vegetables and herbs to the pot and bring to a boil. Then reduce heat and simmer.
Remove meat from ham hocks and return it to the pot. Discard fat, skin, and bones. (At this time, if there isn't enough meat, you can add diced ham or something similar. I really like a meaty soup.)
Continue simmering until vegetables are done.
Serve hot with some crusty bread.
I like a thick soup, so I usually just add 6 cups of water in step 3. If the soup seems to be too thick by step 5, I add more boiling water. The other day, I added about a cup to bring it up to 7 cups.
In all honesty, I'm clueless about herbs. I guessed on these and it tasted good.
I don't know if it matters if you cover it. I covered it after step 6.
This soup freezes well. The recipe yielded about 3 quarts of soup; I divided most of it into pint-sized plastic containers, cooled it in the fridge, and then put most of them in the freezer. When I'm ready to eat the frozen soup, I can simply transfer it into a microwave safe dish and zap it on medium until done, stirring a few times along the way. Or let it defrost on the countertop and heat it on high until hot.
If you make it, let me know what you think.