Going through old papers, I find a reminder of the man I loved.
I'm clearing out old papers and stumbled upon this cutout card, made from a red and pink file folder. Here's the outside, which was folded in half:
Inside looks like this: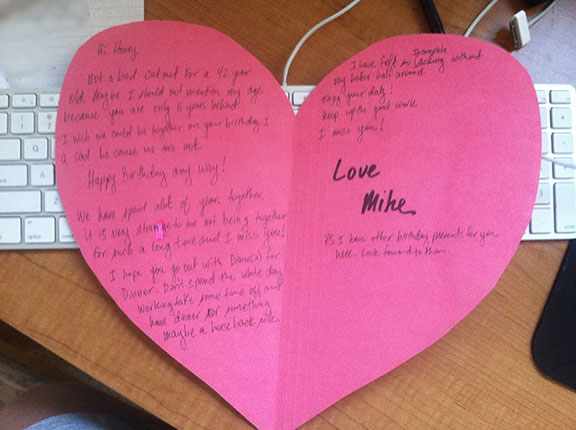 In case you can't read it, it says:
Hi Honey,

Not a bad cutout for a 42 year old. Maybe I should not mention my age because you are only 5 years behind. I wish we could be together on your birthday. I a sad because we are not.

Happy Birthday any way!

We have spent alot of years together. It is very strange to me not being together for such a long time and I miss you!

I hope you go out with Diane(a) for dinner. Don't spend the whole day working. take some time off and have dinner or something. Maybe a horseback ride.

I have felt incomplete without my better half around. Enjoy your day! Keep up the good work. I miss you!

Love Mike

P.S. I have other birthday presents for you here. Look forward to them.
My birthday is at the end of June. He was 42 in 1998. That would make it right after we moved to our Wickenburg house. In those days, he telecommuted to a job in New Jersey and made a monthly week-long trip back there. He had an apartment in Totowa, NJ that he stayed in when he was there. Judging from what he's written, he may have been away for longer than just the usual week. At that point, we'd been together for about 15 years.
Diana was a friend of mine who introduced me to horseback riding. I may have had my own horse by then, but I'm not sure. I probably still rode with Diana at her place.
What a sweet note.
I'm surprised that I didn't cry when I found it or when I read it. I think it's a sign that I'm getting over my loss.
I sure do miss the guy who sent me this. I wish he was still around.
Ironically, this was in a bundle of miscellaneous paperwork that the angry old man who took his place tied up with string and left on the floor in my office. I wonder if he would have thrown it away it if he'd seen it. I guess I should be glad it never made it to the hangar with so many other bundles and boxes of paper — if it had, it would have been destroyed forever by the flood that got the rest. I may never know what other remembrances were lost.