A final dedication to my home.
Last spring, when it looked as if my husband and I were going to get through our marital difficulties and make things work, he and I spent the good part of a day reworking the back flower beds that I'd created with stacked bricks years before and planting cape honeysuckle plants. We'd had some luck with these plants in the corner of the front yard. Their tubular red flowers attract hummingbirds, which I love to have around the yard.
We planted eight of the plants and watered them regularly to get them established. My husband subsequently added the beds back to the irrigation system so they'd (supposedly) get watered regularly.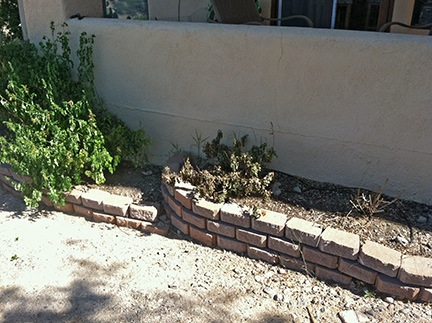 Unfortunately, my husband didn't spend much time at our Wickenburg home over the summer. That was pretty obvious from the condition of the yard and flower beds when I returned. He'd planted a vegetable garden, which was mostly dead. And five of the eight cape honeysuckle plants were either missing or reduced to dead sticks. Everything was bone dry. When I checked the irrigation system, I found the spigot turned off.
I turned the spigot back on, but the system doesn't seem to be working properly. It trickles water to the plants at an odd schedule that isn't sufficient to keep them alive during the heat we're still suffering through in September and October.
Although I've given up on manually watering his vegetable garden — he planted mostly peppers, which I really don't like anyway — I've been watering the surviving cape honeysuckle regularly. My efforts have paid off. The three surviving plants that were fading have recovered and seem to be growing again. The others, of course, are beyond help.
Whatever happens in the settlement for my divorce, I know one thing for certain: I will not be living here much longer. Instead, my husband will move back in with my replacement. She'll sit on my furniture, use my kitchen appliances, and bathe in my garden tub, as I did, on winter afternoons with the sun coming through the glass block window. She'll sleep with my husband, perhaps in the bed I shared with him all those years.
It's painful to know that I'm so easily replaced. But at the same time, it really says a lot about the conscience (or lack thereof) of a man who would so easily put another woman in the home he shared with his wife for more than 15 years — and the conscience (or lack thereof) of the woman who would have no qualms about taking that place.
Yet despite my pain, I continue to water the cape honeysuckle. To me, they're a symbol of my dedication to my home and my relationship. No one spends hours in the hot sun preparing beds and planting shrubbery for a home they plan to leave for good.
I thought I was going to stay. I thought I had a future here. I thought I had a future with my husband.
I may have been wrong, but I'll tend to these plants until I'm gone.