The second day of my overnight getaway.
As I blogged earlier in the week, on Sunday I went hiking with a Meetup group in Sedona, AZ. But rather than go home afterward, I decided to spend the night in Flagstaff and do some more hiking among the aspens the next day.
You see, one of my Facebook friends, who is also an aerial photography client, Rebecca Wilks of Skyline Images, posted an update about the fall colors in the Flagstaff area. For those of you unfamiliar with Flagstaff, it sits at about 7,000 feet elevation and has many groves of aspen trees. In September and October, the leaves turn yellow. The result is beauty.
I read her update and was bummed out. This would likely be my last autumn in Arizona and I'd miss the aspens changing. I might never get another opportunity to see them.
But then I thought about it and realized there was no reason to miss them. After all, it isn't as if I'm working. I'm just hanging out at home, packing at my own pace, waiting for divorce stuff to happen around me. I'd just tack on a day in Flagstaff after my day in Sedona.
Plan made, I called around and found a hotel that accepts pets, the Drury Inn. Not my first choice, but no real complaints. I booked a room and, on Sunday afternoon, I began the short drive up Oak Creek Canyon from Sedona to Flagstaff.
Although it was early enough to do a short hike when I arrived in Flag, I was exhausted, sticky, and stinky from my hot hike in Sedona with the group. I elected to take a nice hot shower, try some of the "happy hour" food they offered at the hotel, and just take it easy. Penny the Tiny Dog didn't seem to mind. I'd brought along her bed and since she was just as tired as I was, we both relaxed. I had two bloody marys in the lobby and nibbled on some soup and some macaroni and cheese for dinner. By nine, I was asleep.
We got an early start in the morning. The plan was to visit two locations: Lockett Meadow and the Inner Basin Trail on the east side of the San Francisco Peaks and the Kachina Trail near the Snowbowl. After a quick free breakfast of oatmeal and coffee, Penny and I were packed and ready to go by 7 AM.
Lockett Meadow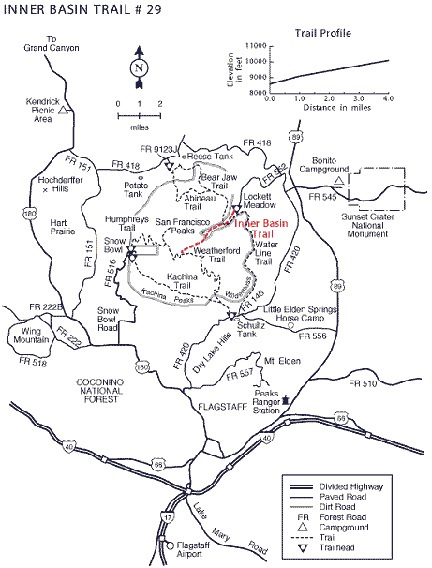 The road to Lockett Meadow is not paved. I was driving my Honda S2000, which probably has about 6 inches of clearance on the bottom. (At least it seems that way.) I was a little concerned when I saw the sign that said "Road Not Maintained for Passenger Vehicles," but when you consider that the road to my house is not maintained at all and is currently in deplorable condition and I drive it every day with the Honda, I was willing to give it a try.
It turned out to be in excellent condition. It climbed up the side of a mountain with no guardrails to stop a skidding car from plunging over the cliff — typical Arizona back road. In the distance I could see Sunset Crater and the Painted Desert beyond it. I kept climbing, reaching an elevation (eventually) of over 8,000 feet.

Lockett Meadow Campground was at the end of the road. So were the aspen groves. I stopped and snapped a few photos, including this shot of my car parked alongside the road.
I drove through the campground. It was about half occupied. I thought about what a great place it would be to stay for a week or two in the mobile mansion. And then I thought about how unlikely that was to happen.

In the back of the campground was the trailhead for the Inner Basin trail. I parked the car among the SUVs in the small lot and got out with Penny to take a look. The trail looked dark and wound into the forest. It didn't look very inviting. Although Penny was ready to go, it didn't look like the kind of hike I wanted to take early in the morning. I was more interested in photographing the aspens; there were plenty of subjects back out in the meadow.
But there was one thing at the trailhead I want to share, especially since the first line was so appropriate to my situation. It's a passage from the Navajo Blessingway:
Today I will walk out; useless burden will leave me.

I will be as I was before; a cool breeze will wash me.
I will have a light body; I will be happy.
Nothing will hinder me.

I walk with beauty before me. I walk with beauty behind me.
I walk with beauty below me. I walk with beauty above me.
I walk with beauty around me.
After thinking about that for a moment, we returned to the car and drove back out to the meadow. I took a few shots and was generally happy with what I got. But as I was driving away from the place, I caught sight of a small pond with a perfectly smooth surface. My brain shouted: reflections!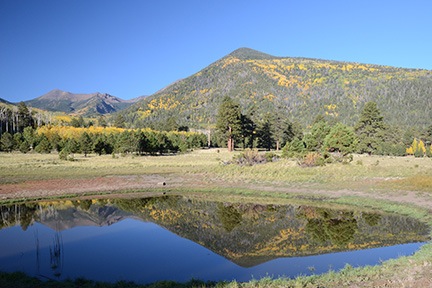 I love including reflections in my photographs. This location did not disappoint me. I was able to make a number of photographs that really showed off the view with perfect reflections.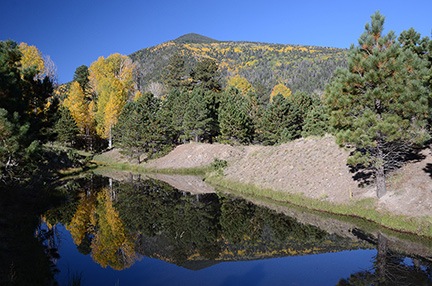 I got back into the car again, now ready to leave. But again, as I was driving off, I caught sight of another place where still water was surrounded by trees. Leaving Penny in the car, I went to investigate and made a few more reflection photos. It was really much more than I had hoped for.
We retraced our route back down the mountain. It dumped us onto Shultz Pass Road. I checked my map. The road, which was unpaved, would take us along the base of the mountain back toward Flagstaff. In my typical explorer fashion, I decided to give it a try.
I didn't get very far. At the first place where water had crossed the road, large rocks lay in the roadway. I thought I had enough clearance to get over them, but I soon heard (and felt) rocks under the floorboard. Not good. I stopped to take a peek underneath. Sure enough, there were a bunch of rocks beneath the car that I simply would not clear. Recalling how my soon-to-be ex-husband had punctured the oilcan on his Honda years ago, I decided to clear the rocks out from under the car, back up, turn around, and go back the way I'd come.
Fortunately, all this happened about 50 yards from a forest service guy who was parked with his truck in a clearing. When it became clear that I would not be able to reach the rocks without lying in the dirt, he offered me a shovel. I used the handle to pull the rocks out. Then I got in, backed up carefully, and returned the shovel. He probably thought I was nuts for trying the road in the first place. And he was probably right.
Return to Flagstaff
I drove back to Flagstaff on Route 89, which turns into Route 66, and took the turn for Route 180. I was less than 10 miles from the Snowbowl.
Unfortunately, along the way I had begun thinking of a friend of mine — or someone I thought was a friend of mine — who worked in Flagstaff. My last contact with her had been an email message telling her about my marital woes and warning her that the same thing could happen to her. I never got a response. I wondered what she thought of me and wanted very badly to see her and explain.
That was gnawing at me as I drove through Flag. I didn't know where she worked or even if she was working that day. But I could find out. I could try to see her. I could try to explain.
But I kept driving.
I was about 3 miles short of the Snowbowl turn when my phone rang. It was my friend, Rod. I pulled into a trailhead parking lot and stopped in the shade to talk. And that's when I fell apart.
You see, I was still hurting badly about my divorce and the way it all went down. My husband's betrayal was like an open wound. Thinking about this friend in Flagstaff, who is married to my husband's old roommate, had only made matters worse. When Rod called to check in with me, I broke down crying.
We had a long talk. I cried a lot. He gave me a good pep talk. He told me what everyone else had been telling me for months: that my husband was an idiot and a bum (and other things) and I was so much better off without him. I wasn't convinced. Not yet. That would come later in the week.
But Rod did convince me that my Flagstaff friend wasn't a real friend at all. If she was, he argued, she would have called me. No friend would simply ignore me when I was in such obvious emotional distress.
Rod is definitely a real friend.
While I talked, I let Penny out of the car. She wandered off into the woods. I kept an eye on her. There was something on the ground that she found very interesting. I walked over to check it out. It was a skunk skeleton. Skunk skeletons smell just like skunks. So did Penny.
The Kachina Trail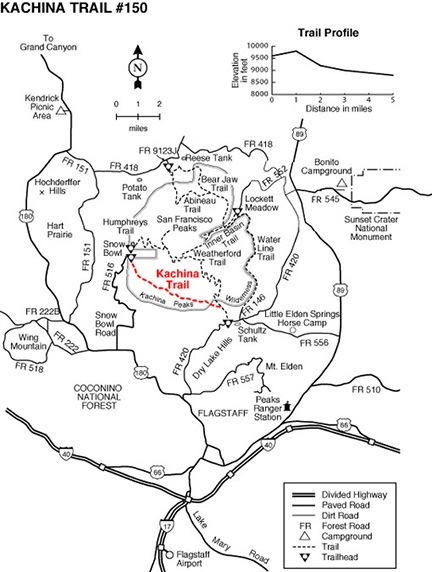 When Rod and I finished talking, I felt better. Penny and I got back into the car and continued to the Snowbowl. We followed the winding road all the way up to the entrance to the ski area. Just to the right was the parking area for the trailhead.
The Kachina Trail is part of the Arizona Trail, a trail system that stretches north/south through Arizona. This was news to me. The only part of the Arizona Trail I'd ever hiked was at the Grand Canyon.
I chatted with some Canadians in the parking lot while I prepped for the hike. Like me, they were here to see the fall colors. Penny and I left them putting on their hiking shoes and hit the trail.

Like the other trail, the Kachina trail led into the woods. But whether it was the time of day — after 10 AM — or just the kind of trail, it seemed a lot brighter and more inviting. But what really surprised me was the elevation — the GPS in my phone reported nearly 9,300 feet. Whoa.
The trail wound into the woods, paralleling the road I'd driven up, which was just out of sight beyond the trees. I could hear vehicles driving up and down, including trucks and loud motorcycles. Not the kind of experience I wanted. But then the trail curved away from the road and it got quiet, with just the sound of the wind in the trees and the birds. The leaves on scattered aspen trees fluttered with a sound like falling water.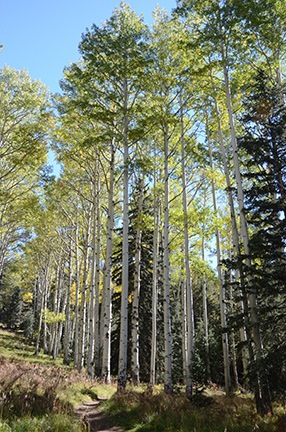 The trail was relatively narrow and wound up and down through the forest, between trees and around large rocks. Penny, on her leash, led the way, stopping occasionally to sniff at something. We met a young family with children walking the other way. I kept up a good pace without getting winded, despite the elevation, and was glad again for the health benefits of my recent weight loss.
I didn't take many photos. Truth is, I was disappointed. The aspens weren't anywhere near peak along the trail — perhaps because it wound along the south-facing side of the mountain. Although the trail was pleasant enough, it didn't offer what I was there for. So after hiking about a mile (per my GPS), I decided to turn back.
I met the Canadians on my way back. I told them that the trail was nice, but I was there mostly for photography and wanted more aspens. We chatted briefly again, then went our separate ways.
Aspen Corner
On the way up to the Kachina Trail, I'd passed a place called Aspen Corner. There was a parking area there with paths through an aspen grove. Those trees were at near peak color. I decided to wander around there for a while.
This is what I was here for. Bright yellow leaves against a deep blue sky. (Yes, clouds would have made the photos more interesting, but this is Arizona.) The cool darkness of the forest offered a magnificent contrast to the sun-splashed leaves and white bark.

Penny and I wandered around for a while. I asked another photographer to take a photo of usy, but the exposure was so bad you can barely see us. I also tried a self-portrait using the camera's timer and did a little better — although I'm squinting into the sun so badly that I don't really look very appealing. Oh, and do you know how difficult it is to prop up a DSLR vertically on a log?
We wandered around for a while and I took a bunch of photos. By then, it was after noon. I was expecting a phone call at 1 PM and needed to be somewhere with a good cell signal. I also wanted to wash the Lockett Meadow dust off my car before I drove home. So we headed back to the car and started the drive back to Flagstaff.
Heading Home
A while later, with gas tank filled, car washed, and a fresh bottle of water for sipping, Penny and I headed back to Wickenburg. I took my phone call along the way, at an exit off I-40 between Flag and Williams. The drive back was nearly 3 hours long on what I consider the fastest route: I-40 to 89 to Iron Springs Road through Skull Valley, Kirkland Junction, and Yarnell.
It was an emotional drive for me. Along the way, I did a lot of thinking…and crying. I just have to work all my woes out of my system. It's part of the healing process and I know it will take a long time.
The first thing I did when I got home was to give Penny the Skunky Dog a bath.