Reinvention needs documentation.
This past summer, I reinvented myself. It took some time — about three months — and the process is just about complete now. I went from being an overweight, middle-aged woman in a failing marriage to a slim, trim, sexy future divorcee, able to fit into clothes I wore in my 30s — and feeling like I'm in my 30s again. You can read about various aspects of my transformation in the blog posts tagged divorce.
The weight loss happened mostly while I was away in Washington. My friends there saw it happen gradually, so it wasn't really noticed or commented on. My family had last seen me when I was at my heaviest and were anxious to get a look at me. Unfortunately, they're all on the east coast — not within casual visiting distance. When I arrived home and began going through my wardrobe to find clothes that would fit the new, thin me, I took a few pictures and blogged them. But the pictures weren't very good. I needed something professionally done.
Enter Glamour Shots. This company franchises professional photo services that go beyond just making photos. They work with you to make you look your best, then capture dozens of images for you to choose from.
My appointment was on Tuesday at Arizona Mills. I'd been instructed to bring three outfits — of course, I brought more just in case — and come without makeup.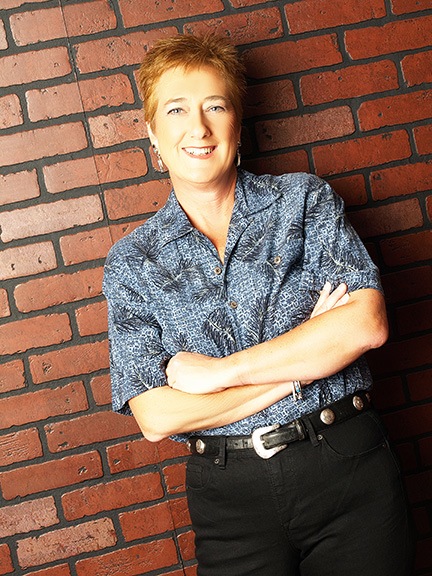 I started with a makeup artist/hair stylist. I explained to her that I preferred a natural look that accentuated my features — especially my eyes — without making me look "made up." Colorful eye shadows, for example, weren't my style. She listened to me and made me up the way I would — if I was a little better at applying makeup.
Then she did my hair. I showed her photos of how I usually wore it and without too much trouble, she was able to duplicate the look.
By then, the photographer was ready and I was sent into the changing room to put on my first outfit. My only complaint about the Arizona Mills location was the fact that the changing room was also the restroom. Although there were hooks on the wall, there wasn't enough space to spread out accessories like jewelry. And it just wasn't the kind of atmosphere that I found comfortable for changing my clothes.
My first outfit was casual — my black "skinny jeans," a blue shirt, and some Native American jewelry with blue accents. Blue works well for me — it brings out the color of my eyes.
I gave the photographer one simple instruction: make me look happy.
There were two photo studios, each set up with different floor and wall colors, as well as props like chairs and stools. The photographer instructed me on where to stand and how to pose. "Big smile," he'd say. Then click and two flashes went off. He'd examine the image in the back of the camera, redo the shot if necessary, and then move on to the next pose.
Although I was only supposed to have three outfits, I actually had three and a half — a top change for the casual outfit. They kindly allowed me to do these extra shots, mostly because my makeup and hair had been so quick to do. Then we moved on to a skirt and top outfit, and finally, my colorful little "cocktail" dress.
For each outfit, I was shot on different backgrounds, with different poses, and at different distances. This built up quite a collection of shots, from closeups to full-body shots. The photographer sometimes tilted the camera for a more interesting image. Sometimes, he'd shoot the same pose from different angles for different framing and composition.
When it was all over — about 90 minutes after we'd started — I changed back into street clothes and organized my wardrobe. I had 45 minutes to wait for them to assemble the images. I had a quick lunch, then brought all my clothes back out to my car. When I got back in, they were pretty much ready for me.
They first showed me the images in a slide show. While I know that some people go for that kind of thing, it didn't do much for me. The only benefit was that it kept us moving through all 80 or so images without stopping. Some of the images had been modified to remove color (or partially remove color) or convert to sepia. Again, while some people like that, I'm not too keen on it. After all, I can always fiddle around with the images in Photoshop to get a similar affect.
Once the slide show was over, we went through the images one by one. I pretty much rejected all the modified images and concentrated on the regular color shots. We weeded out a bunch, leaving me with about 36 that I liked. They asked me how many print packages I wanted and I think they were a bit surprised that I didn't want any. All I wanted were high-resolution digital images that I could use however I liked — for profile photos, author photos, and probably dating. And, of course, I could always print up my own framed images for my mom or anyone else who wanted one.
I wound up buying 23 images that they'd touch up for me and another 13 that would not be touched up. It was expensive — I don't want to say how much — but I think of it as a special treat to celebrate the new me. And having photos of me looking good will help encourage me to keep looking good.
I'll get my disc from Glamour Shots in two to three weeks. The images you see here were forwarded to me at my request so I could include them in this blog post.
Many thanks to the staff at the Arizona Mills Glamour Shots for helping me look my best in pictures.