It's pretty basic — if you can think upside down.
The other day I received yet another request for information about how I mount GoPro cameras on my R44 helicopter. For various reasons, I don't like to share details about certain mounting techniques. But this one asked about my cockpit mount, which offers a view from the back of the cockpit through the front windows — with limited views out the side windows, too. The pictures throughout this post show some good examples.
This is, by far, my most basic mount. It doesn't require any special equipment — just one of the flat adhesive mounts that come with a GoPro camera, a white vibration isolator (which I think still comes with a GoPro camera), and the camera's case.
Stick one of the adhesive mounts on the black headset holder. Then attach the camera and push in one of the white vibration isolators. This picture shows what it should look like: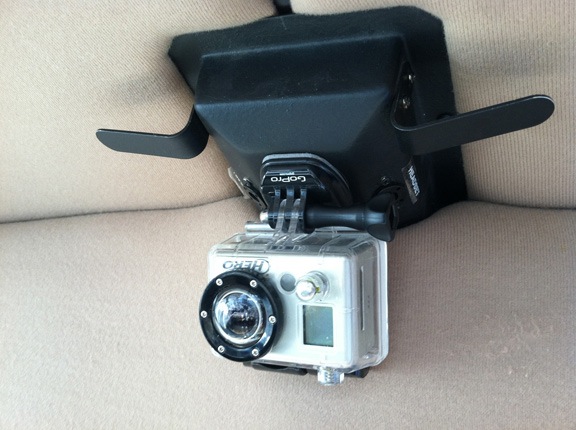 If you're looking for a way to do this — with this view — without using an adhesive mount, I can't help you.
A few points about this setup:
The camera is mounted inverted. That means that you probably want to use the camera Setup options to set the camera for Upside Down shooting. Otherwise, you'll need to invert the video/images on your computer before use.

You'll need to estimate the angle for the camera. For best results, you'll want to get some of the ceiling as well as some of the back seat area.
Don't forget the white vibration isolator. If you didn't get one with your kit, buy a few to have on hand.
You definitely want to make that thumb screw as tight as possible so the camera doesn't wobble up and down during flight. I keep a philips screwdriver in my GoPro kit just for that purpose.
You won't be able to open the camera door on the back when the camera is pointed the right direction. You'll have to unscrew it enough to angle it forward to get the door open and pop the camera out.
If you mount it properly, you should still have access to the headset jacks when the camera is in position.
Remove the headsets and cords from any seat that isn't occupied. Headsets on the hooks in back may appear in the image. Hanging cords up front look ugly.

If people are sitting in the back and you want good video out through the cabin, tell them to keep their arms, cameras, etc. out of the view. (The folks on the flight shown here took photos/videos during the entire trip — and I have the video to prove it.)

16:9 resolutions will feature more of what's going on outside the helicopter; 4:3 resolutions will show more of the ceiling and back seats.

The best exposures for outside views are when you're flying away from the sun. Flying toward the sun yields crappy images.
If you have a GoPro Hero 2 and want cockpit sound, you can use a skeleton case and connect an audio cable to an empty headset jack. I'll let you figure out how to do that on your own. (You can't expect me to give away all my secrets, can you?)
As far as stability goes, I'm pretty happy with the quality of the video. There will always be some vibration in a helicopter — unless you use a gyro — but the video I got with this setup was completely usable. I just haven't used it for anything yet. I really do need to put together a movie with all the GoPro video I've shot up here in Washington.
There is another solution for cockpit use if you're more interested in showing the pilot/passengers than the view. I have had some good success with the suction cup mount on the inside of the cockpit bubble (passenger seat only; you don't want that thing falling down on the pilot's side and getting caught up in the pedals) and also hanging from that silly window above the front passenger seat. Again, the camera is inverted for both of these methods. For video, to minimize vibration, you want to mount it as close to the airframe as possible. This kind of mount is not as stable as the one illustrated earlier. I use it quite a bit for still photos when I have something interesting to show, like Santa or a golf ball drop.
A few things to remember when mounting a GoPro — or any device — inside the helicopter cockpit.
Make sure it's secure. You don't want objects coming loose during flight, especially if a door is off.
Don't mount anything where it could interfere with the pilot's controls. That includes mounting where it could fall into the pilot's controls.
Remove the dual controls if anything is mounted in the front passenger side. You might also want to cover where the pedals go to make sure nothing can fall in there.
That's about all I can tell you about this. If you have any questions or comments or you want to share a link to a photo or video you shot using this technique, please use the Comments for this post so everyone can see what you have to say or show.