Before wine can be bottled, it must be filtered. Here's how it works at one winery.
I've been neglecting my blog for a week or so mostly because of preparations for my annual migration to Washington State. First it was the packing. Then it was the driving. Then it was the unpacking. I'm here now, parked in my usual spot at the Colockum Ridge Golf Course's tiny RV park in Quincy, WA. I arrived a full month earlier than usual just so I could witness and help out at Beaumont Cellars Winery's red wine bottling on April 17.
The Back Story
Beaumont Orchards is one of my cherry drying clients. I've been responsible for drying their cherry crop after a rain since 2009. But Pete, the owner of cherry, apple, and pear orchards in Quincy, began dabbling in winemaking a few years back. He (and others) were very pleased to discover that he was pretty good at it. Last year, in fact, his wines began winning awards.
Each year, Pete has expanded his winery operations just a little bit more, producing more hand-crafted wines and setting up a really nice tasting room. Beaumont Cellars, which is based at his home, has become one of the premier wine-tasting destinations in the newly established Ancient Lakes AVA.
This year, he mentioned that he'd be bottling wines on April 17. I decided that it was something I really wanted to see, something I'd like to do some video about. So I arranged my schedule to arrive earlier than usual in Washington.
Filtering Day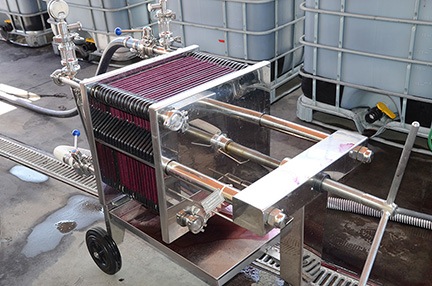 The wine filter consists of multiple vertically mounted filter pads that are discarded after use.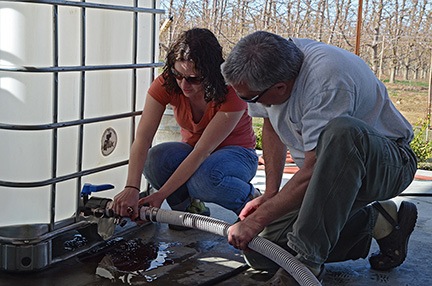 Pete and Megan connect a hose to the bottom of a wine vat. Filtered wine enters at the bottom to minimize splashing.

Megan catches the last bit of wine as Pete tilts the barrel opening into a pitcher.

Megan pours the last bit of wine from one barrel into the next one being filtered.

Pete pours some filtered wine into the vat.
I arrived in Quincy at around 2:30 on Sunday afternoon. I had just finished hooking up the mobile mansion's water, electric, and sewer connections when Pete called, asking where I was. He was in the middle of filtering the wines in preparation for bottling on Tuesday.
Tired from my three-day, 1200-mile drive pulling a 34-foot fifth wheel through the valleys, plains, and mountains of Arizona, Nevada, Idaho, Oregon, and Washington, I nevertheless grabbed my camera and hurried over. Pete and Megan, his winemaking apprentice (for lack of a better term) were more than halfway finished. I got to watch and photograph the activity.
The wine began in barrels. Pete and Megan used hoses and a pump to pump the wine out of each barrel, through a filter, and into a large plastic vat. The barrels for each variety were combined into a single vat.
When the pump is no longer able to suck wine from the bottom of a barrel, the barrel is tipped into a pitcher to catch the last little bit. It's then poured into the next barrel of the same variety as it's pumped through the filter. Likewise, any filter overflow is captured in a pitcher and manually poured into the vat. This minimizes the loss of wine.
When the job was done, there was a huge vat of wine for each of the varieties to be bottled on Tuesday. Pete and Megan cleaned up by pumping purified water through the pump and hoses, disassembling the filter, and cleaning everything down with a power washer capable of heating water to 180°F. Pete used a forklift to move the wine vats into a temperature-controlled storage area and stack the empty barrels out of the way.
Throughout the process, we'd been sampling the wine — and it was good!
The Photos
I took a lot of photos during this process — the ones you see here are only a sampling that illustrate the main part of the process. I put most of them on the Beaumont Cellars Facebook pagea gallery on the Beaumont Cellars website. In both cases, the photos include shots taken on Tuesday during the bottling, which I cover in a separate blog post.