Never a routine day.
I spent today out in the desert with my helicopter, on standby for a client. They'd booked me about a month ago and, since I've worked with them before, I had a good idea of the kind of flying we'd be doing.
I was wrong. I actually didn't do much flying for them at all. In fact, the hot air balloon they hired spent more time aloft than I did.
But I did get to take a tethered balloon ride. It was my second time in a hot air balloon and I can assure you that a tethered flight — although kind of nice — isn't anything nearly as spectacular as the "real thing."
I shot this photo while we were aloft. You can get an idea of the area I was working in. You can also see my helicopter parked just beyond the balloon's shadow.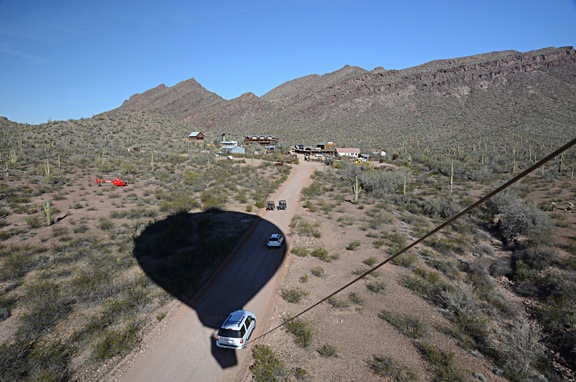 The highlight of the day: landing just where you see the helicopter parked in the dark at 7 AM. Good thing I'd marked out that LZ with white rocks on a previous trip. And good thing my landing lights were working right so I could find the damn rocks. Sheesh. What was I thinking?