The story I heard with yesterday's photo.
I heard the story years ago.
A gold miner had built a dam in Buckhorn Creek, north of Phoenix, east of Wickenburg. He'd put a boat on the resulting body of water to dredge for gold. But a heavy rain caused the dam to fail. The water emptied southeast down the creek, taking the boat with it. It was soon stuck in the sand down the dry wash.
And there it remains.
We flew over it yesterday in Don's helicopter. I'd shown it to him a while back while flying out in that area and he'd tried to relocate it several times since then. Yesterday, I found it for him again and he marked it with his GPS. I shot this photo.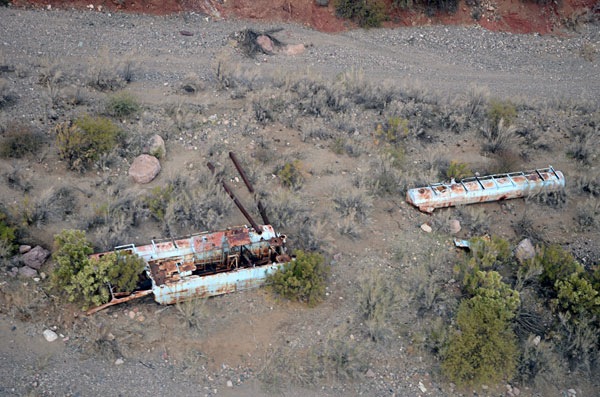 Doesn't look much like a boat, does it? Vandals have been at it rather violently, it seems. And I'm sure more than a few minor floods helped the decay. When I first saw it, it looked like the image about a third of the way down this page, which was dated 2003. You can see an even later photo near the bottom of this page.
I don't know if the story I heard is true. And I don't know when all this happened. I'd love to know more about it, so if you have any ideas or links to additional resources, please share them in this post's comments.
It's a good example, however, of some of the really weird things we fly over out in the Arizona desert.