We take a road trip around the Olympic Peninsula in Washington state.
After three months contractually bound to the Quincy and Wenatchee areas of Washington, I was finally off contract at the end of August. Mike flew out to Washington and we went on a road trip to the Olympic Peninsula. This series of blog posts is a summary of that trip, with photos.
Day 4: Claliam Bay to Lake Quinault
Day 5: Lake Quinault to Seattle
The start of our five-day vacation.
After fueling our diesel pickup — the only vehicle available to us here — we headed out of Wenatchee on Route 2 toward Stevens Pass. We made a number of stops along the way.
First, Anjou Bakery in Monitor, which makes an outrageously good pear danish. It's in a funky old building with indoor and outdoor seating. They make coffee drinks, too, but I've decided to avoid that on my next trip. Their coffee isn't very good — at least in my opinion — and it takes far too long for them to prepare it.
Next, Leavenworth. If you've ever been to Leavenworth, you'll know that it's a manufactured tourist town. They redid the entire town with a Bavarian theme, making it feel almost as if you're in a Black Forest village somewhere in Germany. (I've actually been to Germany's Black Forest, so I can attest to this.)
For the record, I don't like Leavenworth. It's a fake place that exists primarily for tourism. The parking and traffic situation is horrendous. Its multiple shops and restaurants are designed to suck tourists in and relieve them of their money. Little of what they offer is any better than you'd find at any other similarly themed tourist shop or town. I know that all tourist towns are like this and I don't like any of them. Frankly, I don't know why so many people go there.
But Leavenworth does have two shops that I love:
The Cheesemonger is possibly the best cheese shop I've ever been to. Not only do they have an amazing selection of cheeses from around the world, but they are well-staffed with knowledgable and helpful counter people. Cheese tasting is not only allowed but encouraged. This shop is my primary reason for subjecting myself to a trip to Leavenworth.
Cured is a smoked meat shop where you can get excellent bacon, sausage, wursts, jerkies, and more. Their buckboard bacon is to die for. If I make a cheese run, I also stop here for meats. Bonus: there's motorcycle parking right across the street.
On this visit, we also stopped at the Bavarian Bakery on the right as you come into town from Wenatchee. It was recommended by the folks at Cured for bread; they hadn't received their delivery yet and I like their rolls with the cheese. My grandfather was German and owned a bakery in Cresskill, NJ when I was a kid. For a while, my family lived in an apartment upstairs. So visiting a real German bakery was a treat for me. We bought some plum cake (which my Grandfather also made), pretzels, a coffee cake, and the rolls. I wasn't terribly impressed with any of it, but it wasn't bad. I'm just picky.
We loaded up the cooler that we'd brought along and headed out of town on Chumstick Road. That would take us winding through the mountains, though the tiny town of Plain before reaching Lake Wenatchee. At Route 207, we headed northwest, following 207, then Little Wenatchee Road, then National Forest Development Road 65. I'd ridden this route on my motorcycle the week before but had turned back after 10 miles or so because I wasn't sure whether it was paved the entire distance.
We took a side trip, following a sign that promised a View Point 4 miles up an unpaved road. The road wound up and around through dense forest, finally depositing us at the promised viewpoint. We could see Lake Wenatchee in the light haze.
Another couple was there — a bit older than us and seriously out of shape. They were wrestling with something heavy in a blanket, trying to get it into the back of their pickup. We didn't snoop until they were gone. Then we followed the short trail they'd come from and discovered a place where people had been cutting stone from the side of the hill. Cutting, like with a stone-cutting saw. The kind of equipment that requires a generator and probably water to cool the blade. I don't think they had that equipment; they might have been taking a loose rock. It looked like granite to me, but it could have been something else. (What do I know about rocks?) The whole thing was weird; it had taken us 20 minutes to drive the 4 miles; why would anyone lug stone-cutting equipment up there?
We continued along the Forest Road and, sure enough, not far from where I'd turned around on my motorcycle, the pavement ended. We followed the road through the forest, enjoying the views along the way. At one point, a Jeep caught up to us and we pulled aside so it could pass. Otherwise, there wasn't much in the way of traffic.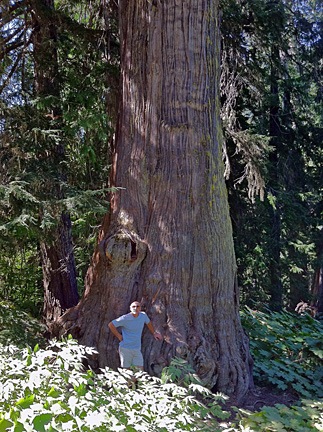 I should mention that much of this was old growth forest. An absolutely huge tree grew close to the road and we got out to take a closer look. Its amazing to me that trees this large exist and that so many of them have been cut down. Actually seeing one is a real treat.
The road we were on ended at Route 2 and we continued through Stevens Pass and down to the west side of the Cascades. That's when the traffic started up. It was Labor Day afternoon and everyone who had journeyed east for the weekend was heading home. I whipped out my iPad and the Maps app and found some alternate routes that paralleled Route 2. We probably saved about 30 minutes of drive time by taking these longer routes, each of which dumped us back on Route 2 after a pleasant drive through farmland or forest. Then we abandoned Route 2 completely in favor of Routes 522 and 524.
We stopped at Snoqualmie Ice Cream shop in Malby. The ice cream was good, but, in my opinion, not worth the very high price we paid for it. And the girl at the counter who served it had the personality of a wet rag.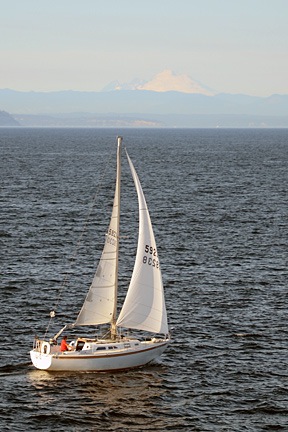 Back on the road, we continued along Route 524 to Edmonds and got on line for the ferry to Kingston. We'd timed it well and didn't have to wait more than 15 minutes to get on the boat. We went up on deck to check out the view. Mount Baker was clearly visible to the northeast and even Mount Rainier could be seen through the haze to the south. I passed the time photographing sailboats we passed, trying to get Mount Baker in the background.
In Kingston, we didn't hang around. It was getting late and we were hungry and unsure of where we'd be spending the night. We'd already planned on spending Day 2 in Victoria, BC, so we wanted an overnight stay someplace close to Port Angeles, where we'd pick up the ferry. So we headed that way on Route 104 and then 101.
We detoured to Dungeness. I don't know what we expected to find there, but we didn't find any interesting lodging opportunities. We did, however, find the Three Crabs Restaurant right on the bay. If I had to rate this place on service or atmosphere, I'd pan it. It had all the charm of a cheap family restaurant catering to people with low expectations. But the food — well that was a pleasant surprise. I had the best fried oysters ever — and I don't toss around the word "best" very often at all. That made it worth the visit. (And here's a tip to restaurant-goers who rate restaurants on Google, Yelp, etc.: don't order steak in a seafood place.)
We got back on the road and headed toward Port Angeles. By this time, it was getting dark. My maps app suggested the Olympic Lodge and we homed in on it. It was a bit bigger and fancier than we expected. But it was evidently also empty. We went to the desk and they offered us a discounted rate within our price range. We took it. The room was large and comfortable. A fountain at ground level outside our window offered a nice soundtrack to a good night's sleep.