You never really know what shot is going to turn out to be your favorite.
I went on a hike yesterday morning with a friend. We met at 6:30 AM and proceeded to hike up a steep trail on the west side of Wenatchee, WA. It was a mostly clear day with thin clouds overhead and smoke from a fire about 30 miles away drifting in over the city.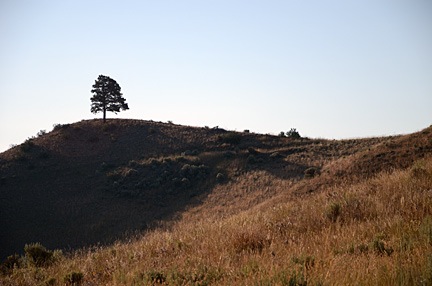 I brought along my camera. I didn't really expect to find anything of interest to photograph, but on nearing the top of the first big hill — after an elevation gain of about 800 feet in 1-1/2 miles — I caught sight of a lone pine tree on a hilltop off in the distance. It reminded me a bit of the Lone Cypress at Pebble Beach. (Just a bit, mind you.) I had a subject for a shoot and captured multiple images of it against the sky. I thought that with the sun behind it, I'd get a nice silhouette. I peeked at the screen in the back of my camera after each shot and liked what I saw. (More on that in a moment.)

As I continued the hike — my friend had gone up ahead because I'm so damn slow when hiking uphill — I got a little artsy with some weeds along the trail. I liked the way the sun shined through them. Remember, the sun was up ahead of me. Again, from what I could tell, the image looked interesting in the screen at the back of the camera. I felt good — as if I were getting some interesting shots.
I met up with my friend and we stopped near the base of the pine to take in the view. I only had one lens with me — my 16-85mm — so I couldn't get a shot of the tree as close as I would have liked. But I figured I'd already gotten some good shots, so I didn't beat myself up over it.
But as we were turning away, I decided to experiment anyway. The city was spread out beneath us, under a layer of haze from that forest fire. The light on the mountains in the distance was still warm. The clouds were interesting and random. So I shot one more photo before we began the hike down. I peeked at it on the LCD screen and wasn't impressed.
That evening, I looked at the photos I shot on my 27″ iMac's monitor. I was disappointed — to say the least — in the "lone pine" shot I thought would be good. Apparently, my eyesight simply isn't good enough to see detail in the little screen at the back of my camera. Even the shots with the weeds didn't do anything for me.
But the last shot — the one with the city in the background — the one I just framed up and snapped almost as an afterthought — that turned out to be my favorite shot from the morning's hike. What do you think?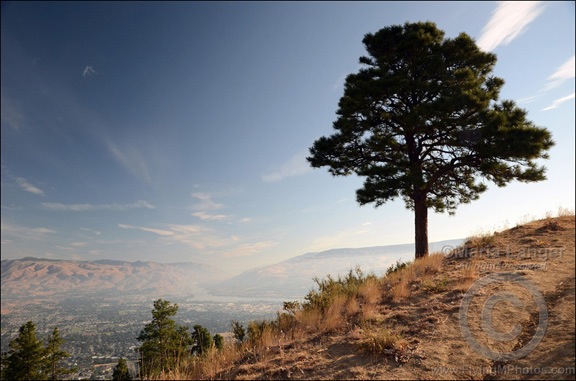 I take away two things from this experience:
My eyes suck. I really can't depend on what I see in that tiny LCD screen to know whether an image I captured is any good. I should probably bring along cheaters so I can actually see what's in the damn screen.
Experimentation can be a very good thing. If I hadn't tried that one last shot, I wouldn't have come away with any images that I liked. I should definitely experiment more so I have more to look at back at my desk.
Thoughts?