Salmon, local wine, and home-made cherry pie with friends.
If you've been following this blog or my Twitter or Facebook accounts, you know that I'm in Washington State on the last of several cherry drying contracts. I'm not the only helicopter pilot doing this work. At the peak of the season, there were probably about 20 of us working in central Washington state for a handful of service providers. My company, Flying M Air, is probably the smallest of those service providers; this year I was able to add a second pilot for about half my season.
My friend, Jim, has been doing this work for about fifteen years. He starts the season in the Mattawa area and ends it in the Chelan area. He usually starts before me and finishes before me.
This year, I met Lisa, who was new to this work. She worked for the same service provider as Jim, starting down in Kennewick, moving up to Brewster for a while, and then ending the season in Malaga.
Unfortunately, I only met Lisa last week, on Thursday. I say "unfortunately," because we really hit it off. She came up to my RV for dinner that evening and accompanied me to the Beaumont Cellars Dinner on the Crushpad event the following evening. We went wine tasting and had dinner together again on Sunday. By then, I felt as if I'd known her a long time.
The End is Here
On Friday, my contract in Wenatchee Heights was extended two weeks. It made sense; they'd barely started picking the 86 acres I was responsible for. Since this particular client picks by color, it would take at least two weeks to finish picking. Lisa was told she'd be needed until Wednesday. Jim, the last pilot left in Chelan, was waiting to get cut loose any day.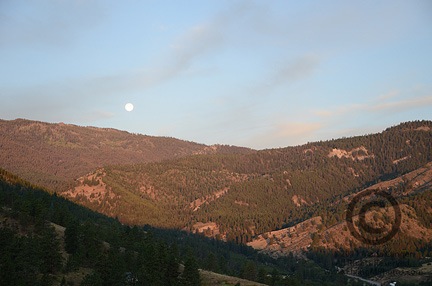 Weather moved in Sunday night. Asleep in my RV at the edge of a cliff over looking Squilchuck Valley, I was awakened by the wind at 3:30 AM. I looked out the window and realized I couldn't see any stars. I fired up the Intellicast app on my iPad and was shocked to see the green blob indicating rain mostly to the south of my position. I dozed fitfully for an hour, expecting to hear rain on my roof at any moment. It may have been drizzling when I finally fell back to sleep.
At 7 AM, I woke to the sound of voices, trucks, and construction noise. The mostly blue sky was full of puffy clouds. Down in the lower part of the orchard, the pickers were already at work. There was no rain in the forecast at all.
Jim called at about 10 AM. I knew instinctively what he would say and beat him to the punchline: "You're calling to tell me they cut you loose."
"You're a mind-reader," he said. "Today's my last day."
We chatted for a while and then I remembered that Lisa had an opportunity to do a trip with a friend and would probably be open to letting Jim take over her contract for the next two days. He was also open to that, so I hung up and called Lisa. I told her what we were thinking.
"That's great," she said, "but today's my last day, too. They'll be done picking in about an hour."
It was then that I realized that both of them would be gone by the next day.
Errands, Favors, and a Cherry Pie
The end of a cherry drying contract comes with logistical challenges.
Lisa's challenge was easy. All she had to do was pack up, move out of her motel room, and drive the company pickup truck back to Spokane. Her employers would be sending some pilots in time-building mode out to Malaga to pick up the helicopter. She needed to send them the GPS coordinates for where the helicopter was parked so they could find it. She was toying with the idea of leaving that afternoon so she could spend some time with her family before her trip.
Jim's challenge was a bit more…well, challenging. His helicopter was four hours from its 100-hour inspection, which needed to be done by his mechanic in Seattle. Flying to Seattle was usually a challenge in itself — the weather in the Cascade Mountains was typically miserable with low ceilings, making it a difficult, if not dangerous, flight. A weather window was required, but you never knew when that would be. After dropping his helicopter off in Seattle, he'd have to come back to Wenatchee to fetch his truck and drive it home to Coeur d'Alene. Of course, both his helicopter and truck were in Chelan, about 40 miles farther up the Columbia River. He needed to move his truck to Wenatchee to stage it there for his return from Seattle by airline. Then he needed to get back to Chelan so he could fly out with his helicopter the next day. He suggested a farewell dinner that evening and I promised to drive him back to Chelan.
I had a bunch of errands to run in Wenatchee and I got around to starting them that afternoon. While I was out and about, Lisa called. She'd decided not to leave that day; she'd leave first thing in the morning instead. What she really wanted to do was make a cherry pie. We'd already planned to do that before she left, but that was before she was cut loose early. I had an oven in my RV, so it made sense to do it at my place.
We decided to do it that afternoon. And instead of Jim and me going out to dinner in a restaurant, I'd pick up a piece of salmon and salad fixings and make dinner for all three of us. I was finishing up my errands and heading back to my RV when Jim called and I told him our revised plan. He was on board.
Lisa showed up around 5 PM. Since Jim was still a half hour out, we each took a bowl and headed into the orchard. Five minutes later, we had enough cherries for a pie — and then some.
Back in the RV, I gave the cherries my usual three-soaking bath in cold water to clean them thoroughly. Then Lisa went to work with my junky cherry pitter. It didn't surprise me much when it broke when she was only half finished. She pitted the rest by hand. By the time Jim showed up, her hands were stained with cherry juice, making her look like a mass murderer.
Jim helped me put a filled propane tank back into its cabinet on my RV and hook it up. The strap that holds it in place bent and he was determined to fix it — which he did. If I wanted to be mean, I would have shown him the strap on the other tank which had similarly broken but had not been fixed. But instead, we went inside and kept Lisa company while she worked on the pie.
We also drank wine. Both Lisa and I had bottles that we'd opened recently but had never finished. We polished them off, one after the other over the course of the evening. I even opened another bottle to keep the wine flowing.
The Salmon Recipe
When the pie was safely in the oven, I got to work on dinner. That's when Jim gave me a recipe that another one of the pilots had shared over the summer. Oddly, I happened to have all the ingredients. I reproduce it here because it was so excellent:
Ingredients:
Salmon filet
Mayonnaise
Onions, sliced thinly
Bacon, cut into pieces
Instructions:
Place the salmon on a piece of aluminum foil.
Spread mayonnaise on the fleshy side of the salmon.
Sprinkle the onions and bacon pieces over the mayonnaise.
Fold up the foil to make a packet.
Place the packet on a preheated grill set to medium heat. If possible, cover the grill to keep the heat in.
Cook until the salmon is done.
The Summer's Best Dinner
I'd bought a beautiful 1-3/4 pound Coho salmon filet. It was too large to fit on my portable grill in one piece, so I cut it into three portions and made three packets. I absolutely lucked out with the timing. The fish was fully cooked, but still moist. The onions and bacon were cooked to perfection.
I served it with a salad of mixed greens, cucumber slices, vine-ripened tomato, bacon bits, goat cheese, and bottled balsamic vinaigrette dressing.
At one point, Jim said it was the best dinner he'd had all summer. I thought about it and had to agree.
It was the conversation that made it perfect. We talked about flying and about the surreal situation of a cherry drying contract. They seemed to think I had the best setup, living in my mobile mansion on a cliffside with a view, with 86 acres of cherries just steps away. I agreed that it would be tough to go home in September.
Jim was happy that his contracts had gone long enough to cover his annual insurance bill and the cost of his upcoming maintenance. He added up the hours he'd flown during the ten or so weeks he'd been in the area. It wasn't a lot — cherry drying is not a time-building job — but it was more than usual.
Lisa said it was the best summer she'd ever had and that she'd do it again if she could. Her future holds bigger and better things, though: she's starting officer school with the Coast Guard in January. She was already looking forward to the trip she'd be starting on Wednesday with a friend.
After dinner, Lisa sliced up the pie, which had been cooling on the stovetop. I produced some Haagen Daaz vanilla ice cream from my freezer. The cherries were big and plump and tender — not the mush you usually find in a cherry pie. It was a perfect finish to a great dinner.
The Party's Over — and So Is the Summer
The party broke up after 10 PM. Lisa left to drive back to her motel for one last night. Jim and I climbed into my truck and started the long drive to Chelan. We talked politics on the way. We don't agree on all points, but we're both too stubborn to give in to the other. We're also too smart — and too close as friends — to let our disagreement hurt our friendship.
I dropped him off at the house he's renting. In the morning, his boss would pick him up and drive him to the orchard where his helicopter is parked. Then, weather permitting, he'd make the one-hour flight to Seattle. I'd pick him up at Wenatchee Airport at 5:12 PM and bring him back to his truck. The plan set, I started on my way back.
I got back to my RV just after midnight. The moon was up by then, casting a gray-blue light over the valley spread out before my RV. I listened to the crickets and looked out over that valley for a while. I had 12 days left in my contract and there was a slight chance that it would be extended again.
Yet with my friends gone, I felt as if my summer was over, too.