Flying a helicopter is more than just knowing how to move the controls and perform maneuvers in flight.
As with any other skill you might acquire in life, learning to fly helicopters is made up of many components. The most obvious is getting the motor skills — including reflex reactions — to handle the actual mechanics of flying: working the controls, etc. But behind all that is the knowledge you need to acquire so you fully understand what to do, why you need to do it, and how it works.
Ground School
Ground school — time spend on the ground with a flight instructor learning the what, why, and how parts of flying — is an important part of flight training. Unfortunately, it's not usually the fun part and, because of that, most pilots try to minimize it. Instead of learning as much as they can about ground school topics such as aerodynamics, aircraft systems, weather, and physical (or medical) issues, some pilots learn only as much as they need to know to pass the written and oral tests that come later.
This is not a good idea if you intend to build a career as a helicopter pilot. At some point in your career, the gaps in your knowledge will be noticed — perhaps by the chief flight instructor you hope will give you your first job or by the chief pilot who can put you in the seat of a turbine helicopter. Or maybe by the mechanic who asks you to perform and document power checks in flight and you clearly don't understand what he's talking about. Or maybe by the new pilot you're asked to show around — the pilot who did study hard and realizes how clueless you are.
Ground school is where you can learn what you need to know, with an experienced flight instructor who's there to answer your questions. Dig in and learn. Make sure you understand everything — if you're hazy on something, ask questions. Discuss topics with other student pilots and flight instructors. When you fly, try to understand how ground school topics apply to flight. Take notes, review them, jot down things in the margins when you connect the dots between topics later in your studies or during flights.
Hitting the Books
There are many books and study materials that can help you understand and learn the topics you need to know.
I've already pushed the excellent FAA publication, Rotorcraft Flying Handbook, several times on this blog, but I can't recommend it often enough. Where else are you going to find a free, generously illustrated guide that explains much of what you need to know about flying helicopters in terms anyone can understand? It's an excellent starting point for your studies.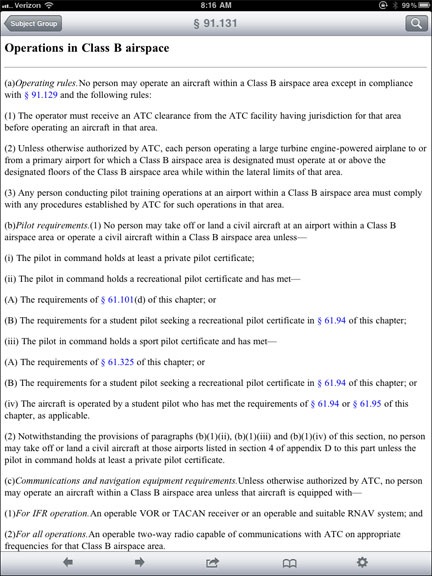 Another pair of must-have publications is the Federal Aviation Regulations (FARs) and Auronautics Information Manual (AIM) which are often published in the same volume. The FAR is updated throughout the year and most publishers publish new editions annually. You should get the most recent edition when you begin your training and try to update it at least every two years. Or do what I do: buy it in app format for an iPad (shown here) or iPhone. You can find them both on Tekkinnovations.com; once you buy them, updates are free (at least they have been so far for me).
Another handy book to have in your possession is a copy of the Pilot Operating Handbook (POH) for the aircraft you'll be flying during most of your flight training. Yes, I know there's one in the helicopter — it's required to be there — but unless you plan to sit in a helicopter to do you studying, it's nice to have your own copy to jot down notes, etc. I learned to fly in an R22 and bought a copy of the POH the first time I attended the Robinson Factory Safety Course; I added all kinds of notes in the margins during that course.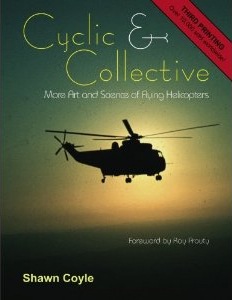 There are other books about flying helicopters. Many of them have been written by experienced helicopter pilots. One of my favorites is Cyclic & Collective by Shawn Coyle. This is a huge book jam-packed with information that goes beyond the basics offered by the FAA.
It's likely that your flight school will also recommend or require certain books to help you study. The Jeppesen books are a big hit — especially to your wallet. But, to be fair, they do have excellent illustrations to make important points clear.
But remember, buying a book isn't enough. You have to crack it open and read it.
Going the Video Route
There are also training videos that you might find helpful to reinforce what you learn in ground school and on your own. I used the King School videos. Although the series is designed for airplane pilots, there was an extra video in the set that covered helicopter operations. In general, I found the videos painfully boring at times, but I admit they were informative. By the end, however, I wanted to grab John and Martha King and crack their heads together. This, of course, was more than 10 years ago; hopefully, the videos have been revised by then. There's also a good chance you can some of this material on their website.
I think Sporty's has a set of videos that compete with the King's — so you might want to check that out as an alternative.
If you decide to buy the videos, I bet you can find them used on eBay or Craig's List for less than regular price. You can always sell them when you're done.
Make It Count
Your flight training will cost as much as — if not more than — a college education. You need to take it just as seriously.
If you fail to learn the concepts by studying hard and asking your flight instructor to explain things you're struggling with, you're not only throwing away the money you're spending on your education, but you're setting yourself up for failure in your career.
Make it count by putting real effort into it and studying hard.
Next up, I'll explain why you shouldn't hit the books with a bag of chips within reach.