And the reason why I spent 30 minutes talking to them.
The other day, a pair of Jehovah's Witnesses showed up on my doorstep. I knew they were Jehovah's Witnesses when I caught sight of them on my driveway, walking up to the house. Two women, one older carrying a book and pamphlet, one much younger. Nicely dressed, looking very out of place.
Understand that I live at the end of a road — actually, beyond the end of a road. To get to my house, you need to drive at least a mile past where the pavement ends. The last stretch is a very steep — think 10% grade — and deeply rutted because one of my neighbors (and his family and friends) doesn't know how to drive up a steep dirt road without spinning tires. One you get past that, you're in a dry wash where there are three driveways, one of which is mine.
Because of this, we don't get many strangers stopping by. The folks who do make the trek are either paid to do so — UPS, FedEx, USPS, repair guys, etc. — or very motivated.
Perhaps motivated by God.
I opened the door just as they rang the bell, prepared to tell them how not interested I was and send them politely on their way. Although a lot of people are very rude to Jehovah's Witnesses, I don't get rude unless they get stubborn. Although I'm an atheist, I respect people's rights to believe whatever they want to believe — as long as they don't use my tax dollars to spread their religious word. (And yes, I don't think churches should get any kind of tax break; they should be operated like businesses and pay the taxes at the same rates that my businesses do. But that's another topic for another blog post. Save your comments, folks.)
I got right to the point without even looking at them: "Jehovah's Witnesses?" I don't even think I gave them a chance to reply. "I'm sorry, but I'm really not interested at all. You'd be totally wasting your time with me."
I really don't remember what the older woman replied, because by that point, I'd gotten a good look at the younger woman. Woman is being generous. She was a girl, perhaps in her late teens. She had an interesting round face that reminded me of the actress that played Wednesday Addams in the Addams Family movies. She even had the long, straight brown hair, parted in the middle. (The IMDb tells me it's Christina Ricci; if you follow the link, be sure to look at her Addams Family shots, too.) Of course, she didn't have Wednesday Addams' glum features. Instead, her face looked more non-committal.
And my heart was instantly filled with sadness.
Here's my reason — which took quite a while for me to figure out afterwards: Here was a young girl, perhaps just getting started with her "mission" of spreading the word of God (or whatever they say their mission is). She'd be knocking on doors, likely facing rude, obnoxious people every day she hit the streets. People who would ignore her knock (if she was lucky) or people who would answer the door, curse her out, and then slam the door in her face. How often did Jehovah's Witnesses actually score a "hit"? Get a door answered by someone who wanted to listen to their line? Judging by the people on Twitter who chided me about talking to them for 30 minutes, not very many.
I thought about these two women, going door to door in rural Arizona on whatever schedule they might need to keep. And I thought about all that time utterly wasted. Life is so short — why don't people see that? — and it can be snatched away at any time. In fact, during our conversation, I suggested that they might better spend their time doing something more interesting together, like going shopping or learning to knit. My words were directed toward the girl, even though I said them to the woman. I was hoping to plant a seed.
And I guess that's the reason I spoke to them for 30 minutes. I was trying hard to plant seeds in her young mind, hoping to give her real food for thought. Our conversation covered my beliefs — or lack thereof — and some of their standard line about prophecies. I was pleasantly surprised when I gently told them that I didn't believe God existed and they didn't get offended or angry.
We talked about the Bible and I told her what I think of it: It's a collection of stories written by normal people who may have been inspired by faith. I did not believe it was the word of God — how could I if I didn't believe there was a god? The older woman, who did most of the talking, tried to convince me that the Bible was more than I thought, using Ezekiel's prophecy regarding Tyre as "evidence" (her word) for the Bible being God's word.
I was not familiar with the prophecy, which surprised me. Despite being a non-believer, I've done a considerable amount of research into the bible — although, admittedly, mostly New Testament material. Because I looked at things with a skeptical eye, if this prophecy was such strong evidence in favor of the Bible, I thought I might have heard of it before. It puzzled me that I hadn't.
They went on to tell me that the prophecy, which was given by God to Ezekiel, had come completely true — that the Island of Tyre had been destroyed and no longer existed. Not having any facts at hand, I was not willing to debate their claim, yet I told them that I still did not believe the bible was the word of God.
That's when the young girl chimed in, asking if I believed then that it was just a coincidence that the prophecy had come true. I told her that if it had indeed come true, I did believe it was a coincidence since I did not believe in God. To their credit, they took that with ease. I suppose they must hear all kinds of things from the people they talk to.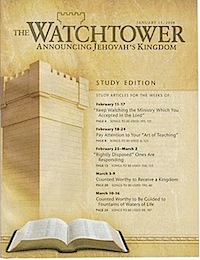 The older woman tried to give me references to the Prophecy of Tyre, but I assured her that I didn't need them and that I would Google it later on. She also tried to give me a copy of The Watchtower, which she had with her, but I wouldn't take it.
We talked about what's going down in the world — how everything seems to be "going to hell in a handbasket" — my phrase; not used in the conversation, but you get the idea. They apparently believe that it's a sign of the end of days. I obviously don't. I told them that most of the world's problems are caused by greed and selfishness. We agreed that if people would consider the consequences of their actions as they affect other people before taking them, they might think twice about taking those actions. We talked about some local and national level examples — for example, the scraping clean of the desert to build huge housing subdivisions that, because of the housing bubble bursting were never built. The natural landscape destroyed because of greed, with no consideration for others. I told the girl that I felt bad for young people like her who were inheriting this mess.
Then we talked a little about the young birds accompanying their moms to bird feeders and letting their moms feed them seeds. The older woman was amazed that the fledgeling chicks were nearly as big as their moms but wouldn't feed themselves.
They were nice people and I felt bad for them. When we said goodbye, I told them to have a good life. My words were addressed primarily to the young girl, who still had her whole life ahead of her.
When they left, I went back into my office and Googled the Tyre Prophecy. I found two kinds of articles. One kind were created by believers to support their claim that the prophecy had come true, thus proving that Ezekiel had basically written down what God told him. The other kind were created by skeptics, like me, which presented detailed analyses about the facts of the prophecy, actual history, and the current situation. I found this one by Dave Matson that takes the prophecy, point by point, and details how it differs from reality. It is supported by actual bible quotes and a multitude of documents that are all cross-referenced at the article's end.
In short: Ezekiel's prophecy did not come true. So, as "evidence," this particular prophesy falls far short of what I need to be convinced.
Did I waste 30 minutes of my day? I don't think so.
I admit that I am fascinated by true believers — and these people — especially the older woman — definitely fell into that category. Why else would you go door-to-door relentlessly, getting the foul treatment handed out by people who simply don't want to be bothered? These people have true faith — which is something most people claiming to be Christians don't really have and something I definitely don't have.
They didn't convince me — although they did get me to do a bit of research and expand my knowledge of the Bible and religion. I didn't convince them — although I demonstrated that a non-believer could be reasonable and share some of the same non-religious views. We had a nice discussion and perhaps — just perhaps — I planted a few seeds of reason in that girl's head.
And, by the way, if you're tempted to use the comments feature to blast me for my religious non-beliefs, don't waste your time. After "The Bible in the Refrigerator" debacle, I no longer allow any personal attacks on anyone to appear on this blog. If you feel compelled to show your un-Christianity, show it elsewhere.