And I thought February was bad.
March was likely the most hectic month I've had since I began freelancing back in 1990. It combined flying, travel, customer service, and the completion of a book in such a way that I was constantly busy and constantly thinking about what would come next. The month's almost over now and I can look back at the craziness that was March 2011.
Two Businesses, Two Sets of Balls to Juggle
Those of you who know me or have been reading this blog for a while know that I wear two hats:
Freelance writer. I've been a freelance writer since leaving my corporate job back in 1990. I write mostly books, but I also write some articles. My area of "expertise" is software how-to for Mac OS, Microsoft Office, Twitter, WordPress, FileMaker Pro, etc. I'm a Mac person but I also "do Windows" when necessary.
Helicopter pilot. I've owned and operated Flying M Air, a helicopter charter company since 2001, although the business "got serious" in 2005 with the acquisition of a larger helicopter and an FAA Part 135 certificate. I fly tours, day trips, charters, multi-day excursions, aerial photography, and survey flights in the Southwest U.S. during the winter months and escape the heat to the Northwest U.S. for agricultural work in the summer.
Juggling these two jobs has never been difficult. Writing gives me a huge amount of flexibility as far as time is concerned. I can usually put a writing project aside for a few hours or a day or even a few days to handle the demands of my flying business. After all, there never was much flying business — until recently.
And that brings us to March 2011.
Starting Off with a Bang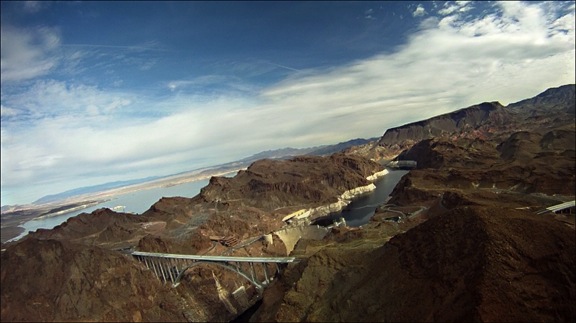 The month started off with a bang. One, two, three: three days, three charters. I took a couple on a Moonlight Dinner Tour on Tuesday, took three people to the Las Vegas area and back on Wednesday, and took another couple to Sedona for a few hours on Thursday. That's 8.9 hours of flight time in three days.
(Okay, so I know that I used to fly a lot more when I was a tour pilot at the Grand Canyon. But this is different. These flights are for my company, not some humongous tour operator serving busloads — no exaggeration there — of people daily.)
Wildlife Surveys
I changed gears the following week and spent a good portion of the next two weeks conducting wildlife surveys for a client in various locations throughout Arizona and New Mexico. Not only did this require me to do about 40 hours of seriously intense flying in a relatively short period of time, but I also spent four nights away from home.
In the middle of all that, I had to arrange for some minor maintenance for the helicopter — I was quickly approaching my 50-hour required oil change. I'm still amazed that I managed to pull that together as quickly as I did. Many thanks to my now-retired local mechanic, Ed, for taking care of it for me.
The Excursion
Also on my calendar for the month — booked months ago — was a custom 8-day version of Flying M Air's Southwest Circle Helicopter Adventure. I don't do these trips very often — they're costly and not everyone understands the value of what the package price includes — but it's become almost routine, with me using the same hotels and tour operators and flying the same routes each time.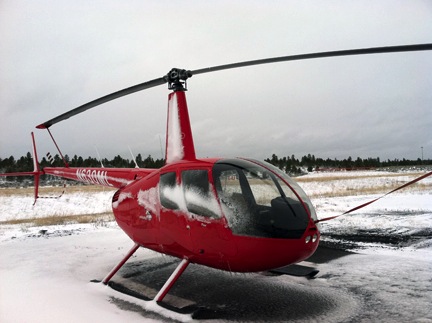 The emphasis this time around was on "adventure" in that the weather really messed with us. Not only did we get snowed in at the Grand Canyon, but high winds made flying conditions less than ideal. It was extremely stressful for me; these folks had paid a lot of money for a trip and it was my job to make sure they were happy. Worse yet, to make up for scenery missed when I had to reposition the helicopter without my passengers on board, I had to fiddle around with the routes a bit to make sure we overflew certain terrain. And then there were doors-off photo flights as part of the trip; that wouldn't have been so bad if it weren't so darn cold.
In the end, I wound up flying more than 10 hours, driving more than six hours, and spending seven nights in various hotels all over northern Arizona. All while stressed out. Exhausting.
I did, however, get a chance to fly down to Marble Canyon at dawn for breakfast with a friend. Shot some nice video along the way. I'm working on another video with the 10+ hours of "nosecam" footage I shot that week.
And the Total Is…
In case you're wondering, I flew a total of 76 hours in March. To give you an idea of just how much that is for me and my business, for the past six years, I've flown only about 200 hours per year.
So in one month, I flew more than 1/3 of the hours I fly in an entire year.
But Wait, There's More!
That's just the flying side of things. I was also chest deep in a new book for a publisher I haven't worked with before.
I don't want to go into details about the book. I'll just say that the experience was not ideal for me — and likely not for the publisher, either. The trouble is, the book seemed to drag on and on. Normally, I can knock off a new book in a month or so with constant pressure and support from my editor. This book…well, we'll just say that no one seemed to be too interested in me finishing it up.
Until March.
That's when someone pulled the project off the back burner and turned up the heat. I had to finish writing a chapter or two, then start reviewing edits and proofs. And revising screenshots — let's not go there, okay?
Trouble is, I needed to do this kind of work in my office and I was away from my office for about half the month. So the days I was in my office, I was working my butt off on this book.
Yesterday, I reviewed the last of the first-round proofs. The book looks remarkably good and I'm more proud of it than I should be. But they tell me there's a second round of proofs to come. How can I politely tell them that I'm sick of looking at it? Answer: I can't.
The Months Ahead
So far, my April calendar looks refreshingly open. I have another short wildlife survey, two moonlight dinner tours, and a multi-day photo flight with a regular client. I have two book projects to start — one brand new, one a revision. And that's it.
In May, I have another wildlife survey flight that'll likely go two or three days and then a week at Lynda.com to record a course revision. And then, at month end, I move up to the Pacific Northwest for the summer.
I'm Tired…And Glad It's Behind Me
The month of March left me exhausted and I'm glad its over. I wish I'd been busy like this 5 or 10 years ago. Now that I'm getting older, I'm really feeling the impact of hard work and long hours flying or in front of a computer. It's great for my businesses, but difficult for me.
Anyway, this should give you an idea of why my blog posts have been in short supply. I'll try to start writing more regularly again soon.