For those documents you really want to have with you all the time.
From the very beginning, I embraced my iPad as an ebook reader. I have books stored in all three ebook reader apps: iBooks, Kindle for iPad, and Nook for iPad. But it didn't take long for me to realize that the iPad could also be used to reference books and other documents I already had or could create in PDF format.
I use GoodReader for this. I'm not saying its the best PDF reader for iPad, but I like it. One of its best features is the ability to synchronize with DropBox. I can create folders in DropBox, fill them with PDFs or other compatible document formats, and see them on my iPad. And, of course, I can also see them on any computer I use to access my DropBox account.
What I've found is that many software manuals and other user guides are available online as PDF format files. So now, on my iPad, I have a copy of the 300+ page user guide for my new Nikon D7000. And Dragon Dictation. And Final Cut Pro. And dozens of other software programs and devices I use regularly but don't know as well as I could.
Yesterday, I took this a step further: I scanned all 191 pages of the Robinson R44 Raven II Pilot's Operating Handbook. Yes, the manual for my helicopter.
No, I don't plan on reading it while I'm flying. I'm required to have an up-to-date copy on board and I do. This is for consulting when I'm on the road. For example, suppose I'm doing a photo flight with a client and need to consult the performance information for a certain combination of load, altitude, and temperature. The charts are in the book. Rather than get my butt out to the helicopter, I can consult the book on my iPad, in the comfort of my office, hotel room, or client meeting.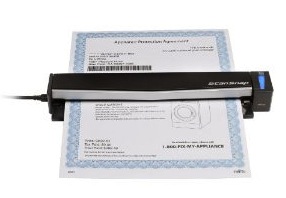 191 pages is a lot to scan and I admit I never would have attempted it with my old flatbed scanner. But last week I bought a ScanSnap S1100 portable scanner. Although it only takes a page at a time, its feeder considerably speeds up the scanning process. I was able to get the whole book scanned in about 20 minutes. (Yes, it would have gone quicker with a duplex model, but that's not what I bought.) I saved the resulting PDF to Evernote, which performed optical character recognition (OCR) on the document to make it searchable on Evernote. And I copied the PDF file created during the process to my DropBox so it would sync to my iPad.
I'm hoping that more and more organizations see the benefit of distributing documentation in PDF or ebook format. Although Robinson currently distributes Safety Notices and the like as PDFs on its Web site, manuals are conspicuously missing. I'm not sure if it's because they want to sell these things or because they're worried about people consulting older copies that might be floating around on the Internet. (I plan on updating my copy when new pages become available; I think I can modify a PDF's pages with Preview. It's in my best interest to keep the book up to date.)
Until then, I'll create my own PDFs of the documents I need to consult when I'm on the go.