Get what you pay for.
The quality of your training will be determined by your flight school. And believe me, you want the best training you can get.
Some Basic Tips
Here's a bunch of tips for choosing a flight school; sadly, most of them are "don'ts" because of the kinds of marketing tactics some schools use:
Don't be lured by ads for cheap training with promises of jobs at 300 hours of flight time. These schools are not interested in turning out quality pilots. They're interested in attracting as many wannabes as possible to fill out their bottom line.
Don't get fooled by schools that make verbal promises about hiring all graduates as flight instructors. A verbal promise isn't worth more than the paper it's written on. Many flight schools will tell you anything you want to hear to get you to sign up. Besides, wouldn't you rather get trained at a school that chooses the best CFIs as instructors than the one who takes any CFI as an instructor? And do you really think they can hire all of their graduates? What happens when graduates hired as CFIs outnumber students? How many hours of flying will you get then?
Don't look at the biggest or smallest schools. Look at schools somewhere in the middle. These are the ones where you'll have the benefit of several CFIs on staff while still getting some level of personal attention.
Check into the experience of the training staff. Find out how many hours of flight time the chief flight instructor and some of the other flight instructors have. Find out whether any of them have real-life flying experience. Flight schools that offer tour and charter services also offer opportunities for their CFIs to get the kind of experience they'll use in future jobs.
Once you've got the flight schools narrowed down to one or two, talk to some of the students and flight instructors there. See what they think. Try to get the contact information for one or two graduates who have moved on to see whether they thought their training at the school helped them succeed.
Don't be lazy and take shortcuts here. Your future starts with your training. Do your homework. You'll be amazed by what you learn.
Equipment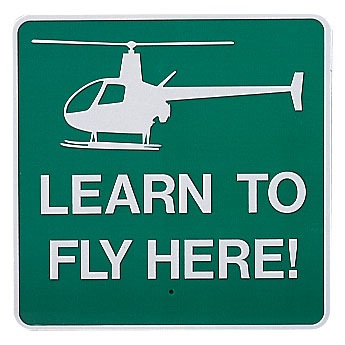 There are a lot of people who make a big deal over the kind of equipment used for flying. There are three basic helicopters used for training: Robinson R22, Schweitzer 269/300 (which has a bunch of other names), and Enstrom F28F and 280FX. News flash: They're all good.
The R22 is an extremely "squirrelly" helicopter. It really takes all of your attention to fly. Its two-bladed system makes it unsafe for aggressive or low-G maneuvers, but ground resonance is not an issue. Robinsons are widely respected and widely used in flight schools.
I can't speak firsthand about the Schweitzer since I've never flown one. I know that as a helicopter with a fully articulated rotor system, it's capable of performing far more aggressive maneuvers than a Robinson. I'm not sure if that's a good thing. It is susceptible to ground resonance. I have heard that its glide slope in autorotation is steeper than an R22 but can't back that up with facts and figures.
I have flown an Enstrom and, in all honesty, I wasn't impressed. The excessive vibrations really turned me off, but that could have been caused by the blades being out of balance or some other maintenance issue on that particular aircraft. It also has a fully articulated rotor system, but I can't recall hearing anything about one getting into ground resonance. I don't know enough about its flight characteristics to pass judgement on it.
Most pilots favor the helicopter they trained on. That's true with me. Not only did I learn in an R22, but I owned an R22 Beta II for four years and put at least 1,000 hours on it. But who knows? If I'd trained in a 300, I might have all kinds of love for it instead.
I'm hoping that folks reading this who have more knowledge about the other two aircraft will comment on their experiences. (Warning: I will not allow an equipment-bashing comment thread to form for this post. Present facts about what you know; not hearsay about what you don't.)
I certainly don't think you should pass up a flight school because of the brand of its equipment. The age, maintenance quality, and condition is far more important. You want a flight school with its own hangar and maintenance facility. You might even want to take a look at it to make sure it's relatively neat and clean and the mechanics look like they know what they're doing. A place with friendly mechanics who are willing to talk to you when you have a mechanical problem or question will certainly help you get more out of your flight training.
There's one other thing to keep in mind. Some flight schools have one or two turbine helicopters on hand that they use for charter work or even training. When trying to get you to sign with them, they might hint or even promise that they'll give you a certain number of hours of turbine flight time. Get any promises in writing. It is not uncommon for flight schools to give students the impression they'd get turbine transition training in a package deal and then, for some reason, not provide it. Either the aircraft was down for maintenance or there were too many other pilots queued up for time in it or there was an additional fee that was never discussed. If a turbine aircraft is dangled like a carrot in front of you, get all the facts about flying it before signing up.
Beware of Package Deals
And that brings up the topic of package deals. My advice is this: Do not sign with a school that forces you to enter into a contract for all training and pay them a bunch of money up front. (This was also pointed out by Damien in comments for Part 2 of this series, which discussed funding your flight training.) You do not want to be contractually tied to any flight school (at least not without a contractual way out that won't cost you anything) and you certainly don't want them getting money upfront (beyond reasonable prepayments) for services yet to be rendered.
If there's anything the Silver State debacle taught us, it's that flight schools aren't always around forever. If they fold with your money, you're out of luck.
Equally important is that if you decide after a few weeks or months of training that you don't like the flight school and want to continue training elsewhere, you have the freedom to do so. And believe me; this happens more often than you think.
Networking Potential
Keith, who has far more experience flying far more equipment in far more places than me, pointed out in comments to my earlier post about age:
I know several aspiring pilots who I have counseled about the helicopter business but I hesitate to recommend a school to them. My usual advice on schools has been pick the best ranked school that provides the greatest possible chance to get that first job.

It is a little discouraging to me to have to tell an aspiring career pilot that all the good grades, excellent flight reviews and mind numbing study may come to not if they don't make that first job happen for themselves. Perseverance helps but choosing the right place to train and the connections and recommendations that come from certain schools and/or instructors might make all the difference. It is still a small industry where more positions are gained through personal recommendations and associations than any quantity of paper credentials. Your reputation in this industry begins at day one and for good or bad will follow you your entire career.
This is excellent advice for career pilots. I know of at least once school — now defunct — that had a terrible reputation for training. It got so bad that many employers would simply not consider any pilot that had that flight school listed on a resume. That's a difficult hurdle to jump when you're just starting out.
But I think what Keith's saying goes beyond just choosing a flight school. I think it also has to do with how you represent yourself throughout training and your first few jobs. That's attitude and I'll cover that next.