I was all over the place.
I thought I'd take a moment to blog about some of the flying I did this past year. LogTen Pro, the software I blogged about yesterday, makes keeping track of my flying activities a lot easier to summarize.
The Big Picture
I flew a total of 207.3 hours in 2010 with exactly 300 takeoffs and landings. Nine takeoffs were at night while 13 landings were at night — this inequality occurs, in part, because of long flights that begin just before dawn or just before dusk. But I only flew 5.1 hours at night.
My flights are spread out over the entire year, with February, March, September, and October my busiest months. LogTen Pro created this graph for me so I could visualize it.
Some Details
I broke my flight time down into different types that I want to track:
71.5 hours Solo. Solo flight time is the time I was on board all alone. Much of this time was spent repositioning the aircraft for a flight. I often offer this time at low rates on Flying M Air's Web site, but seldom have people take advantage of it. Their loss. I don't mind flying alone. I suspect I have an unusually high percentage of solo flight time for a helicopter pilot.
89.4 hours Cross Country. For helicopters, cross-country flight time is considered anything over 25 miles. This number includes only flights that landed at least 25 miles from the starting point. It does not include flights where I flew at least 25 miles away and then came back to the same airport or another one nearby. I did make several very long cross-country flights last year, including flights between Phoenix and Seattle and flights from the Phoenix area to Lake Powell, Monument Valley, Las Vegas, and Blythe, CA.
30.2 hours High DA/Mountain. I track high density altitude/mountain flying because it's important to some employers. The definition I use is flights that begin or end at an airport at 5000 feet density altitude or higher and the part of that flight spent over that DA. So if I flew from Wickenburg (2400 feet elevation) to Prescott (5000 feet elevation) and was over 5,000 feet for about half of that 30-minute flight, I'd log .2 or .3 for High DA/Mountain flying. All of the flights I did when I flew at the Grand Canyon were High DA/Mountain flights because I started and ended at 6300 feet and never got any lower. If I started at a low elevation and landed at a low elevation, however, I probably wouldn't log any high flying in between unless it was either very high flying or involved crossing mountains, etc. I know this is subjective and not perfect, but I'm really not required to log this at all, so I do it my own way just to get a ballpark idea.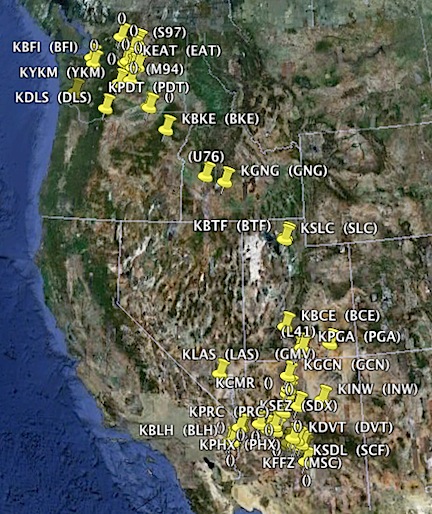 I landed at 52 different places in Arizona, California, Nevada, Utah, Idaho, Oregon, and Washington. 16 of these landing zones were off-airport, although two of them were official helipads registered with the FAA. These numbers do not include about a dozen off-airport landing zones I used during one mine survey job in March; it just wasn't worth logging them all. This Google Earth map shows where they were, using data from LogTen Pro. (Seriously: isn't this cool?)
I only flew one aircraft: my R44 Raven II.
The Flights
A look at my logbook reveals a wide variety of flight types:
Day Trips to Grand Canyon, Sedona, and Meteor Crater/La Posada. This is something Flying M Air offers and I'm pretty sure we're the only operator in the Phoenix area that does so at a reasonable price. Truth is, I'll take you anywhere I'm allowed to — which is almost anywhere in the 48 contiguous states — for the day if you pay me to. These are the trips I offers, so these are the trips I sell. Sure do wish someone would ask for something different once in a while. If I spent any more time at the Grand Canyon, I could probably get a part time job as a tour guide there.
Phoenix Tours. This is Flying M Air's "cheap flight." Frankly, it isn't worth going to the airport for less than an hour of flight time, so this is the lowest price tour I sell. It's a great flight around the city and I customize it for clients, partially to make them happy and partially to make it more interesting for me. One of these custom flights required me to visit several specific GPS locations, four of which were inside class Bravo (PHX) or class delta (CHD) airspace. That was a challenging flight.
Moonlight Dinner Tours. I only did one of these last year, but it was a biggie: the guy popped the question and the gal said yes. What's especially memorable about this flight is that I picked them up and dropped them off at the Sky Harbor helipad, which is between the runways and always a fun challenge.
Southwest Circle Helicopter Adventure. I only did one of these last year, with a nice couple from Tucson. (In 2009, I did four of them and I have one scheduled (so far) for 2011.) This is a six-day excursion with overnight stops at Sedona, Grand Canyon, Lake Powell (at Page), Monument Valley, and, on this particular trip, Winslow (which I actually prefer over Flagstaff, the usual stop). This was the first trip where I actually had to alter my course and change tour reservations due to weather — the second day had low clouds and rain that cleared out later in the day. You can find photos from this trip here.
Las Vegas Weekend. I took two women up to Las Vegas for the weekend. It was a nice flight and a relatively nice weekend away, despite some mechanical problems.

Video flights at the Best in the Desert (BITD) Parker 425 race. Last year was my third year at the race. It's my favorite annual gig and I'm only sorry that it's just one day a year. I flew three videographers last year, chasing race trucks through the desert. (The aerial shots in the video here were made from my helicopter.) Of course, the last videographer let his seatbelt hang out the door, causing damage that cost $2K to repair. I won't let that happen again.

Wine Shopping. I took some regular clients on a wine shopping trip from Wickenburg to Scottsdale. They bought four cases of wine and we managed to fit them all in back under and on the third passenger seat. We named our "passenger" Bacchus.
Mine Survey. I took five different people (on multiple flights) to test soil samples on various mine sites not far from Blythe, CA. Although the logged time didn't add up very much — each flight segment was less than 10 minutes — the waiting time sure did. I was satisfactorily compensated, so that's not an issue. Now I bring my iPad on all flights so I have something to keep me occupied while clients are out doing their thing.
Equipment Testing. I actually did two of these gigs, each over multiple days, out in the desert west of Wickenburg. It required the client to hook up some communications equipment on the helicopter and me to fly as specified so they could test range, etc. There was a lot of flying, a lot of landing, and a lot of waiting. On the first gig, we brought our truck and new fifth wheel trailer out into the desert and camped. The truck had my fuel transfer system on board, which made it unnecessary to go back to Wickenburg for fuel. It gave us a good opportunity to test out the trailer before I used it that summer.
Photo and video flights. I did a bunch of photo flights in the Phoenix area, north of Phoenix, south of Phoenix, and all the way up at Lake Powell. In fact, I spent a total of 45.4 hours (according to LogTen Pro's summary of my remarks field) doing photo and video flights last year. I even got to do one flight with my new Moitek Gyro-stabilized Video Camera Mount.
Cherry Drying. I spent more time drying cherries this year than I did in the previous two years combined — but it still only added up to 20 hours over 11 weeks. Anyone who thinks drying cherries is a good way to build time is very wrong. (If you're a pilot interested in cherry drying, read this.)
Rides. I did rides at one public event and one private one last year. I also did a few odd rides here and there, mostly for folks I owed favors to. I figure I took about 40 helicopter "virgins" up for their first ride, along with at least 30 others who had already been in a helicopter.
Golf Ball Drops. I did two drops in 2010 and I'm starting to get good at it. On the last drop, I got one ball in the cup and another right on the cup rim.
Ash Scattering. I did only one of these in 2010, but that's okay. Although I don't mind doing them, I don't particularly like them. Good part: family happy to have complied with wishes of deceased. Bad part: Climbing to altitude and worrying about packet of ashes breaking open and getting into my air intake (again). This flight went well and the folks were happy. For two of them, it was their first ever helicopter flight.
Fun. I did some flights just for fun, mostly in Washington state. I sure do love flying up and down the Columbia River. I also enjoy low-level flight over the empty desert.
Not a Bad Year
I've been averaging 200 hours a year — except for the year I flew at the Grand Canyon, which was considerably higher — since I began flying. I have the huge chore ahead of me of entering all that flight time into LogTen Pro. I figure I'll do a few months a week. I'll likely finish up over the summer when I'm back in Washington waiting for it to rain.
When I'm done, I'm sure I'll show off my stats here.