Save money, save time, get what you want.
The best way to explain is with yet another of my long stories. I'll try to keep it brief.
Our Phoenix condo is a sort of bachelor pad where Mike and our roommate Matt live during the week. I'm also down there on and off at various times of the week. It has five rooms: living room, dining room, kitchen, and two bedrooms. We furnished it simply with a mixture of old and new (mostly Ikea) furniture. We "decorated" it by putting a few enlarged photos on the walls.
It's passable, but nothing special.
The Blinds
One of the things that always bothered me was the blinds. The apartment has four sliding glass doors that lead out to its two patios. The ones in the living room and master bedroom are triple doors with the middle door that slides. On both doors are off-the-shelf vinyl vertical blinds that don't fit quite right and look, frankly, like crap.
I've been wanting to replace the blinds on these two doors since Mike bought the apartment. This week, I decided to support the local economy by having a local blinds company put them in for us. I used Google Maps to find a company nearby, called, and got an appointment for an in-home consultation today.
The saleswoman arrived on time with her computer and some samples. I was disappointed to learn that the fabric blinds I wanted would be very costly, so I took her advice and went with vinyl blinds. Of course, the colors I wanted weren't available anymore either, so I had to pick different colors. She measured and did the math. The total was over $1,200, with "free" installation.
For two sets of blinds.
To my credit, I didn't choke or pass out from sticker shock. Instead, I told her I'd "present" her estimate to my husband.
(Women always have this option if they don't want to say no immediately. They can pretend their husband has to make the decision and later say that their husband said no.)
A while later, I got online. I went to SelectBlinds.com, an online seller of all kinds of blinds. I looked at their wide variety of styles and colors. I called their toll-free number and asked a few questions. And then I ordered the fabric blinds I wanted in the colors I wanted. With the 30% off coupon right on their home page, the blinds cost $359 delivered. The only reason it cost that much was because the 108-inch length of the blinds required a $70 shipping surcharge.
I'd saved over $800 by ordering online.
Yes, I know my husband will have to install them. I think he's up to the task. But even if I did have to hire a handyman, I'm sure it wouldn't cost $800 to get the blinds installed.
The Photos
Another thing I've been wanting to fix up in the condo are the photos. When Mike first bought the place, I bought a bunch of plain black frames with off-white mats at Ikea. I then began filling the frames with enlargements of some of my favorite photos.
Trouble is, the off-white mat looked pretty crappy. It kind of took the steam out of my photo project and, after filling only two frames with 20 x 30 prints, I stopped.
I'd done some research at Aaron Brothers, a local framing shop, and discovered that new mats would cost a small fortune — about three times the price of the prints! I got the same general pricing information at Michaels, another local place that does framing. Suddenly, it seemed that my inexpensive photo framing project would be very costly.
But today, I got online. I went to PictureFrames.com, which can cut mats to any size you like. I had some trouble deciding what color to use — I have absolutely no creative design skills. I knew I wanted all the mats to be the same color, no matter what the print was. I wanted consistency.
I discovered that if I pretended I wanted to order a framed print, I could upload an image, choose a mat, and choose a frame. I could then see how they looked together. Doing this, I decided that a dark gray frame would give me the neutral color I wanted while complementing the photo. (My artist friend, Janet, later confirmed this after I sent he screen shots of the previews.) I was able to preview four photographs with the gray mat/black frame combination.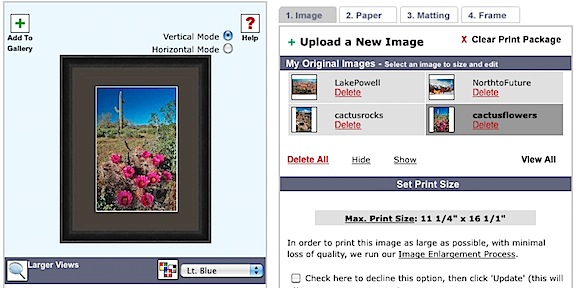 Once I'd decided on a mat color, it was just a matter of entering the measurements for each of the mats I'd need. I ordered a total of eight mats in four different sizes, ranging from outside measurements of only 8 x 11 to 30 x 40.
Before checking out, I poked around the Internet and found a free shipping coupon code for PictureFrames.com. When I applied it, it saved me over $20 in shipping charges. The total cost of the eight mats came to about $100.
Of course, I didn't have all the prints I wanted, so I also went online to my Zenfolio photo gallery, Flying M Photos, and chose four new prints: two 16×24 and two 8×12. You can see one of them here in the mocked up frame. The total cost of that, with shipping, was under $50.
Zenfolio now offers framing with mats (the mats are new and still very limited); in the future, I'll likely buy the prints framed and matted to save the bother of doing it myself.
Shopping Done
I expect the prints and mats to arrive within the next week or so. I'll assemble them and put them up on the walls. With luck, the new blinds will arrive around the same time and Mike will put them up. Together, they'll give the apartment a more finished look.
I do wish I could have bought these things locally to support the local economy. But should I have spent two or three times what I did — literally hundreds of dollars more? I don't think so.
What do you think?