You must see at least one of them when you're at Lake Powell.
I'm working on an itinerary for a Flying M Air excursion client. They've decided to customize their Southwest Circle Helicopter Adventure to add another day at Page, AZ, as well as an overnight stay at Bullfrog Basin about halfway up Lake Powell.
One of the things they wanted to add to their trip was a visit to Lower Antelope Canyon. The trip includes a visit to Upper Antelope Canyon, which is the attraction that gets the most visits. I felt it important to explain the difference between these two places and provide additional information on how they could be visited. I figured this information might help others plan their visit to the Page area.
Antelope Canyon: An Overview
Let's start with an overview of what Antelope Canyon is and how it was formed.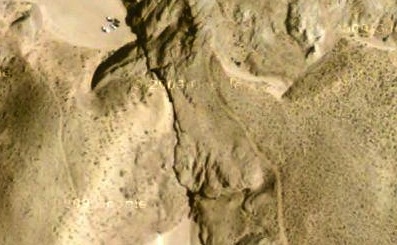 Antelope Canyon was formed mostly by the action of water in Antelope Creek, a south-to-north arroyo southeast of Page, AZ on the Navajo Reservation. During heavy rains to the south, the normally dry creek bed turns into a stream of water that rushes northward, sometimes at dangerous flood stage levels. (Indeed, 11 tourists were killed in Lower Antelope Canyon during a flash flood in 1997.)
Over time, the water has carved a series of narrow slot canyons through the red rock sandstone. Two of these slots are open to the public. Upper Antelope Canyon is south of route 98 (see top satellite photo); Lower Antelope Canyon is north of route 98 (see bottom satellite photo). Examination of satellite images of the area show additional slot canyons along Antelope Creek, but they are not open to the public.
Both canyons have restricted access. You must pay a fee to the Navajo Nation and enter the canyon with a Navajo guide.
Both canyons have smooth, carved, Navajo sandstone walls that are quite beautiful. Antelope Canyon is one of the most photographed locations in the area.
Upper Antelope Canyon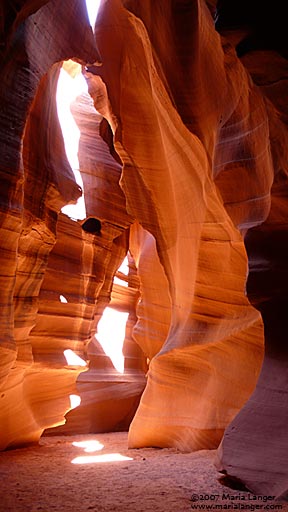 Upper Antelope Canyon is, by far, the more visited of the two. I think there are two reasons for this:
Tour companies based a few miles away in Page take groups of tourists directly to the mouth of the canyon, making access convenient.
The floor of Upper Antelope Canyon is generally level, making the canyon very accessible, even to those who are less physically fit.
Upper Antelope Canyon is about 600 feet long, carved through what looks (from the air) like a single sandstone formation. Much of the canyon is so narrow that you can touch both walls with your hands at the same time. The downsteam opening of the canyon is bright with three big "rooms." The rest of the canyon is much darker and narrower.
Most of the photos you see of Antelope Canyon were shot in Upper Antelope Canyon. At certain times of the day and year, shafts of light come down into the canyon. Photographers often kick up sand or dust into the light shafts for interesting photographic effects.
There are two ways to visit Upper Antelope Canyon:
Sign up for a tour with a Page-based tour company. The fee they charge covers the fee to the Navajo Nation as well as their fee for guide service. They will provide transportation from their location in town to the mouth of Upper Antelope Canyon, usually in a large, open-backed truck with bench seats. Your driver/guide will then walk you through the canyon. Afterwards, you'll have about an hour to explore it on your own.
Drive up to the park entrance on Route 98, not far from the power plant. Pay a park entrance fee and park your car. Then pay a fee to tour the canyon. You can then wait on benches there until a tour is ready to go and climb aboard the same kind of open-backed truck to reach the mouth of the canyon. The driver/guide will walk you through the canyon and give you about an hour to explore it on your own.
They're basically the same experience, but one requires you to wait outdoors in a relatively unpleasant environment while waiting for your tour to depart.
If you're wondering which one is cheaper, there really isn't much of a difference in price. I prefer using a tour company based in town, strictly for convenience. If you do decide to use a tour company, I recommend Antelope Canyon Tours.
You cannot drive your car to the mouth of the canyon. You must go with a guide.
If you are interested in photographing Upper Antelope Canyon, you must read this.
Lower Antelope Canyon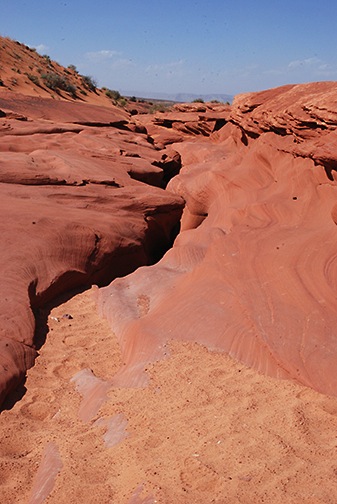 Lower Antelope Canyon has far fewer visitors than Upper. Unlike Upper, no tour companies — at least none to my knowledge — visit it. In addition, the canyon itself requires a decent amount of physical fitness. There are ladders, narrow passages, and various places where scrambling on the smooth sandstone is necessary. Heck, even the opening of the canyon, where you descend into a crack in the rock (shown here) seems designed to keep certain folks out: a fatty simply wouldn't fit through it.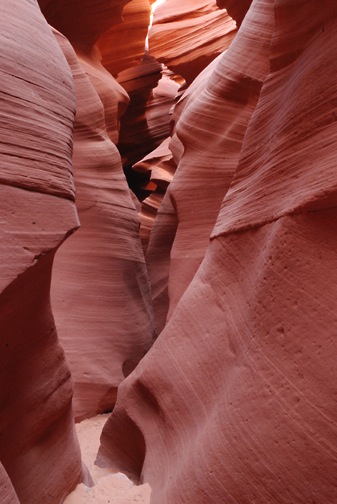 The great thing about Lower Antelope Canyon, however, is that you have up to four hours to explore it pretty much on your own. This gives you plenty of time to shoot photos or lose yourself in thought between the smooth sandstone walls. Because there are far fewer visitors, it's a more relaxed and pleasant place to visit. You can probably guess that I prefer it.
Lower Antelope Canyon is only accessible by driving up to the parking area, paying the fee, and getting a guide to take you down. Sometimes a guide will take you straight down; other times they make you wait. The entrance to the canyon is walking distance from parking. The guide does not stay with you. Although you're limited to four hours in the canyon, there's no one keeping track. You can exit the canyon the same way you entered or climb out on a series of well-built ladders on the far end and walk back along the east wall of the canyon.
Visiting Both
My clients want to visit both, which I think is a great idea. What better way to appreciate the difference between them?
Of course, since they are separate, there's no easy way to visit both. You can save the park entrance fee — which I believe is about $6 — if you drive to Upper and then visit Lower on the same day. If you're interested in photography, however, that means that you might not get the best light for both canyons. It all depends upon the time of year and angle of the sun. We'll be there in March when the sun is nearly straight overhead at noon; midday seems like a good time to visit.