Swapping a pro quality video monitor for something junky — and being perfectly happy.
When I bought the Moitek Video Camera Mount for my helicopter from the estate of the late Erik Goldbeck (rest in peace, Erik) back in August, it came with a Marshall V-R70DP 7-inch video monitor. This is a pro video monitor described in the marketing material as follows:
The V-R70DP is the successor to the V-R70P. Significant improvements over the previous model include our completely digital TFT-Megapixel™ high resolution TFT/LCD screen with 1.2 million pixels, V-Mount battery adapter, 4 pin XLR power jack, and optical grade polycarbonate screen protection. All signals are digitized to provide the truest representation of your captured video images. Convenient front panel controls provide fast access to all functions for this model that accepts Two Composite plus One S-Video signal.
Hell, I don't even know what half that stuff means. All I know is that the monitor is in brand new condition in its own Pelican 1400 case with the static plastic still on the screen. I have all power cables for it. It's built like a brick out of heavy metal. It absolutely reeks of quality. It should; it retailed for $1,000, although you can find it for as low as $820 online.
Trouble is, I have no real use for it.
Erik used it with the Moitek Mount. He'd attach the video camera on the mount to the monitor and mount the monitor where he could see it from the pilot seat. Then he was able to see whatever the camera guy was seeing and shooting. I've had cameraman/director pairs on board my aircraft for video fights where they used a similar setup — maybe even with the same kind of monitor. While I'll agree it was helpful, I prefer flying with the video guy behind me so we both have the same view.
I toyed with the idea of using this monitor with my GoPro Hero camera. I even tracked down the right adapters to make the two talk to each other. It was a workable solution, but not ideal. Why? Well, the damn monitor needs a power source, so not only would I have to bring a heavy monitor, but I'd have to bring along an even heavier battery. (Erik had a power source for the monitor hard-wired into his helicopter's electrical system; I'm not interested in that.)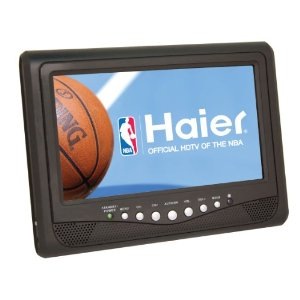 I soon realized that a lighter and easier solution would be to simply buy a portable TV with a built-in battery. To that end, I found this ridiculously cheap thing on Amazon.com: Haier HLT71 7-inch handheld LCD TV. Seriously: $50 — how could I not try it?
So I ordered it and expect it to arrive at my doorstep at any minute. And, to fund its purchase — and help get back some of the huge investment I made in that Moitek system — I've put the Marshall monitor up for sale on Craig's List.
So if you know someone who is seriously into videography and would like an external monitor for his camera, please pass along the link to my Craig's List post. I'm very interested in getting this little item sold.