An illustrated journal for Friday, December 10, 2010.
On December 10, 2010, I took two passengers on a flight from Prescott, AZ to Las Vegas, NV in my 2005 Robinson R44 Raven II helicopter. This is a journal of that day's events.
4:45 AM
Awake, thinking about the asshole doctor I visited yesterday. I'm angry — too angry to get back to sleep. I decide to blog my anger and frustration.
6:12 AM
Blog entry done, published, proof-read, and corrected. I make a very large cup of half-caf coffee, add 3/4 teaspoon of sugar and about an ounce of 2% milk. I go back to my computer to catch up on Twitter and Facebook.
6:31 AM
Mike (my husband) is awake, doing things in bathroom. Shower starts running. I turn to the computer to check weather for the day's flights from Phoenix (DVT) to Prescott (PRC) and then on to Las Vegas (LAS) with two paying passengers for the weekend. But instead of checking the weather, i get distracted by e-mail and waste some time with that. I finish packing and hop into the shower when Mike is done.
7:03 AM
Although I only drank half of my first cup of coffee, I brew another cup. Mike is having breakfast at the dining room table with his laptop. He has a big meeting in the afternoon and is likely preparing. I give Alex the Bird (my parrot) his breakfast of scrambled eggs. Our roommate, Matt, takes care of his breakfast things and leaves for the day.
7:15 AM
I fix up my hair and face to the best of my limited abilities and stow a few final things in my weekend bag. I clean up Alex's cage and give him fresh food and water for the day. Mike is still working on his computer when I fetch a few things from his truck to pack into the plastic trunk in the bedroom. He'll bring the trunk back to our house in Wickenburg later in the day when he goes home for the weekend.
7:48 AM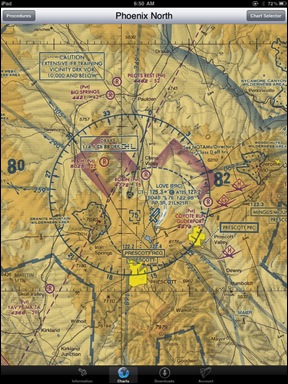 Ready to go, I wait for Mike, who is only half dressed and still working on his laptop. I pull out my iPad and check the weather for Las Vegas. Later, when I'm waiting for my passengers at Prescott, I'll check official weather with Duats and file a flight plan, which is required for my Part 135 operation. I waste some more time playing with iChart, a pilot chart app. The previous evening, I'd downloaded sectionals and terminal area charts for Phoenix, Los Angeles, Las Vegas, and more.
8:12 AM
Mike and I head out in Mike's car. It's a 25-minute drive in the HOV lane to Phoenix Deer Valley Airport where my helicopter is parked for the night. Mike drops me off and says goodbye.
8:37 AM
After dropping off a tray of holiday cookies at the Atlantic Aviation desk and chatting with Tiffany, who is on duty there, I wheel my weekend bag out to the helicopter in the big south hangar. It's in good company, surrounded by Pilatus airplanes, a handful of small jets, another R44 helicopter, a Cessna, and the prettiest DeHaviland Beaver on wheels that I ever did see.

I stow the bag on the seat behind mine and check my map pocket. Sure enough, my Las Vegas sectional chart is expired. I'll need a new one, along with a Las Vegas TAC, to be legal for my Part 135 flight.
8:46 AM
I settle down for breakfast at the airport restaurant, where I order an iced tea and a gyro omelet with cottage cheese instead of potatoes. Around me, pilots and students come and go. The omelet is a bit greasy but delicious.
9:17 AM
I head into the pilot shop and buy Las Vegas sectional and terminal area charts to make me legal for my Part 135 flight to Las Vegas later in the day. Then I head back to the Atlantic FBO, say goodbye to Tiffany, and head out to the helicopter, which has been pulled out of the hangar for me. As I start my preflight, a fuel truck pulls up and tops off both fuel tanks.
9:52 AM
I finish prepping the helicopter for the flight, stowing my weekend bag under the seat behind mine. My passengers' luggage will go atop that seat, secured with the seatbelt and bungee cords. I set up my GoPro Hero camera and iPod. I stow a bunch of gear I don't need in a locker back in the hangar. I make a quick stop in the ladies room there before returning to the helicopter.
10:14 AM
After one last walk-around, I start the helicopter and begin warming up the engine. I turn on my SPOT personal tracker and enable the breadcrumb tracking feature. I listen to the ATIS; winds are calm. I tune the radio to the south tower frequency with the north tower frequency in standby. I complete the startup process, make my radio call to the tower, and on receiving my clearance, begin a steep climbing turn to the west and then south. I'll climb in a 270 degree turn to 500 feet over the ground before crossing both runways and departing to the north.
10:25 AM

I make a radio call on the practice area frequency as I fly over Anthem, a master-planned community north of Phoenix, and then leave the urban sprawl behind me. Ahead of me are rolling hills climbing into the high desert. I fly over the freeway toward Prescott, passing over a handful of scattered homes and dirt roads. Somewhere along the way, I realize that changing the battery in my Garmin 420 GPS has erased my custom settings; I make some display changes on the map page. I tune my main radio to the Prescott tower frequency and tune the radio on my GPS to the Prescott ATIS frequency.
10:48 AM
I round the corner of some low mountains and Prescott Valley comes into view. I listen to the Prescott ATIS. Winds are calm, runways 21 in use. I hear several other helicopters in the area, all calling in to Prescott tower. I key my mike and make my radio call, requesting landing at Legend Aviation. I'm given a squawk code and told to make my approach to runway 30 and call 2 miles out.
10:51 AM
I pass the first of two herds of antelope. The second comes only moments later.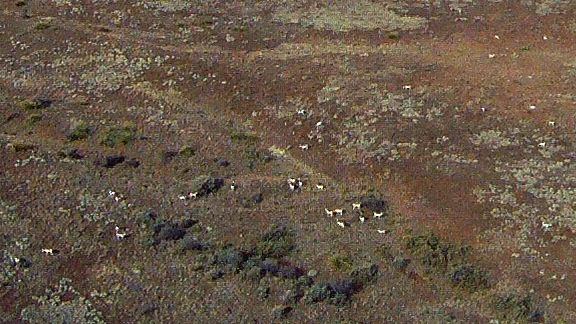 I see the runway and line up. I'm 2-1/2 miles out when the tower asks where I am. I'm told to continue, then told to land and hold short on the numbers 30.
10:54 AM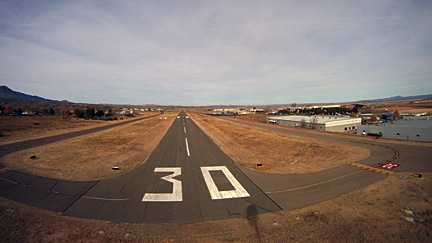 I come into a hover over the numbers 30 on runway 30. I'm told to switch to a ground frequency — something that very seldom happens — and I get sloppy with my 3-foot hover while using my left hand to tune in the frequency. I call in and get progressive taxi instructions to the Legend ramp. I land in a t-spot, glad that they use chains instead of ropes to tie down the planes. I shut down and send an OK signal from SPOT to Mike.
11:05 AM
After placing a fuel order, I take the FBO's crew car (a Toyota Camry) to the mall where I have an eye doctor's appointment.
12:30 PM
I return to the FBO and settle down in the pilot lounge. I copy the photos off my Hero camera to my laptop and put the camera on its charger. I use the Internet to check weather. I send a few photos from my flight to Twitter via Nambu client software — both Twitter and Facebook sites are blocked by the free wifi. I snack on some cookies from my purse. I use Duats to check the weather and file a flight plan, which is required by the FAA for my Part 135 flight. I have already completed my weight and balance calculations for the flight, which I am required to carry on board. I relax.
2:00 PM
I take the Hero camera off the charger and mount it on the helicopter again. I make a cheat sheet of frequencies for the flight. I relax.
2:45 PM
I pack up my laptop and power cords and stow my luggage under the seat again. I preflight the helicopter. I return to the FBO lounge to wait for my passengers.
2:50 PM
My client calls the FBO for directions.
3:03 PM
My clients arrive: two women with two very large — but not particularly heavy — wheelie bags. I immediately wonder whether the bags will fit in the helicopter. A few minutes later, I'm stuffing them onboard, atop the seat behind mine, while the two clients chatter nonstop about how cool the helicopter is and take pictures from every angle. The two bags barely fit. I strap the bigger one in with the seatbelt and use a bungee cord to secure the smaller one to it.
3:15 PM
Safety briefing completed, passengers loaded onboard and belted in. After a final walk-around, I climb onboard and start the engine. My passengers have already donned their headsets and are talking to each other. I turn on the SPOT unit and enable tracking. I listen to the ATIS. I finish the startup process and keynote mike to talk to ground. I'm told to taxi and hold short of taxiway Delta, then switch to tower. Tower tells me to hold, so I maintain a three foot hover over the entrance to the ramp. For five minutes. We're facing into the sun and it's getting hot in the cabin.
Tower finally tells me to depart along taxiway Delta (parallel to runway 21L) and maintain taxiway heading. Then switch to the other tower frequency. That controller finally clears me to turn on course. I turn right heading 295 degrees, which will take me directly to the Hoover Dam 160 miles away. Controller asks what altitude I want and I tell him 500 AGL.
3:30 PM

Clear of Prescott airspace, I turn into the FSS frequency and activate my flight plan. Passengers are happily chatting away about the places we're flying over. I answer questions when asked. Terrain is high desert hills with piñon and juniper pine. Some evidence of lava flows along basalt cliffs. We climb to 6,500 feet to clear small mountain ranges. There are no paved roads, no buildings, no vehicles. Only scattered cattle ponds and the occasional handful of cows.
3:59 PM

We cross I-40 just east of the junction of state route 93, far to the east of we cross a few more mountains, then drop into a Valley inexplicably marked on the charts as Cottonwood Cliffs. (What cliffs?) We're still heading roughly 295 degrees. There are scattered homes beneath us now.
4:07 PM
We are just passing near Hackberry, AZ (northeast of Kingman) when the Aux Fuel warning light illuminates. The circuit breaker has popped. I attempt to reset the breaker but it pops again. I explain to my passengers what this means — am am very familiar with it, having replaced two fuel pumps in the five years I've owned the aircraft — the auxiliary fuel pump is a redundant system. It's a problem that it has stopped working, but it does not require immediate landing. They're not worried but I am. I have to figure out how to get the damn thing replaced before our return flight on Sunday afternoon. We are about 45 minutes from our destination.
4:21 PM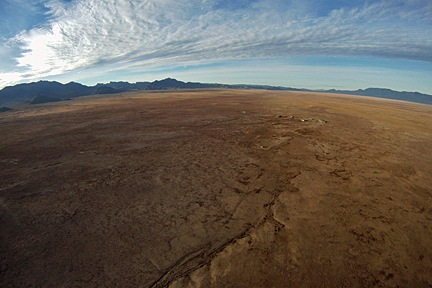 We near the area where the tour pilots fly between Boulder Airport and Grand Canyon West, so I tune into their frequency to monitor communications. Lots of chatter using landmarks and reporting points I don't know. The only comforting information is their altitudes: higher than mine. The desert flattens out with scattered communities. We overfly two paved roads.
4:35 PM

We cross over the road to Temple Bar and pick up state route 93 as it snakes into the hills. The pair of two-lane roads looks freshly paved. At the turnoff to Willow Beach, I veer off the main road to the west. We catch a glimpse of the Colorado River as we head toward the dam.
4:43 PM
We overfly the new bridge just downstream from the Hoover Dam and the the dam itself.
After making a radio call, tour pilots suggest we climb another 400 feet to avoid tour traffic; makes sense in rising terrain. Past the dam, we descend and fly up the west shore of Lake Mead toward Lake Las Vegas.
4:50 PM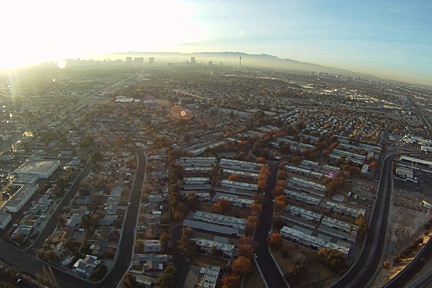 Listening to the Las Vegas ATIS, I learn that the helicopter frequency is in operation. I call the tower and request inbound heading to Stratosphere, then turn for landing at Atlantic ramp. I receive a squawk code and clearance to do as requested. Ahead of us, a thick blanket of white smog covers the Las Vegas skyline. The Stratosphere tower, rising 1,149 feet above the Strip, is barely visible in the haze.
4:57 PM
We cross the strip just south of the Stratosphere. Tourists on top of the tower are snapping photos at us as we pass below them; I see their cameras flash. The sun is low on the horizon. I turn south along I-15 toward the airport. I'm cleared to land — at my own risk — at the Atlantic ramp. I turn "base leg" between Luxor's pyramid and Excalibur's medieval castle.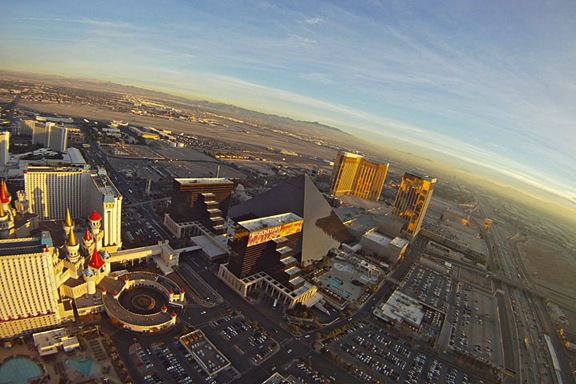 I land on the ramp between two jets. A tug with two linemen wave me to follow them so I life off and return back down the ramp to the usual exile parking reserved for helicopters. I shut down and send Mike an OK signal with SPOT.
5:15 PM
We pull all the luggage out if the helicopter, I unmount the Hero camera, and I tie down the helicopter's blades. I close my flight plan by phone. We let the two line guys drive us back to the FBO in a long golf car. Inside, my passengers use the ladies room while I arrange for overnight parking with the FBO desk. I tell them I'd likely be doing some repairs on the ramp. (This isn't the first time I had mechanical problems in Las Vegas.) Then I call my Seattle mechanic and explain the fuel pump problem. He reminds me that the fuel pump, which was replaced less than a year ago, is still under warranty. I remind him that I have two passengers that I need to get back to Prescott, AZ on Sunday afternoon. He says he has a pump and agrees to fly it down to Las Vegas on Saturday or Sunday and will call me with details when he has them. I call Mike and leave a voicemail message. I call a friend I'm supposed to meet for dinner and she tells me she'll meet me at her hotel after 5 PM.
4:20 PM PST
I realize that I'm in a different time zone and reset my watch. There's a 40-minute wait for the hotel shuttle. I rent a car: a RAV 4 that will cost me $85/day — about the same as my hotel room. I figure that it will get my passengers to their hotel promptly and make it easier for me to transport my mechanic from the commercial aviation side of LAS to the general aviation side and back. I hope he's done by Saturday afternoon so I can drop it off a day early and save some money.
4:32 PM PST
I drop my passengers and their luggage off at the Luxor Hotel, where they are staying. They tell me they'll meet me at Atlantic Aviation at 1 PM on Sunday. The repair clock officially starts ticking.
4:47 PM PST
After many wrong turns on back roads, I find my way to the Rio, where I am staying. I leave the car with the valet and take my luggage inside. There's a short line for registration. I check in, get my room key, and go to my room on the 23rd floor of the main tower. It's the wrong kind of room. I call the desk and get reassigned to a room on the 26th floor. I wait 30 minutes for a bellman to bring the key, getting crankier every moment.
5:20 PM PST
I get into my hotel room, disappointed. The Rio's idea of a "suite" does not match mine: it's nothing more than a good-sized hotel room with a large dressing area. I unpack and set up my laptop. Internet access will cost $13.95 per day, so I use my cell phone to connect to the Internet to check mail. I begin looking at photos snapped by the Hero camera. Some of them are pretty good.
5:49 PM PST
My friend calls from downstairs. I leave to meet her and her husband. We wait on line for the "world famous" buffet for about 20 minutes, chatting about this and that. The buffet has over 300 items, but none of them are outstanding. I eat only a little more than I should.
7:14 PM PST
My friends come up to my room where I hand over a few things I've brought for them. They admire the view to the north that offers glimpses of the strip. We spend some more time socializing.
7:51 PM PST
My friend leave. I call Mike and update him on the helicopter problem. I check e-mail, Twitter, and Facebook. I upload several photos. I start writing up this blog post, using the notes I've been taking all day.
10:21 PM PST
Exhausted from a long day, I turn off the lights, leaving the curtains wide open, and go to sleep.