An iPad-only weekend.
I just got back from a trip to Jacksonville, FL. It was a business trip for my husband and I went along because my mother lives only 30 miles away. I hadn't seen her in about a year and figured I'd tag along and spend some time with her, my stepdad, and my sister.
I was determined to pack light for this trip, so when it came time to decide whether to bring along my laptop — a 13-inch MacBook Pro — I decided to leave it home and rely solely on my iPad for access to e-mail, the Web, etc. It would be a good test of the iPad as a computing tool.
I should mention here that I've done this before. In May, I flew my helicopter up to Seattle by way of Lake Powell. My iPad was new back then and I decided to use that trip as an experiment. I was relatively successful and that must have been at the back of my mind as I made my decision to do this again.
As it turned out, it wasn't a good decision. The problem is, my iPad doesn't have 3G. I'm already paying for Internet access in three other places — at home, at our Phoenix condo, and on my BlackBerry — and I simply wasn't interested in paying for yet another access point. On my laptop, I can take advantage of Bluetooth tethering to my BlackBerry to get online just about anywhere. (And believe me, I've put this to the test in some pretty remote places.) But Apple doesn't allow Bluetooth tethering on its iPads, so anyone without a 3G iPad or access to WiFi is pretty much screwed.
We were staying at the Marriott Sawgrass Resort in Ponte Vedra, near Jacksonville, FL. This is one of those fancy resorts where you pay a bunch for your room and then pay through the nose for everything else. Hell, a bottle of Fiji water they'd considerately put in our room for our consumption had a $6 price tag on it. (Can someone please explain why we need bottled water imported from Fiji?) Even the Starbucks in the lobby was charging a full dollar more than regular prices for a latte.
And Internet access via WiFi? Well, that would cost me $13 a day.
Can someone explain why my $89/night room at a Holiday Inn Express comes with free WiFi and our $205/night room at a Marriott didn't?
I don't want you to get the idea that I'm cheap — despite how this sounds. I'll admit that I do try to save money when I can. And frankly, since this was a business trip, if we'd paid the $13/day, it would have been billed to the room and Mike's company would have paid it. So I could easily argue that it was free for me.
But it's the principle of the thing. $13 a day! That's obscene. No one should be paying that for Internet access.
And no, even the Starbucks didn't have free WiFi.
Of course, without WiFi, my iPad had limited use. Sure, I could read ebooks, do crossword puzzles, and make notes in my journal, but I couldn't check e-mail or the weather or get directions from point A to B.
On the day after we arrived, I went down to my Mom's house and sucked Internet there. I checked e-mail and tweets and weather. I even showed them the video of the cat on the Roomba — appropriate because I'd bought my Mom a Roomba for Christmas.
Later, it was back to the hotel, without WiFi.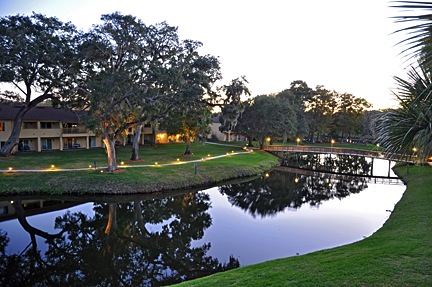 I thought about how I was neglecting my blog. (This is the first real entry in over a week.) I wished I could write and post something about my trip — the great fish dinner on the first night, one of the other wives getting her luggage lost by the airline and our subsequent shopping spree at Target, the luggage size of our companions who apparently packed for three weeks instead of three days, the great deal I got on a rental car, the surprisingly peppy ride of the Hundai Accent I wound up with. Or maybe the authentic Spanish tapas I enjoyed with my family in Saint Augustine and the huge ice cream sundaes we consumed afterwards. Or the weather, which dipped down to the 20s (F, not C) at night, with a wind that obliterated the wonderful reflections I'd photographed from our room the day we arrived and ruined what might have been a nice walk along the ocean on the last day of our stay. I couldn't blog about any of this because (1) typing a long document on the iPad's "keyboard" is likely to result in insanity (2) I didn't have access to the Internet to post anything.
With all this in mind, it's pretty clear to me that I should have brought along the laptop. With it, I could have used my phone to get online. I could have blogged daily. I could have kept up-to-date with tweets. I could have realized that the weather would turn sour and those wonderful reflections on the pond outside the hotel would be gone the next day, giving me no second chance to photograph them properly.
Of course, I could also argue that not having Internet access made me more social and physically active. Although I didn't hang around the spa with the girls after my facial to "catch up," I did take two of them shopping in my rental car. And I did treat myself to a solo shopping spree — one pair jeans, one dressy jacket, one pair shoes, three pairs socks, one long-sleeved tee shirt — that required a bunch of walking and a nice drive along winding, tree-shaded Florida roads. These are things I might not have done if I'd had a WiFi connection to hold my attention.
But what's surprising is how much I've grown to depend on the Internet for information and entertainment. For example, while at my Mom's house, I showed my stepdad how to use Snopes.com to check the accuracy of the information in e-mails he receives. (No, his cell phone probably can't do all those things.) I showed my family pictures of the hotel we were staying at. We looked up menus for the tapas restaurant. And yes: we watched at least five videos of cats with Roombas.
Internet access has become such an important part of my life that when it's taken away, I feel handicapped.
And I can't imagine that being a good thing.