Fantasy pricing and imaginary savings assault the senses and insult shoppers' intelligence.
Wickenburg has two supermarkets: a Basha's and a Safeway. Safeway is newer, better stocked, generally cleaner, and closer to my house. It's also generally more expensive. I deal with it.
But what has started to seriously bug me is the price tags Safeway has littered its stores with. If you've shopped in a Safeway or Vons, you know exactly what I mean. Half the merchandise in the store has three different prices on it: the "old price," the "low price," and the "club price."
The old price is clearly bullshit. There's no way in hell that a box of 200 Kleenex ever sold for $2.99 in our Safeway store. It's clearly a fantasy price dreamed up by the folks in marketing. Say it cost a bunch of money and now it's a whole bunch less! Customers are saving $1/box, right?
Wrong, if it never cost $2.99.
Then there's the club price. If you join "the club" and submit your club card or phone number each time you shop, you get an even lower price. Of course, you also let the folks in the Safeway home office know every single thing you buy there. What do they do with this information? One thing they do is spit out coupons at checkout for items you're most likely to buy. That's not terribly harmful. But what else do they do with this information? Perhaps share it with other organizations so they also know what you buy? So they can target you with their marketing, too?
Do you really want people to know if you buy things like laxatives, hemorrhoid creme, or adult diapers?
Yet providing your magic club card number knocks another 49¢ off the box of tissues. That number is part of what's tallied up as your savings at the bottom of your long receipt.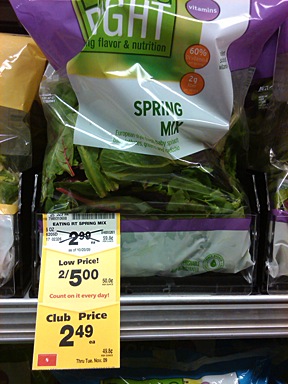 I'm guessing, however, that they don't expect people to really stop and think about it. Or do the math. Instead, they expect us to simply react to the yellow tags.
What else could explain this image? Look carefully. The club price saves you a whole penny over the supposed low price. This isn't higher math, folks. $5 ÷ 2 = $2.50. The club price is $2.49. $2.50 – $2.49 = 1¢.
It's bullshit, all of it. Yellow tags all over the place with fantasy prices and imaginary savings.
Why do they do this? It's simple. They're betting that people are too stupid or lazy to do real comparison shopping. They concoct in-store savings, conning people into thinking they're really saving money. But are they?
In reality, if shoppers went to another store, that store's regular price may be the same or less than Safeway's "low price" or "club price."
Mind games, that's what it is.
And that's what bothers me. These yellow tags all over the place make shopping confusing. They make the store an ugly mess. They sully the supermarket shopping experience — as bad as it already is.
You can't just go into a supermarket and pick up the groceries you need. Instead, you have to face wall after wall of ugly yellow price tags that insult your intelligence with their fantasy pricing and imaginary savings.
Why? I call it bullshit.