Print on demand goes digital for free.
I've been using MagCloud for some time now to create marketing material and, for a while, a monthly newsletter about flying around Arizona in a helicopter. It was suggested to me by a reader of my blog and once I saw what it was all about, I ran with it. I'm not the only one. Hundreds of people are releasing monthly or quarterly magazines using MagCloud's print-on-demand features. Of those, a bunch are also taking advantage of a new feature that makes it possible to automatically publish magazines in an iPad-compatible digital format.
This is a great thing for iPad owners looking for interesting new reading material. There are dozens of beautiful, full-color magazines that you can download for free onto your iPad. All you need is the MagCloud iPad app, which is also free from the iPad App Store.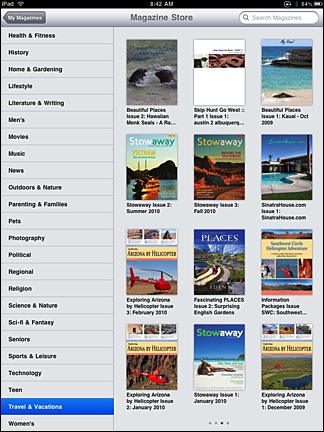 Here's how it works.
Download the app and install it on your iPad.
Open the app and use it to visit MacCloud's Magazine Store.
Browse by topic or search for a specific title.
Tap a magazine you want. It's downloaded to your iPad.
Repeat steps 3 and 4 as desired to download multiple magazines. They'll appear in the My Magazines screen.

Tap a downloaded magazine to read it. In portrait mode, it appears as a single page. In landscape mode, it appears as a spread. You can pinch and drag to magnify and scroll.
MagCloud is an excellent print-on-demand publisher for magazine-style publications. I highly recommend it. And if you're an iPad user, I hope you'll check out MagCloud's app and the free magazines you can download.
Be sure to do a search for "helicopter" and take a look at some of mine.