Part of my Southwest Circle Helicopter Adventure.
This article was originally written for
Aircraft Owner Online
magazine. I write their monthly "Adventure Flying" column. I normally pull old blog posts for publication, but this time, I wrote an original piece for them. You can find it in their November 2010 issue.
Although I'm based in the Phoenix, AZ area, I spend an unusual of time at Lake Powell doing aerial photo flights for amateur and professional photographers. In September of this year, I flew a total of 20 hours over the lake with at least 20 different photographers on board. I usually get as far uplake as the San Juan River confluence, which is halfway to Monument Valley. But due to the difficulty and expense of getting aerial photo permits for Monument Valley, I rarely fly there.
The one thing that does get me to Monument Valley is Flying M Air's Southwest Circle Helicopter Adventure. That's a 6-day excursion by helicopter that starts in Phoenix and spends a night at Sedona, Grand Canyon, Lake Powell (at Page), Monument Valley, and Flagstaff before returning to Phoenix. I don't do this trip often — frankly, it's quite costly and there aren't many folks who want to spring for it — but I happened to do one in October 2010. In fact, as I'm typing this on my laptop, I'm looking of the window of my room at Goulding's Lodge at the first light striking the famous monuments of Monument Valley.
On this particular trip, I rigged up a GoPro Hero camera on my helicopter's nose. Although I used this "nosecam" to shoot video on the first day of the trip, the mount introduced too much vibration to make the video usable. For the remaining days of the trip, I switched over to still photos. The camera automatically shoots a high resolution image every 5 seconds as I fly. With 720 photos per hour, I usually get a few good shots on each leg of the trip.
Wednesday was one of the most scenic legs of the trip. We flew from Page Airport (PGA) up Lake Powell to the San Juan confluence and then east to the airstrip at Goulding's Lodge in Monument Valley (UT25). On board with me were my two excursion guests and all of our luggage for the 6-day trip. I pack the luggage on and under the seat behind me and sit my guests in the two right seats (front and back) so they get the same view. I then fly to put the best views on their side of the aircraft.
We lifted off from Page at about 2:30 PM. The ASOS reported wind at about 8 knots out of the north, but it sure didn't feel that strong. I made my radio call and then departed right across the runway, heading uplake. A Citation jet called a downwind a few moments later; we caught sight of him high above us as we crossed the airport fence.
It was a beautiful day, with high, thin clouds tracing lazy lines across a clear blue sky. The October afternoon sun bathed the landscape with a soft light that illuminated the red rock cliffs and buttes, cast shadows in the canyons, and accentuated the blue of the water. Sure, the light was too harsh for the aerial photographers I usually take around there, but for my passengers and me, it was great for taking snapshots of our surroundings.
The first canyon we crossed was Antelope Canyon, which is just east of the airport. Normally, I just buzz across it, but the tour boat was inside the canyon, so I made a turn to the left so my passengers could get a photo of it. I didn't circle, though. I'm extremely conservative with fuel on the fourth and fifth days of the excursion, since there's no fuel between Page, Monument Valley, and Flagstaff (or, in this case, Winslow). I need every drop of fuel I have on board to get to my Day 5 destination on Thursday with required reserves on board.
We continued uplake, passing Antelope Point Marina and the mouth of Navajo Canyon. I made a position call a mile north of iconic Tower Butte and changed from the Page airport frequency to the uplake frequency (122.75). I repeated the call on that frequency and got into a discussion with the returning tour pilots. They'd be coming my way at 5,000 feet; I'd stay out of their way by flying at 4,500 feet.
The tour traffic is a major concern for anyone flying at Lake Powell. It's a very good idea to learn the tour routes, altitudes, and reporting points they use before exploring in your own aircraft. There's nothing scarier than flying the lake and seeing a plane flying where you don't expect it, especially if it's not on frequency or doesn't know where it is in relation to the usual reporting points. Ten minutes with a tour pilot and a chart at Page Airport is enough to get the basics.
We slipped between Dominguez and Boundary Buttes at the south end of Padre Bay and continued uplake. Winding canyons opened up on our right. I pointed out a cluster of kayaks near a powerboat in a canyon with water as smooth as glass. In the main channel, you could clearly see the wind on the water. Not enough to make whitecaps, but gusty enough to see round patterns of movement appear and disappear across the water surface.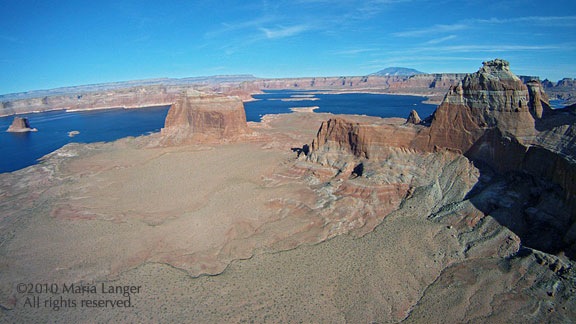 We passed the south side of Gregory Butte and Last Chance Bay as two tour planes flew by overhead. Last Chance is a long, wide canyon with steep sandstone walls. It's a long boat ride to the end where there are a few sandy spots suitable for houseboat parking. Distance to parking and the cost of fuel are part of what keeps the canyon free of traffic, even during busy summer months. On this October day, however, the whole lake was quiet; I don't think we saw more than 20 or 30 boats.
We flew over the main channel of the lake as the canyon narrowed. One of my passengers pointed out Dangling Rope Marina and asked me about it. I told her what I knew: it was a marina only accessible by water. There were no roads in or out. I then told her a story about our stop there 20 years before on a houseboating trip. How I miss cruising the lake in a houseboat!
We were nearing the mouth of the canyon that would take us to Rainbow Bridge. As I flew, I'd been listening to the radio and knew there was a female pilot in the area. I also knew there was another tour plane behind me, on its way to "the bridge." It's a tight squeeze in the canyon and my challenge is always to stay as low as possible to ensure my photography clients can get the shots they need. Over the years, I've perfected my approach.
The female pilot was just leaving the area when I reached the mouth of the canyon and turned in. I flew up the canyon at 5000 feet, telling my passengers what to look for as we flew: the dock, the trail, the giant stone arch of Rainbow Bridge. I was busy keeping an eye on the mesa to the right of the helicopter. On a day like that one, with occasional gusts of wind, I wouldn't get any closer than 200 feet from it's edge. I verbally pointed out Rainbow Bridge when I saw it, keeping both hands on the controls. We flew past and they snapped photos. I circled around the back, assuring the pilot behind me that I'd stay at or below 5000 feet until I was clear of the area. Then, when abeam the bridge a second time, I broke off to the left and climbed out toward the San Juan Confluence.
The trickiest bit of flying I'd have to do on the entire trip was behind me.
I climbed to 6500 feet to give my passengers a good view of the twists and turns of the San Juan River just upstream from the confluence. Then I punched in my user waypoint for Goulding's Lodge, adjusted course, and headed east over the eroded desert terrain south of the San Juan River.
We were east of Navajo Mountain now and the area was riddled with water-carved canyons, windswept rocks, and stunted trees. Below us, here and there, were two-track roads leading back toward the river. One of the roads looked very well maintained, although there was no sign of any homesteads or other reason to use it.
We flew over the top of No Man Mesa, where two or three ranches are scattered. A pickup truck drove slowly along a two-track toward one of the ranches. We saw a herd of horses and a flock of sheep tended by a dog before crossing over the top of the mesa and beginning our descent toward Monument Valley. The famous monuments started coming into view as we rounded the edge of a cliff face.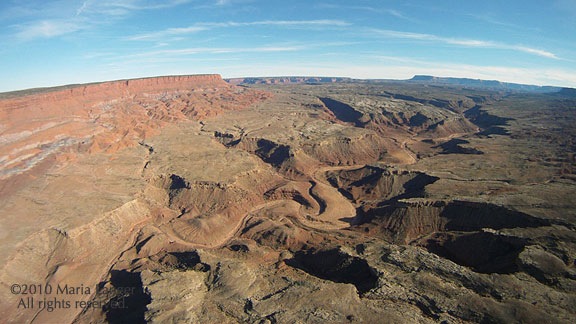 I switched to the Monument Valley frequency and heard several tour planes making calls. I leveled off at 5500 feet and flew directly over the first paved road we'd seen since leaving the airport. Ahead of us, at the airport, I could see three tour planes launch, one after the other. One crossed overhead in front of me, the others climbed out beside me and likely crossed behind me. All of them were returning to Page the quick way. They'd be back within 30 minutes; we'd taken 60.
Before landing at Gouldings, I always make a quick loop around the western part of the Monument Valley Tribal Park. That day was no different. I climbed to 6000 feet and followed the road into the park. Once I reached the visitor center area, I banked left toward the Mitten buttes. I flew between them, on a route the tour pilots refer to as "splitting the mittens." Then I banked left again and headed back toward Goulding's.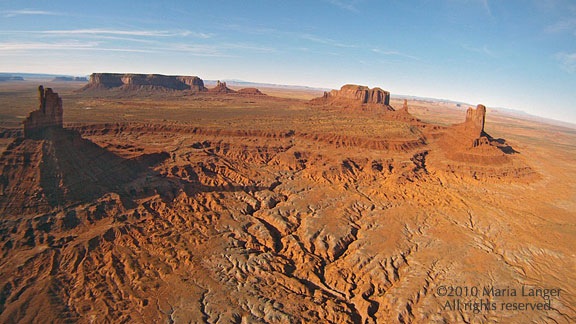 As we came in for a landing, a small herd of horses, spooked by the sound of my helicopter, galloped across the desert east of the airport, kicking up fine red dust.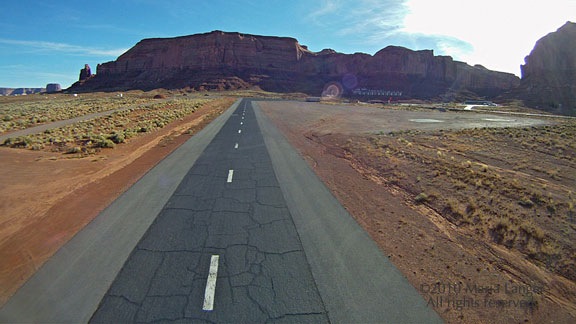 It had been a good flight with few bumps or unexpected challenges. Later, in my hotel room at Goulding's Lodge, I was pleased with the quality of the images my Hero camera had captured. What a great way to document a flight.
Note to Pilots: If you do plan a trip to Goulding's Lodge, remember that the airport there is private and for use by Goulding's guests and tour clients only. Go to Goulding's Web site at www.Gouldings.com to learn more about restrictions regarding airport use.