I move my mobile mansion from Wenatchee to Lake Powell.
I've been traveling for the past week or so, starting in Wenatchee Heights, WA and ending in Phoenix, AZ.
I left Wenatchee Heights with my 5th wheel RV hooked up behind my husband's Chevy pickup. The first day's drive was relatively short: from Wenatchee Heights to Walla Walla, a distance of only 190 miles. Only a small portion of the drive was on a freeway (I-90); the rest was on back roads through farmland.
It rained for part of the drive, but never enough to make the road slick. I took my time. The trailer weighs in at 15,000 pounds and although it tows well, I can never really forget that it's back there.

In Walla Walla, I stayed at the Blue Valley RV Park. It was a relatively pleasant place, with average sized RV spots, full hookups, picnic tables and grass. The trees were too young to give shade, but I bet they'll be nice in about 5 years. The main building had a pool table, laundry room, and restrooms. Everything was clean and the place was quiet. I got some laundry done, wrote an article for AircraftOwner Online, and relaxed.
I had dinner at two excellent local restaurants: T. Maccarone's and Saffron Mediterranean Kitchen. It was nice to have a change of scenery. I was there for four nights. The wine with my dinner at T.Maccarone's is what sent me to Dusted Valley Winery for a tasting, where I bought four bottles of wine.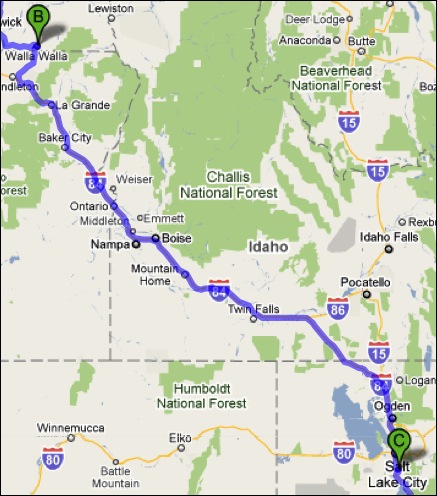 On Friday night, I got the trailer hooked up again and mostly ready to go. I needed to be on the road early for the next leg of my trip: from Walla Walla, WA to Draper, UT (south of Salt Lake City), a distance of 606 miles. I was on the road not long after dawn. The route took me south almost to Pendleton, OR, then onto I-84 through Oregon and Idaho and down into Utah, where I picked up I-15. The landscape started with farmland, then mountains, then more flat farmland, then more mountains, and then finally into the Salt Lake basin. I'd driven the route before with my underpowered Ford F150 pickup towing my old 22-foot Starcraft. It wasn't fun then; Saturday's drive was much more tolerable. I stopped three times for fuel and twice for food. It was very unlike me to make so many stops; I usually try to get food and fuel on the same stop, but the situation made that tough. I rolled into Draper, UT's Camping World parking lot at 6:15 PM local time, just 15 minutes after the store closed. I'd called the week before and knew I could park out back, so I did. I even got to hook up 50 amp power.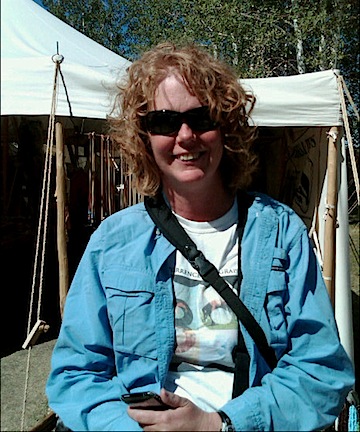 On Sunday, @AnnTorrence picked me up for a drive to Ft. Bridger, WY. There was a Mountain Man Rendezvous there with hundreds of people in period clothes set up with period campsites. The "period" was apparently mid 1800s. Ann was there to take photos and research a possibly future book project. I was there to take pictures and look around and have a day off from driving. I didn't take a single photo, although I carried my camera bag around all day. Well, that's not true. I did use my BlackBerry to take this shot of Ann. She, in turn, used her iPhone to take a shot of me with my only purchase: a genuine raccoon skin, which I hope to turn into a hat.
After a very pleasant lunch at Cafe Trio in Salt Lake City with Ann and her husband, Robert, I went back to their house to relax on the front porch. @BWJones showed up and I finally got to meet him in person. After a tour of the garden, Ann and Robert returned me to Draper for the evening. Again, Camping World had just closed for the day. No one had left any notes on the RV or truck (which was still attached) and the power was still connected. Alex the Bird entertained us for a while.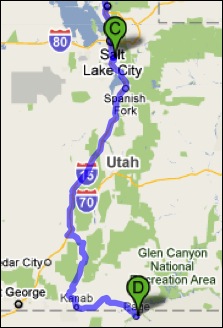 Monday — Labor Day — was my last drive day. I drove from Draper, UT to Page, AZ, a distance of 370 miles. I got a very early start, pulling out of the parking lot at 6:30 AM local time. By the time I stopped for fuel two hours later, I'd already gone more than 100 miles. (I parked with the big rig trucks and discovered that my rig was about as long as theirs.) This part of the drive was mostly on I-15, but started east on route 20 to Highway 89, which took us all the way to Page. The roads were mountainous and there was a lot of climbing and descending. There were also a lot more vehicles on the road, making driving a bit more of a chore.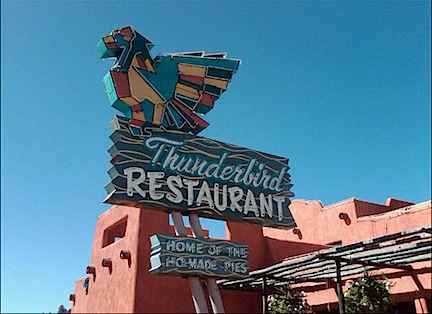 The only food stop I made along the way was at the Thunderbird Restaurant at Mount Carmel Junction. The place is a bit of a tourist trap, but it does have good "ho-made" pies (whatever that means). Odd thing happened when I tried to leave. They couldn't give me a bill because the computer was down. Apparently no one knows how to do basic math. All I had was a piece of pie with ice cream and an iced tea. They apparently expected me to wait until the computers came back online. With Alex the Bird in the front seat of the car, that was not an option. Finally, my waitress disappeared into the kitchen where she may have used her "lifeline" to get help with this difficult math problem. The verdict was $7.79. I was afraid to count my change.
I arrived at the Lake Powell Resort just west of Page, AZ at around 11:30 local time. I'd been on the road for 7 hours.

My husband, who'd flown up in his plane and spent a few hours swimming in the lake, met me at the lodge restaurant for lunch. Afterwards, we put fuel in the truck and parked it (temporarily) at Page Municipal Airport. I gathered my belongings — forgetting only two things, one of which was vital — and we loaded into Mike's plane. Then we started the long (90 minutes), hot (90°F+), and bumpy (I almost got sick) flight to Wickenburg. The only sights of interest along the way — keeping in mind that I make that flight about 1000 feet lower at least a dozen times a year — were a handful of forest fires east of our Howard Mesa place and a heavy rain shower coming out of a remarkably small cloud near Granite Mountain.
Back in Wickenburg, we put the plane away and went straight home. Hot and sweaty, it was good to take a shower in a real bathroom.
I was asleep by 8:30 PM.