I make plans to move my "rolling mansion" and helicopter from Wenatchee to Page, AZ.
My last cherry drying contract for the season ends on Wednesday, August 25. I need to be in Page, AZ with my trailer and helicopter by the middle of September. I'm just starting to plan for the move.
This is an exercise in logistics that I go through twice a year. Every time it's slightly different.
The fun starts on Thursday, when my husband arrives on a late flight into Wenatchee. We'll spend a few days in the area on a mini vacation. It'll be the first time I've seen him since May 15. He goes home on Monday morning.
The move starts on Sunday, August 29 (weather permitting) with a flight over the Cascades with the helicopter to Boeing Field (BFI). With perfect weather, the flight should take less than an hour. But I've only had perfect weather once in the ten or so times I've made the flight. The last time I did it, it took about 4 hours because I had to fly all the way down to the Columbia River at Hood River to get under the clouds.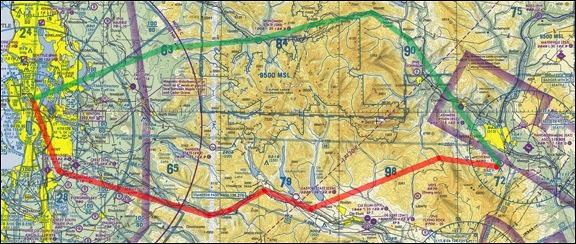 At BFI, I'll take possession of my new Moitek Video Mount, which I bought from the estate of a helicopter friend who passed away last year. A videographer who used the mount with my friend will be meeting with us to show us how to set it up. He'll bring along a camera and get some footage on a flight down to Longview, where we'll meet with the mount's designer and maker to ask questions and get other tips. I'm hoping my friends Don and Jim, each R44 owners, will accompany us for this little trip. I'd love to get some air-to-air video for a project I've been working on for some time.
Back at BFI, I'll drop off the helicopter for some maintenance. It needs its blades painted (again) and since I'm coming up on my 100-hour inspection, I figured I'd have it taken care of then. It'll stay at the maintenance shop until I return in September to pick it up.
I'll get back over the mountains by plane or helicopter (piloted by a friend) on Monday morning. I'll spend the rest of the day and most of the next prepping the RV for the long drive. I'll need to put away all loose items and clean up as well as I can.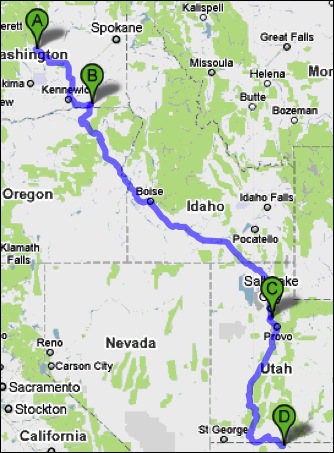 On Wednesday, September 1, I'll hook up and roll out of here. The plan (so far) is to go to Walla Walla, where I'll spend a few days at an RV park I know. Walla Walla has some great restaurants and wineries. It'll be like my own little vacation on the way home.
On Saturday or Sunday, I'll get an early start and hit the freeway for the 10-hour drive to Salt Lake City. If some friends are available to meet me, I'll go in on Saturday; otherwise, I'll do it on Sunday. I'm planning on parking overnight at the Draper Camping World, which should be affordable and convenient. I probably won't even bother unhooking my truck.
On Monday morning, I head out early for Page. I hope to get there early in the afternoon and find a place to park my rig for about a week. Weather permitting, Mike will fly up to Page in his plane and pick up me and Alex the Bird to take us home. The truck and RV will remain at Page until I return with the helicopter.
On Tuesday or Friday, I'll head up to Seattle by commercial airliner. Then, on Wednesday or Saturday, I'll start the long flight to Page. It'll take 8 to 10 hours, so I'm likely to do it over two days. I might have a passenger; I'll know more this week. If I do, we'll be doing the flight on Saturday/Sunday to Las Vegas, possibly with part of the flight along the California Coast, and I'll be going on to Page alone. If not, I'll do the flight on Wednesday, making the best time possible to Page by flying through Oregon, Idaho, and Utah on pretty much the same route I followed to get here before the start of the season.
In Page, I'll set up camp — probably in the campground I lived in for two months two years ago — and offer aerial photo flights over Lake Powell. I have clients meeting with me starting on September 20, so there's definite business for at least 5 days. On September 25, I fly the helicopter home, hopefully with a passenger (if she hasn't forgotten). I'm not sure when I'll retrieve the truck and RV; it depends on whether I have a training video shoot the following week in California.
So if you were wondering what I'll be doing for the next month or so of my life, you now know.
I'll be interesting to see how closely I can follow these plans in the weeks to come.