A twist on my Mango Chutney recipe.
I love chutney as a condiment with grilled pork and roast turkey (instead of cranberries). There's always a batch of mango chutney in my fridge at home. Unfortunately, when I left with my RV for the summer, I forgot to bring some along. But since I'm currently surrounded by cherry trees with ripe fruit, I figured I'd try making cherry chutney for a change.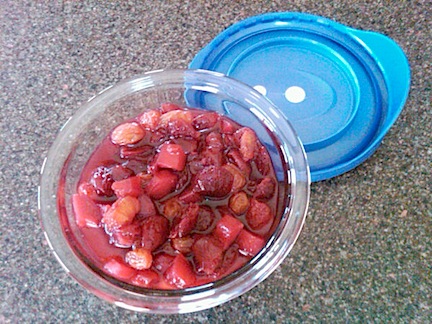 I found a recipe for cherry chutney online and made a batch of it. It had some major differences from my mango chutney recipe — for example the inclusion of onion, spices, and mustard seed — and I had mixed feelings about the result.
Yesterday, I decided to try again by simply substituting cherries for mango in my mango chutney recipe. The result was quite tasty. Here's the recipe as I made it.
Ingredients:
1-1/2 pounds cherries, pitted and cut in half or quarters. I'd picked the cherries the night before, choosing small fruit from the tree since I knew my client wouldn't pick and sell it. (Shame to see it go to waste.) The small fruit fit well in my cherry pitter and most cherries didn't need to be quartered; halved was enough. If cherries aren't in season, you could probably use frozen. Do not use cherry pie filling.
1 cup golden raisins. You can use the regular kind if you can't find golden.
1 cup packed brown sugar. This is an excellent recipe for using up brown sugar that has solidified in an improperly closed bag. But fresh brown sugar won't hurt it.
1/2 to 3/4 cup vinegar. I usually use white vinegar, but the only vinegar I had available was apple cider vinegar (from the other recipe). Didn't hurt this recipe at all.
1 jar (2-7/8 ounces) crystallized ginger, finely chopped. I don't know what kind of jarred ginger my source recipe is talking about. This time, I found crystalized ginger in a 6-oz bag and used half of it.
1 clove garlic, chopped. I cheated this time and used about a teaspoon of jarred chopped garlic.
1 teaspoon salt. This time around, I skipped the salt.
Instructions:
Place all ingredients in a sauce pan and heat to boiling. Reduce heat and simmer uncovered for about an hour or until slightly thickened. Remove from heat, cool. Place in a sealed container — a canning jar works well for this; I avoid plastic for anything I want to keep long term — and store in refrigerator. It will stay fresh and edible for quite some time. Serve with pork or roast turkey (as discussed above) or Indian curry dishes.
Yield: Approximately 4-5 cups.
Warning: It does not smell good while cooking.