Or how I lost a day of my life.
On Friday, I moved my helicopter and RV from Quincy, WA to Wenatchee Heights, where I'll be based for the next three weeks.
Step 1: Move the Helicopter
The move started early. I drove over to the ag strip where my helicopter was parked at 7 AM. I untied the blades, did my preflight, and cleaned the windows, which were coated with dust. By 7:20 AM, the engine was running and the blades were spinning. On my GPS, I dialed in the waypoint for the previous year's landing zone (LZ). The goal was to take the shortest route to the LZ. Not only was I trying to save money — every minute in flight literally costs me a few dollars — but I was supposed to meet my client at 8 AM and I didn't want to be late.
I launched by 7:25 and headed out. The guys at the ag strip were flying and I had to assume that their competition on the other side of town were also flying. So I climbed to about 600 feet AGL, hoping to stay out of their way. I adjusted my course to head directly to my old LZ. The GPS told me it would take 18 minutes.
I overflew the Columbia River south of where route 28 winds down from the Quincy Basin toward Crescent Bar. The river, more than 1200 feet below me, looked inviting — I love to fly low-level over its surface. But I could clearly see the action of the wind on the water. It would be a bumpy ride. And it would definitely not be the quickest, most direct route. So I ignored it and continued along my route.
It was the first time I'd flown over some of that terrain, but it wasn't very interesting. I did notice some abandoned wheat fields in an unlikely place. And I got a great view down to Wenatchee when I crossed the ridge separating Malaga from the hills to the south. My LZ was on the side of a hill just beyond the next ridge, so I approached from the east and turned west after I'd crossed the ridge and had it in view.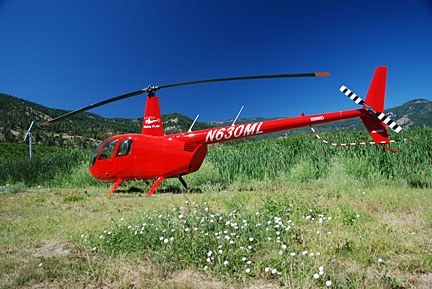 I wasn't planning on landing in last year's LZ, though. I was going to land on a construction site where I planned to park my RV. I came in for my approach and zeroed in on the patch of dirt I thought was level. A huge cloud of dust erupted and, for a moment, I thought I'd have white-out conditions. But the cloud drifted away as I touched down. Unfortunately, the LZ wasn't as level as I thought and I just didn't like it. So I lifted up, sending even more dust into the air, and flew to a known level spot close to last year's LZ. I set down in the grass among weeds and flowers right beside a pond ringed with cattails and only a few yards from some of the cherry trees I was hired to protect. As I cooled the engine, I watched the dust cloud I'd created moments before drift off to the southwest.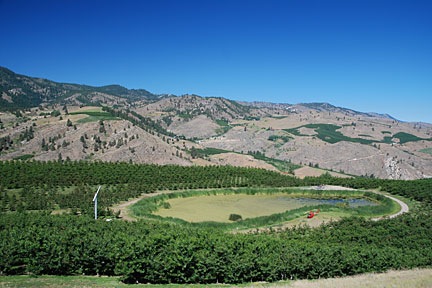 I locked up and made a short hike through the orchard, up to the packing shed where I'd be meeting my client. It was a pleasant morning with clear blue skies and not the least indication of rain anytime in the near future. At the top of the hill, I looked back down at the pond and the mountains beyond it. My helicopter looked like a red speck on the grass. The cherry trees seemed to embrace it while rocky hillsides studded with other orchards looked on.
Step 2: Get Back to Quincy
I met my client near his packing shed after taking another quick look at my planned RV parking spot. It was 8:10 AM when we headed back to Quincy.
My client and I had a nice chat along the 40-mile drive to Quincy. I learned a lot about the cherry business — there's so much to it! I gave him a copy of my Cherries: from Tree to Truck DVD; I hope he gets a chance to see it.
He dropped me off at my truck at the ag strip. Before I left him, we talked about the other helicopter parked there. The pilot, who was on cherry contracts just like I was, had parked it there two weeks ago, before heading back to Seattle. Although he was on call, he didn't take his status as seriously as I did. If it rained, I doubted that he'd make it back in time to fly. But since rain didn't seem like a possibility, no one would know. It irked me and shocked my client.
Step 3: Move the RV
The RV was mostly packed up and ready to go. But since I didn't think I was going to have water where I was going, I spent a little extra time and washed out Alex the Bird's cage. It was hot, sweaty work and I did it in gym shorts and a tank top, not really caring who saw me. I let it dry in the sun while I vacuumed the trailer one more time. Then I dumped the tanks and put away the power cord and hoses, wiping mud off the cord and water hose before neatly coiling them up and putting them away. It was important to keep everything neat and clean.
Inside the RV, I strapped down the movables — my La-Z-Boy chair, Alex's cage, and the big television on its swing arm. Alex was already in his travel box, waiting on the grass in the shade of my neighbor's RV. Then I pushed the button that brought in the slides, the button that brought up the stablizer legs, and the button that sent down the landing gear to raise the front end. All of these buttons are in a remote control, so I could walk around the RV while I did all this, doing the work of two people.
I dropped the truck tailgate and backed it up to the RV's gooseneck hitch. Even though it's a fifth wheel trailer, we put a conversion kit on it so it would mate with our existing gooseneck ball. It took me about six tries to get the hitch centered over the ball. Then another button push brought the hitch down onto the ball. The landing gear rose as the truck's back end descended with the weight of the trailer. Soon, the feet were off the ground and the legs were fully retracted. I lifted them the final 10 inches and used the pins to hold them in place. I connected the chains, the pin, the brake cable, and the power cable. I brought up the tailgate. I was almost done.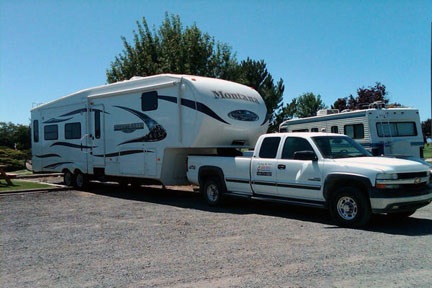 I had to drive forward about four inches to free one of the wheel chocks. I collected them and put them away, then locked up all the hatches and did a final walk-around. I was ready to go.
The drive to Wenatchee Heights was uneventful. I drove slowly; there was no reason to rush. The last few miles were the toughest — a winding rode that climbed the hillside to the orchard. When the pavement turned to gravel, I pushed the 4WD button to give me extra traction. I finally reached the driveway for the building site where I'd be parking and stopped the truck.
I use small construction style cones to help me back up. I place them on the boundaries of where I want to park. I can easily see them and refer to them in the rearview mirrors. I fetched them from one of the RV's storage cabinets and put them out. Then I started backing down the gravel drive. The first time I touched the brakes, the whole rig slid 6 to 12 inches before coming to a stop. Clearly, this would be tricky. I repeated the backup, stop, backup, stop process, inching down the hill. Finally, my truck's wheels left the gravel and hit the dirt of the construction site. Suddenly, I had traction.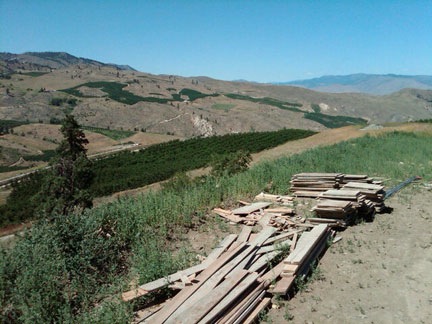 I got out to reposition the cones and continued the process. Eventually, I had the RV positioned just about where I wanted it, with its big back window facing out over the valley (see cell phone photo for view) only a few feet from the edge of a cliff.
One more thing: leveling. I checked the level just inside the RV's door. I'd need to raise the driver's side. I pulled out the Lego-like leveling blocks and stacked them 3 high in a stair-step configuration. I backed up another 12 inches, feeling the RV rise onto the blocks. I stopped and got out to take a look. I was very surprised to find both left side wheels centered perfect atop their blocks.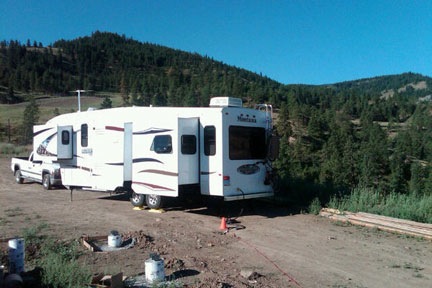 From that point, setting up was a matter of disconnecting the truck and pushing a bunch of buttons on the remote control. Within 20 minutes, the RV was fully set up, with Alex back in his cage.
It was about noon.
Where I Went Wrong: Lunch
I decided to reward myself with lunch out. All day long, I'd been craving fried chicken but for some reason, I decided to visit the Thai restaurant I'd been to on previous summers. They made a good Pad Thai and a great black rice pudding. I figured I'd eat half the Pad Thai and bring the rest home. I'd also hit the supermarket to pick up a few things.
For some reason, the TV in the Thai place was tuned into the Discovery Channel, which was playing a show about army ants. Those are the ants that can swarm and kill people. No people were killed during my meal, but various poultry and large insects were. Not having my iPad along, I had nothing else to look at. Whether that was a contributing factor to the next 36 hours is unknown.
I put aside half the Pad Thai and ordered the black rice pudding. I was about halfway finished with it when I began feeling unusually stuffed. Unusual because I know I can eat a lot more food than I had. I put the pudding aside, too, and got boxes for both of them. They were too tasty to leave behind.
I went to Safeway and did some food shopping — mostly salad stuff. I felt bloated the whole time.
I drove the 8 miles back up to my campsite and put away the groceries. I still felt stuffed.
I talked to my husband, Mike. I mentioned how stuffed I felt. I was spending a lot of time in my comfy chair, mostly because I felt kind of sick.
By 5:30, I had my Sea Bands on. They're elasticized bracelets that fight nausea and they usually work pretty well for me.
By 6 PM, I was vomiting. I hate to vomit. I can't understand how people can be bulimic; vomiting is the most disgusting thing a person can do.
As you might expect, I felt a lot better when I was done. That's the thing I hate most about vomiting. No matter how much I hate doing it, I know I'll feel much better when I'm done.
After rinsing my mouth out with water and using damp washcloth on my face, I settled back into my comfy chair to read.
Must have been something I ate, I said to myself. Better not eat those leftovers.
The Misery Continues
I went to bed around 9 PM after watching some TV. Even though I was off the grid, the TV in the bedroom is DC and the antenna was able to get a very good picture on 6 channels. I watched something called MI-5 on PBS. I liked it.
I fell asleep around 10. By 11:30, I was awake again, feeling sick. Soon I was hugging the toilet again.
I didn't think it was possible to vomit something I'd eaten nearly 12 hours before, but apparently it was.
I slept like crap.
The Day I Lost
When I woke up, it was fully light out — sometime after 6 AM, I think. I ached all over — every single muscle in my body. It took me 30 minutes to summon the strength to get out of bed. I went to the bathroom, did my business, and went right back to bed for another 30 minutes.
Alex, still covered, started to make noises. I dragged myself out of bed again to uncover him. Then I sat down on the sofa near his cage for another 20 minutes. I thought about coffee, which I'd have to perk or drip; without electricity, my coffee maker was useless. So was the microwave. At least Alex's breakfast was ready — I'd made him scrambled eggs for the next few days before leaving Quincy. I cut some up for him and put them in his dish. Then, since my stomach was still feeling iffy, I decided to brew some Hopi tea instead of coffee.
I downed two ibuprofen to deaden the pain in my muscles. It worked.
I spent the entire morning dozing fitfully in my comfy chair, eventually drinking the entire 18-ounce cup of tea.
I had a problem. The temperature was expected to reach the high 90s that day and get even hotter the next two days. The trailer, parked in the sun, would likely get at least 10°F hotter. I had a 2000-watt Honda generator in one of the RV's cabinets. I wasn't sure whether it would run the air conditioning. But one thing I was sure of: there was no way I would be able to lift it out of the cabinet by myself. I was just too weak.
There was a possible solution, though. I was on a construction site for a vacation home. Construction had ceased, but not before electricity had been run to the site. The day before, I'd had enough foresight to see if the power was turned on — I'd plugged in a portable fan and it had run. What I needed to do before I could think further about the generator was to contact the property owner and see if he'd let me tap into his power supply. (He already knew I was parking there.)
That meant doing the following:
Taking a shower. I needed one. I stunk.
Dressing. For obvious reasons.
Walking to the site next to mine, a distance of about 1/4 mile round trip, to talk to the guy next door, who was working on his home's construction.
Getting the name and phone number of the owner of my site.
Calling the owner of my site and getting his permission.
Running one or more power cords the 100+ feet from the power box to my RV's power port.
Seeing if the air conditioner would run on a 110v connection over 14 gauge wire.
It took me nearly two hours to do all this. I lucked out at every step of the way. My neighbor was still there, he had the phone number, the owner answered the phone, the owner said yes, I only needed one power cord to cover the distance, the air conditioning worked.
Exhausted, I went inside and settled back into my comfy chair. I dozed on and off for a few hours. Then I stretched out on the sofa and dozed on and off for another few hours. Then I moved into the bedroom and stretched out on the bed where I dozed on and off for another few hours.
Somewhere in there, I made myself some cereal with bananas and ate it. I wasn't hungry, but I felt empty and I didn't think that was a good thing.
I also spoke to my husband and a fellow cherry drying friend. My friend, in fact, offered to help with the generator if I needed to. It would mean a 3-hour round-trip drive for him. I'm glad he didn't have to do it.
Alex was very well-behaved. I think he sensed that I was sick.
At 7 PM, I forced myself to stay awake. I was worried that I'd sleep fitfully throughout the night if I slept too much during the day. That's about when the headache started. I took three Extra Strength Tylenol and tried to read.
I had three crackers with cashew butter on them for dinner.
At 9 PM, I was back in bed. I tried to watch TV, but the picture kept digitizing, which was weird. (Could the A/C connection screw up the RV's circuitry enough to mess up a TV reception?) I was asleep before 10 PM.
I'm Back
Despite going to bed with a splitting headache, I slept like a log. I woke up feeling 95% myself. What a difference a day makes!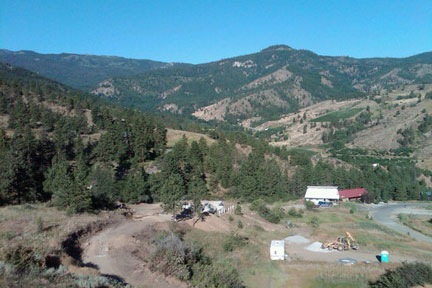 Although I pushed myself a bit too hard with a short hike in the orchard this morning — and was rewarded with a period of lightheadedness — I was able to do things today. I shot some photos around the orchard. I set up the BBQ grill and the outdoor mat. I took out my folding chair and set it up facing my wonderful view (see cell phone photo). I had a real breakfast (cereal with yogurt and banana) and real lunch (grilled chicken satay). I put a bunch of photos online and I wrote two blog posts. I even caught up on my Twitter and email accounts and moderated blog comments.
Yesterday was a lost day. I'm glad it's the first one in a long time.